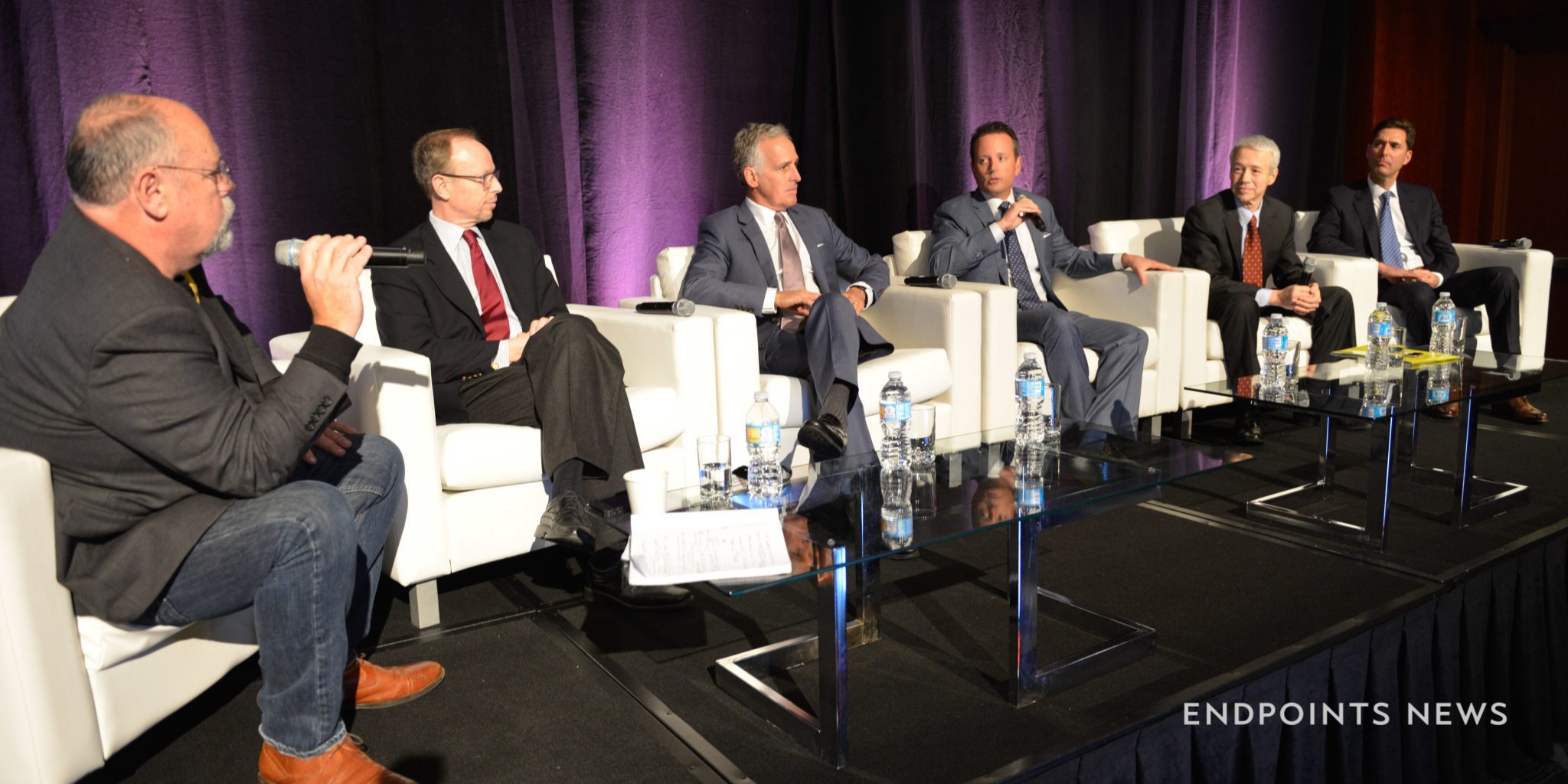 My­lan at­tacks Al­ler­gan over its Mo­hawk-al­lied patent strat­e­gy — but the CEO is stick­ing to his guns
Brent Saun­ders (cen­ter, with mi­cro­phone) speaks at an End­points News event at the JP Mor­gan con­fer­ence ear­li­er this year End­points News
---
My­lan didn't wait long be­fore chal­leng­ing Al­ler­gan's bid to safe­guard its patents for its block­buster eye drug Resta­sis by flip­ping the rights to the drug to a Mo­hawk In­di­an tribe and then li­cens­ing them back.
Last week's le­gal gam­bit, My­lan said in a court fil­ing, is a sim­ple at­tempt to "mis­use Na­tive Amer­i­can sov­er­eign­ty to shield in­valid patents from can­cel­la­tion."
But don't look for Al­ler­gan — or its lawyers — to cave in now or any­time. No mat­ter what re­ac­tion they get, they plan to fight this one out.
The move by Al­ler­gan trig­gered a num­ber of crit­i­cal re­views, in­clud­ing one of my own late last week that un­der­scored my thoughts that Al­ler­gan had squan­dered what­ev­er moral ad­van­tage it had gained by show­ing re­straint on drug pric­ing last fall with a bit of le­gal trick­ery that would on­ly reignite the pub­lic's scorn for un­scrupu­lous phar­ma com­pa­nies and their lawyers.
Al­ler­gan CEO Brent Saun­ders and chief le­gal of­fi­cer Bob Bai­ley took a few min­utes on Mon­day to ex­plain their po­si­tion. (They can re­ply to My­lan in court.)
"We can cer­tain­ly agree to dis­agree," Saun­ders told me, adding adamant­ly that "every­thing we have done here is com­plete­ly con­sis­tent with our so­cial con­tract."
The CEO and chief le­gal of­fi­cer at Al­ler­gan say what's un­fair is be­ing forced to square off si­mul­ta­ne­ous­ly on two sep­a­rate le­gal fronts as it fights to keep con­trol of its big fran­chise ther­a­py. The IRP chal­lenge, adds Saun­ders, is a flawed process that hedge funds and oth­ers have grabbed on to in search of an Achilles heel they can tar­get. Patent chal­lenges should be re­strict­ed to the fed­er­al court.
Be­sides, they add, state uni­ver­si­ties have the same pro­tect­ed patent sta­tus as the tribes achieve with sov­er­eign im­mu­ni­ty, and no one makes a fuss about that. Pay­ing the Saint Reg­is Mo­hawk tribe — look­ing to di­ver­si­fy be­yond its casi­no op­er­a­tion — $13.75 mil­lion for this, they ar­gue, al­so is an op­por­tu­ni­ty to help out an im­pov­er­ished peo­ple who can use the mon­ey for health­care and oth­er ser­vices.
"We are ab­solute­ly go­ing to stick with this," adds the CEO, as a nec­es­sary strat­e­gy for bal­anc­ing the needs of the mar­ket and in­vestors against the un­cer­tain world of drug R&D, where the risk of fail­ure runs deep.
To in­vest in R&D, they add, "we need the full pro­tec­tion of the courts." If any­thing, the fo­cus should be on patent re­form.
To me, it all just looks like an "any­thing goes" ap­proach that land­ed the in­dus­try in a tub of boil­ing hot pub­lic dis­gust on mar­ket­ing prac­tices — which con­tin­ues to taint the in­dus­try. And there are plen­ty of ways they can help im­pov­er­ished peo­ple with­out get­ting patent at­tor­neys in­volved.
But I'm not chang­ing any­one's mind at Al­ler­gan ei­ther. The con­tro­ver­sy over the ma­neu­ver, though, will on­ly grow. Reuters re­ports to­day that a tech group has al­so trans­ferred patents to the tribe, and an at­tor­ney in­volved says that you can ex­pect plen­ty more such cas­es to fol­low.
The deals an­nounced so far "are just the tip of the ice­berg," said David Prid­ham, chief ex­ec­u­tive of the Dal­las-based Do­min­ion Har­bor Group. "There are dozens and dozens of tribes talk­ing to law firms about this struc­ture."