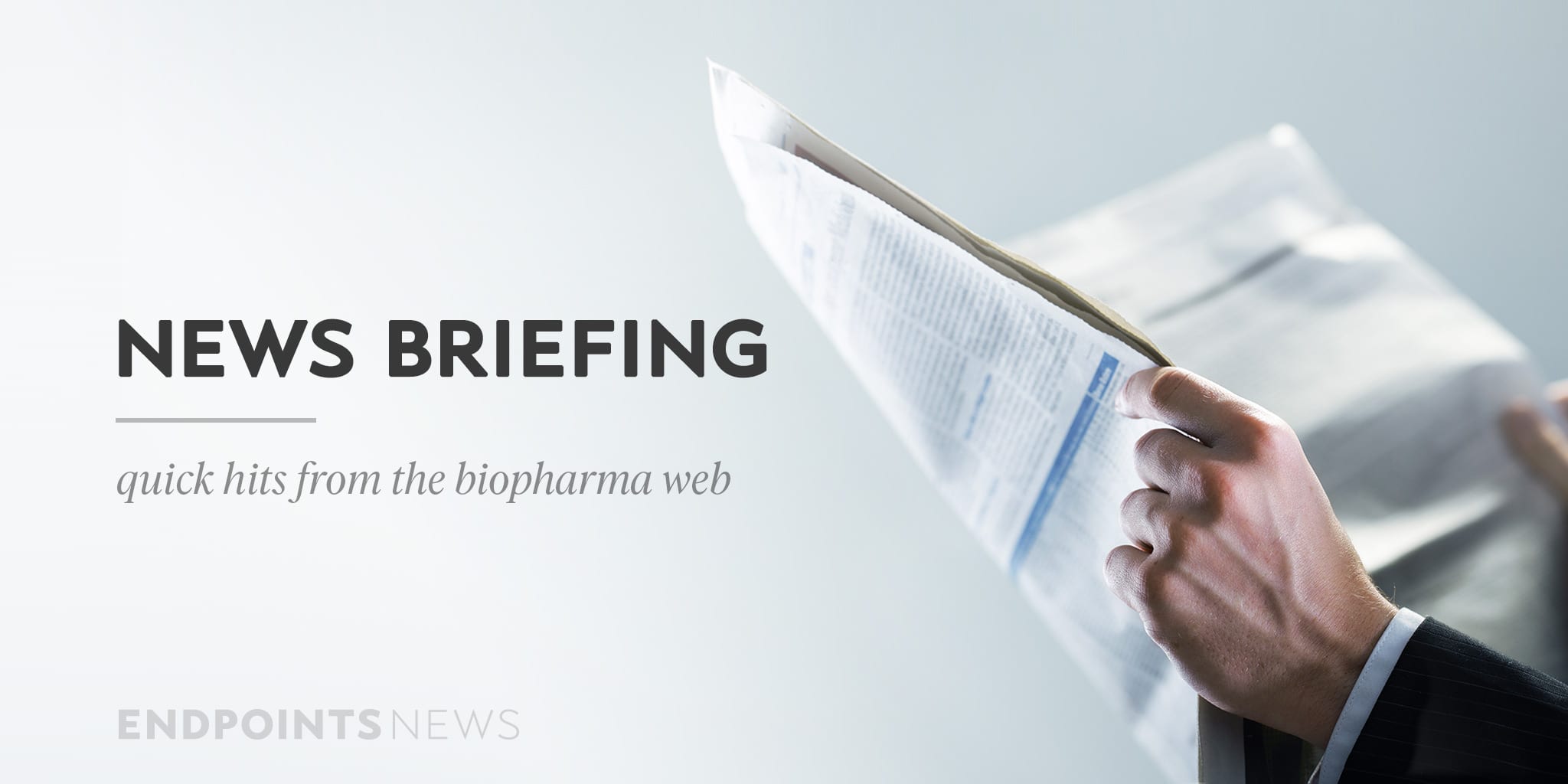 My­ovant adds re­l­u­golix da­ta in uter­ine fi­broids ahead of June PDU­FA; Mubadala teams up with UK for $1B+ fund
As My­ovant bar­rels to­ward its PDU­FA date for re­l­u­golix in uter­ine fi­broids, the biotech is beef­ing up its da­ta pack­age with new Phase III re­sults.
A Phase III ran­dom­ized with­draw­al study met its pri­ma­ry end­point and all sec­ondary end­points, My­ovant and Pfiz­er an­nounced Wednes­day morn­ing, eval­u­at­ing a once-dai­ly re­l­u­golix com­bo ther­a­py with estra­di­ol and norethin­drone ac­etate. The FDA has marked June 1 down on the cal­en­dar for a reg­u­la­to­ry de­ci­sion.
My­ovant en­rolled 229 el­i­gi­ble women who had pre­vi­ous­ly com­plet­ed a long-term ex­ten­sion study, and sought to ex­am­ine ben­e­fits of the ex­per­i­men­tal drug in con­tin­ued treat­ment for up to two years. All of the pa­tients took the treat­ment for a year be­fore be­ing ran­dom­ized to con­tin­ue the drug or to place­bo for an­oth­er year.
At Week 76, the pri­ma­ry end­point mea­sure­ment date, 78.4% of women in the con­tin­ued treat­ment arm achieved the sus­tained re­spon­der rate com­pared to just 15.1% of those in place­bo. That re­sult­ed in a stel­lar p-val­ue of p<0.0001.
The com­bo ther­a­py al­so hit all three sec­ondary end­points at the same p-val­ue, which in­clud­ed mea­sure­ments of sus­tained re­spon­der rate at two years, time to re­lapse of heavy men­stru­al bleed­ing, and amen­or­rhea rate.
The drug has al­ready been ap­proved as a monother­a­py for ad­vanced prostate can­cer, dubbed Or­govyx, be­com­ing the first once-a-day pill to treat the con­di­tion. It was priced at $2,300 per month, for­mer CEO Lynn Seely told End­points News at the time. Or­govyx us­es the same path­way to low­er testos­terone in men as it does to low­er es­tro­gen and prog­es­terone in women.
UAE state fund teams up with UK for new in­vest­ments
The UAE and the UK have teamed up on a new life sci­ences fund that plans to raise bil­lions for the British biotech sec­tor.
Abu Dhabi's Mubadala, one of the coun­try's state-backed funds, is plan­ning to spend £800 mil­lion over the first five years of the deal. The cash will be fund­ed along­side £200 mil­lion from a British gov­ern­ment pro­gram an­nounced last year.
The Fi­nan­cial Times was the first to re­port the news Tues­day.
Clinch­ing the deal with Mubadala was seen in the UK as a ma­jor win for Prime Min­is­ter Boris John­son as he seeks to carve out new trade deals fol­low­ing Brex­it. In ad­di­tion to biotech, the agree­ment will help fund "en­er­gy tran­si­tion and in­fra­struc­ture" pro­grams in both coun­tries.
"This is a ma­jor win for the Of­fice for In­vest­ment and shows how the UK is an in­vest­ment des­ti­na­tion of choice," UK in­ter­na­tion­al trade sec­re­tary Liz Truss said in a state­ment. "From Liv­er­pool and Ed­in­burgh to Ox­ford and Not­ting­ham, our world class life sci­ences clus­ters and in­no­v­a­tive busi­ness­es will see the ben­e­fits of this part­ner­ship."