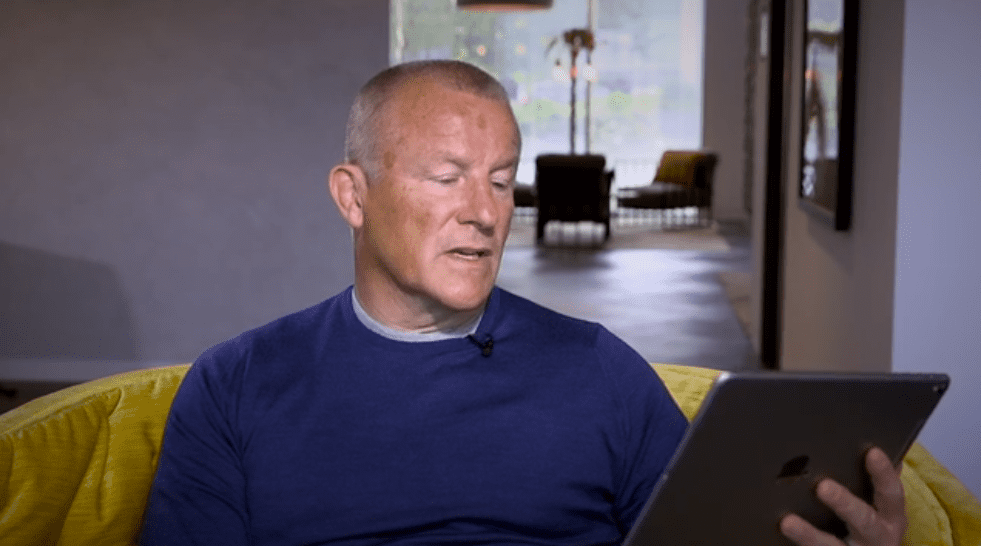 Neil Woodford. Woodford Investment Management via YouTube
Neil Wood­ford re­fresh­es port­fo­lio with fire sale while in­vestors pon­der fu­ture of sus­pend­ed fund
Ahead of an ex­pect­ed up­date on the sus­pen­sion of his flag­ship fund, Neil Wood­ford has re­port­ed­ly raised £459 mil­lion from share sales across his port­fo­lio of funds, City­wire re­ports.
The in­vest­ment man­age­ment firm is hold­ing some of it in cash while putting the rest to use in oth­er stocks, a spokesper­son told Bloomberg — which counts at least £300 mil­lion ($379 mil­lion) in sales from the frozen Eq­ui­ty In­come Fund. Sell­ing off illiq­uid or un­list­ed as­sets is key to Wood­ford's turn­around mis­sion for the fund, which was suf­fer­ing from an ex­o­dus of in­vestors that shrunk the fund from £10.2 bil­lion to £3.7 bil­lion in two years and squeezed its abil­i­ty to meet any fur­ther re­demp­tions.
"We haven't dis­put­ed the City­wire or Bloomberg sto­ries, but we do not pro­vide con­fir­ma­tion of every sale or stock bought by Wood­ford," a spokesper­son told me in re­sponse to a query. "The de­ci­sion on sus­pen­sion is made by Link, the ACD for the fund, and I be­lieve they are plan­ning to make an an­nounce­ment lat­er to­day."
Link Fund So­lu­tions is tech­ni­cal­ly the "au­tho­rized cor­po­rate di­rec­tor" that del­e­gat­ed Wood­ford's firm to man­age its funds.
Af­ter abrupt­ly no­ti­fy­ing in­vestors that they would not be al­lowed to re­deem, sell, trans­fer or can­cel their shares in the Wood­ford Eq­ui­ty In­come Fund for at least 28 days, Wood­ford ex­plained that he need­ed the time and re­sources to re­bal­ance the port­fo­lio. To­day marks the end of that four-week time­frame.
Through pub­lic fil­ings and da­ta, Bloomberg found that since dis­clos­ing the dras­tic mea­sure in June, he has sold shares in BCA Mar­ket­place, NewRiv­er RE­IT and Oak­ley Cap­i­tal In­vest­ments, among oth­er po­si­tions.
On top of that, he's al­so of­floaded stakes in Mereo Bio­phar­ma, e-Ther­a­peu­tics and Sen­syne Health, ac­cord­ing to City­wire. Some sales had ap­par­ent­ly come from the Wood­ford In­come Fo­cus Fund, which is still open and has lost in­vestors de­spite Wood­ford's best ef­forts. The Pa­tient Cap­i­tal Trust is al­so ex­plor­ing sales af­ter trad­ing down al­most 30% on the Lon­don Stock Ex­change, in part to help cut bor­row­ing.
Days ago, UK fi­nan­cial reg­u­la­tors say they are now tak­ing a hard look in­to the sus­pen­sion of the Eq­ui­ty Fund. How Wood­ford man­aged the liq­uid­i­ty of the fund will like­ly be the cen­ter of the Fi­nan­cial Con­duct Au­thor­i­ty's scruti­ny.
As in­vestors anx­ious­ly await an up­date, the Times is re­port­ing that Link plans to con­tin­ue the sus­pen­sion in­def­i­nite­ly be­cause they deem the Eq­ui­ty Fund un­pre­pared for the flood of ex­pect­ed re­demp­tion re­quests.
We will be watch­ing for the of­fi­cial re­lease when it drops.