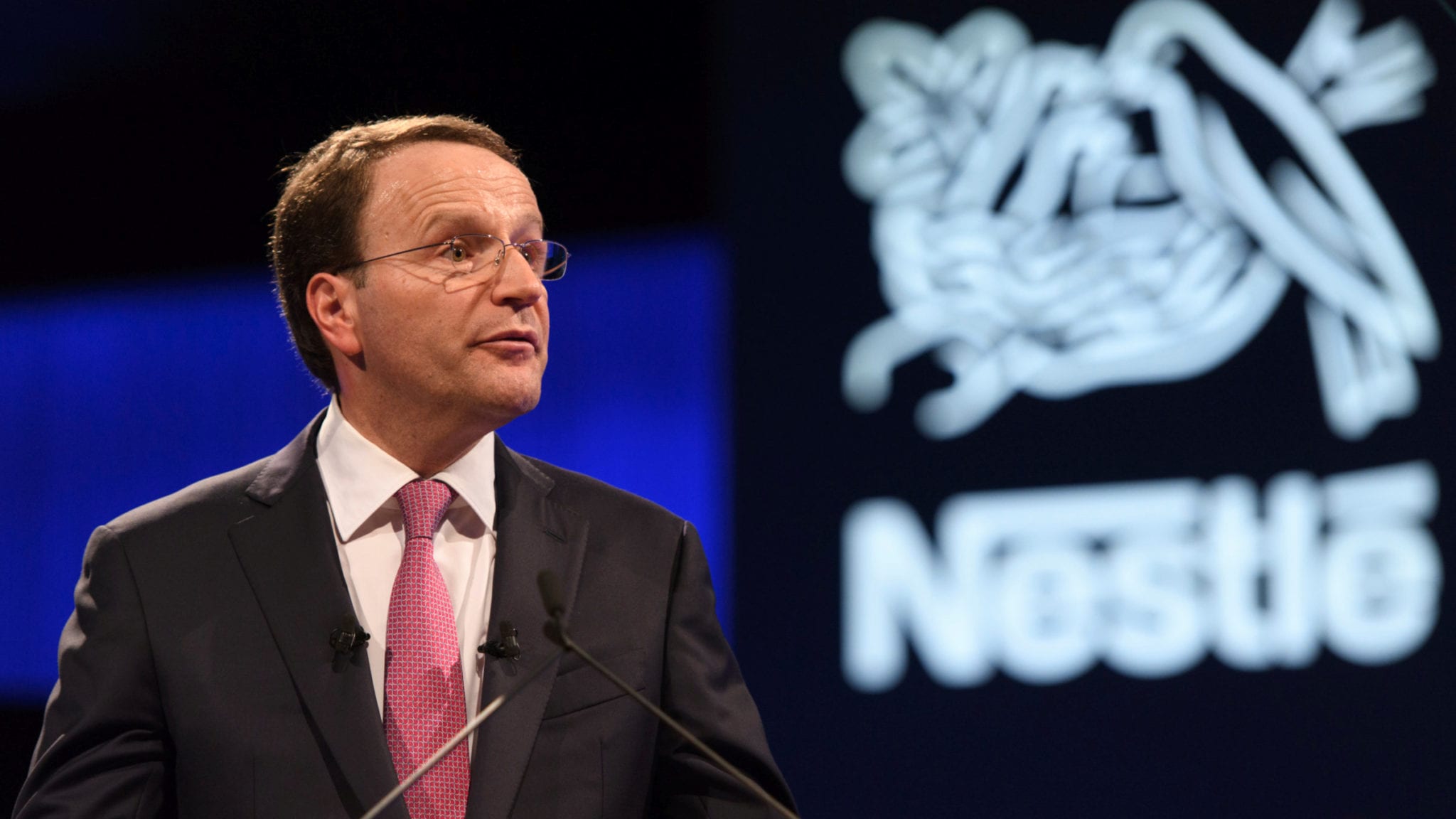 Mark Schneider, Nestlé CEO (AP Images)
Nestlé re­con­sid­ers peanut al­ler­gy pro­gram two years af­ter $2.6B buy­out
It seems Nestlé is ex­pe­ri­enc­ing some buy­er's re­morse two years af­ter throw­ing down $2.6 bil­lion for Aim­mune Ther­a­peu­tics and its peanut al­ler­gy pill Pal­forzia.
CEO Mark Schnei­der an­nounced on Tues­day that Nestlé is "ex­plor­ing strate­gic op­tions" for Pal­forzia fol­low­ing low­er-than-ex­pect­ed de­mand. A com­pa­ny spokesper­son de­clined to con­firm whether a po­ten­tial sale is in con­sid­er­a­tion.
"The re­view is ex­pect­ed to be com­plet­ed in the first half of 2023. Go­ing for­ward, Nestlé Health Sci­ence will sharp­en its fo­cus on Con­sumer Care and Med­ical Nu­tri­tion," the com­pa­ny said in a news re­lease.
Pal­forzia, es­sen­tial­ly peanut pow­der in a pill, be­came the first FDA-ap­proved treat­ment for peanut al­ler­gy back in 2020. The idea is to ex­pose pa­tients to small but grad­u­al­ly in­creas­ing amounts of peanut pow­der to build up re­sis­tance to the al­ler­gen. In a Phase III tri­al, chil­dren on Pal­forzia had a 67% chance of avoid­ing a se­vere re­ac­tion to 600 mg of peanut pro­tein, or about two peanuts, com­pared to 4% for place­bo pa­tients.
Nestlé se­cured a mi­nor­i­ty stake in Aim­mune back in 2017, then wait­ed for an FDA ap­proval be­fore swoop­ing in for a $2.6 bil­lion takeover in the fall of 2020. Pri­or to that, the com­pa­ny had pur­chased more than $470 mil­lion worth of stock.
De­spite a slow roll­out, par­tial­ly due to the pan­dem­ic, Schnei­der had high hopes for the drug. An­a­lysts pegged sales pro­jec­tions of over $1 bil­lion. How­ev­er, the chief ex­ec­u­tive not­ed in an in­vestor call on Tues­day that the drug has proven to be more "niche ther­a­py" than block­buster.
The clo­sure of al­ler­gists' of­fices in ear­ly 2020 con­tributed to a slow roll­out, Schnei­der said, as well as the fre­quen­cy of re­quired doc­tor's vis­its. While the CEO stressed that the ther­a­py is safe, the risk of ana­phy­lac­tic shock means pa­tients must spend con­sid­er­able time in a doc­tor's of­fice when es­ca­lat­ing dos­es. Both pa­tient re­ten­tion and al­ler­gist adop­tion has been low­er than ex­pect­ed, he added.
Mean­while, ad­vo­cates stand be­hind Pal­forzia as the "on­ly FDA-ap­proved ther­a­py for the ap­prox­i­mate­ly 1.2 mil­lion kids with peanut al­ler­gies," ac­cord­ing to the Asth­ma and Al­ler­gy Foun­da­tion of Amer­i­ca.
"Im­por­tant­ly, Pal­forzia is cov­ered by many in­sur­ance plans where­as non-FDA ap­proved ther­a­pies of­ten have high out-of-pock­et costs that lim­it ac­cess to those who can af­ford it. We hope that Pal­forzia con­tin­ues to be an op­tion for peo­ple and fam­i­lies man­ag­ing food al­ler­gies," pres­i­dent and CEO Ken­neth Mendez told End­points News via email.
Nestlé's stock $NSR­GY was down about 2% on Tues­day morn­ing, pric­ing around $117 per share.
This ar­ti­cle has been up­dat­ed to in­clude com­ment from the Asth­ma and Al­ler­gy Foun­da­tion of Amer­i­ca.