New docs spot­light the FDA's failed at­tempt to get Sarep­ta's flawed Duchenne study re­tract­ed
Robert Califf
One of the rea­sons why Sarep­ta $SRPT had such a hard time get­ting its Duchenne drug through the FDA rest­ed on a pub­lished study that reg­u­la­tors had con­clud­ed was based on un­re­li­able da­ta that led to er­ro­neous con­clu­sions.
That 48-week study of Sarep­ta's would prove to be a ma­jor stick­ing point for the FDA, spurring team leader El­lis Unger and FDA com­mis­sion­er Robert Califf to out­line their ar­gu­ment to the ed­i­tor of the An­nals of Neu­rol­o­gy, Clif­ford Saper.
Ac­cord­ing to an up­date from Re­trac­tion Watch, which looked over some of the doc­u­ments un­veiled by a FOIA law­suit against the FDA, Saper ul­ti­mate­ly de­cid­ed to let the FDA ex­ecs write a let­ter or ac­cept an "Er­ra­tum" from the pa­per's au­thors, who de­scribed it as a com­par­i­son of the two analy­ses.
Califf and Unger chose the let­ter, and as Re­trac­tion Watch notes, the heav­i­ly crit­i­cized pa­per stands as pub­lished — un­stained by the FDA's opin­ions or the dis­pute over its ac­cu­ra­cy.
Saper told Re­trac­tion Watch:
The point of this en­tire thing was to get the record straight….It is now in the lit­er­a­ture. There is no point in pub­lish­ing the same thing again. Or in dis­cussing the same thing again, and again, and again, and again….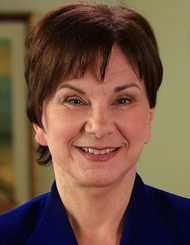 Janet Wood­cock
The con­tro­ver­sy over eteplirsen, though, con­tin­ues to bub­ble as new doc­u­ments have been pub­lished from the law­suit high­light­ing heat­ed top-lev­el dis­cus­sions about the role Janet Wood­cock played in get­ting the drug ap­proved.
Wood­cock not on­ly ap­peared bi­ased to some, she al­so nixed any ob­jec­tions in push­ing through an ap­proval. Now the drug is sold for hun­dreds of thou­sands of dol­lars a year, to Duchenne fam­i­lies who swear by the drug, even though there is no hard da­ta to sup­port its ef­fi­ca­cy.
And don't ex­pect this to be the fi­nal word, ei­ther. This is one ar­gu­ment that won't play out un­til ac­tu­al da­ta is avail­able. And that will take years.