New NIH vi­ral vec­tor flips the script on sick­le cell dis­ease gene ther­a­py
Re­searchers at the NIH have rolled out a new ve­hi­cle for sick­le cell gene ther­a­py with high­er speeds and bet­ter horse­pow­er, po­ten­tial­ly al­low­ing vast­ly more ef­fi­cient gene trans­fer and a much larg­er car­ry­ing ca­pac­i­ty. The best part? Un­like cur­rent sick­le cell gene ther­a­py mod­els, the NIH one doesn't have to dri­ve in re­verse.
In mice and mon­keys, the new ve­hi­cle was up to 10 times more ef­fi­cient and had a car­ry­ing ca­pac­i­ty – the amount of DNA it can haul – of up to 6 times that of the con­ven­tion­al vec­tors cur­rent­ly de­ployed in gene ther­a­py tri­als across the coun­try. Most no­tably, the new vec­tor can read the ther­a­peu­tic gene se­quence for­ward rather than read­ing them back­ward — a counter-in­tu­itive trick re­searchers had used to over­come long-run­ning bar­ri­ers to gene ther­a­py but which sac­ri­ficed ef­fi­cien­cy. The re­sults were pub­lished open ac­cess in Na­ture Com­mu­ni­ca­tions.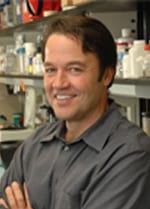 John Tis­dale NIH
"Our new vec­tor is an im­por­tant break­through in the field of gene ther­a­py for sick­le cell dis­ease," said study se­nior au­thor John Tis­dale, chief of the Cel­lu­lar and Mol­e­c­u­lar Ther­a­peu­tic Branch at the Na­tion­al Heart, Lung, and Blood In­sti­tute (NHLBI). "It's the new kid on the block and rep­re­sents a sub­stan­tial im­prove­ment in our abil­i­ty to pro­duce high ca­pac­i­ty, high-ef­fi­cien­cy vec­tors for treat­ing this dev­as­tat­ing dis­or­der."
Gene ther­a­py tri­als for SCD have launched the past few years, bring­ing a hand­ful of well-cov­ered cas­es of pa­tients re­spond­ing strong­ly to the treat­ment, even as more da­ta shows cur­rent tech­niques are no cure-all. One of the big­ger long­stand­ing ques­tions, though, is how to best de­liv­er the ge­net­ic fix.
The sim­ple ge­net­ic un­der­pin­nings of the dis­ease have been well-un­der­stood since the 1950s — one A-T sub­sti­tu­tion in the β-glo­bin gene — and re­searchers have ac­cord­ing­ly tar­get­ed it since the first gene ther­a­py re­search in the 1980s. But the par­tic­u­lar prob­lems of build­ing a prop­er vec­tor for the he­mo­glo­bin gene, in ad­di­tion to the myr­i­ad oth­er ob­sta­cles to gene ther­a­py broad­ly, have im­ped­ed progress.
The steps in gene ther­a­py for sick­le cell dis­ease. Na­tion­al Heart, Lung, and Blood In­sti­tute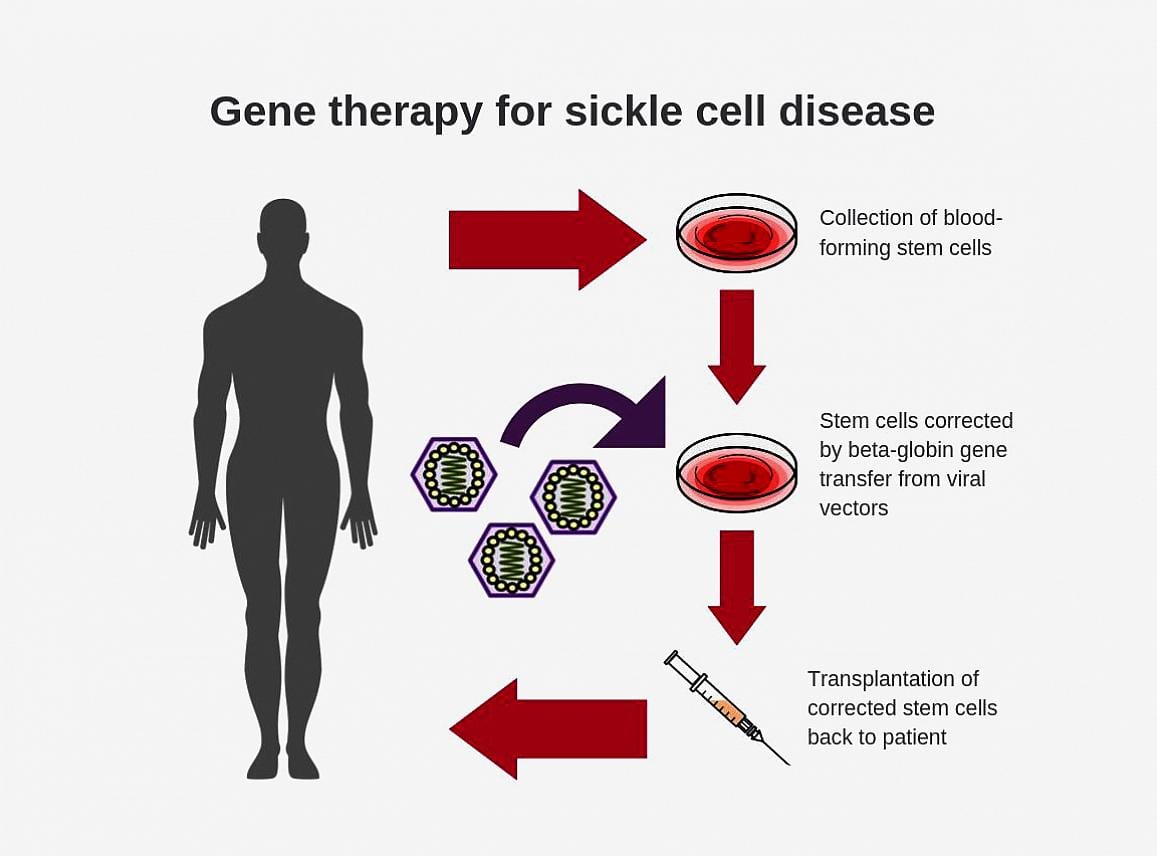 Click on the im­age to see the full-sized ver­sion
The lentivi­ral vec­tor blue­bird bio has used to bring its sick­le cell gene ther­a­py to tri­al is a workaround to an ear­ly prob­lem unique to sick­le cell ther­a­py. RNA splic­ing – a nat­ur­al process crit­i­cal to prepar­ing the vec­tor – will re­move "in­trons" that are key to ex­press­ing the genes to pro­duce he­mo­glo­bin. De­vel­op­ers have been able to get around this by us­ing a vec­tor that reads the DNA back­wards, last gene to first. Most gene ther­a­py tech­niques read as you would a sen­tence, first word to last.
The re­searchers al­so not­ed their vec­tors were cheap­er to pro­duce.