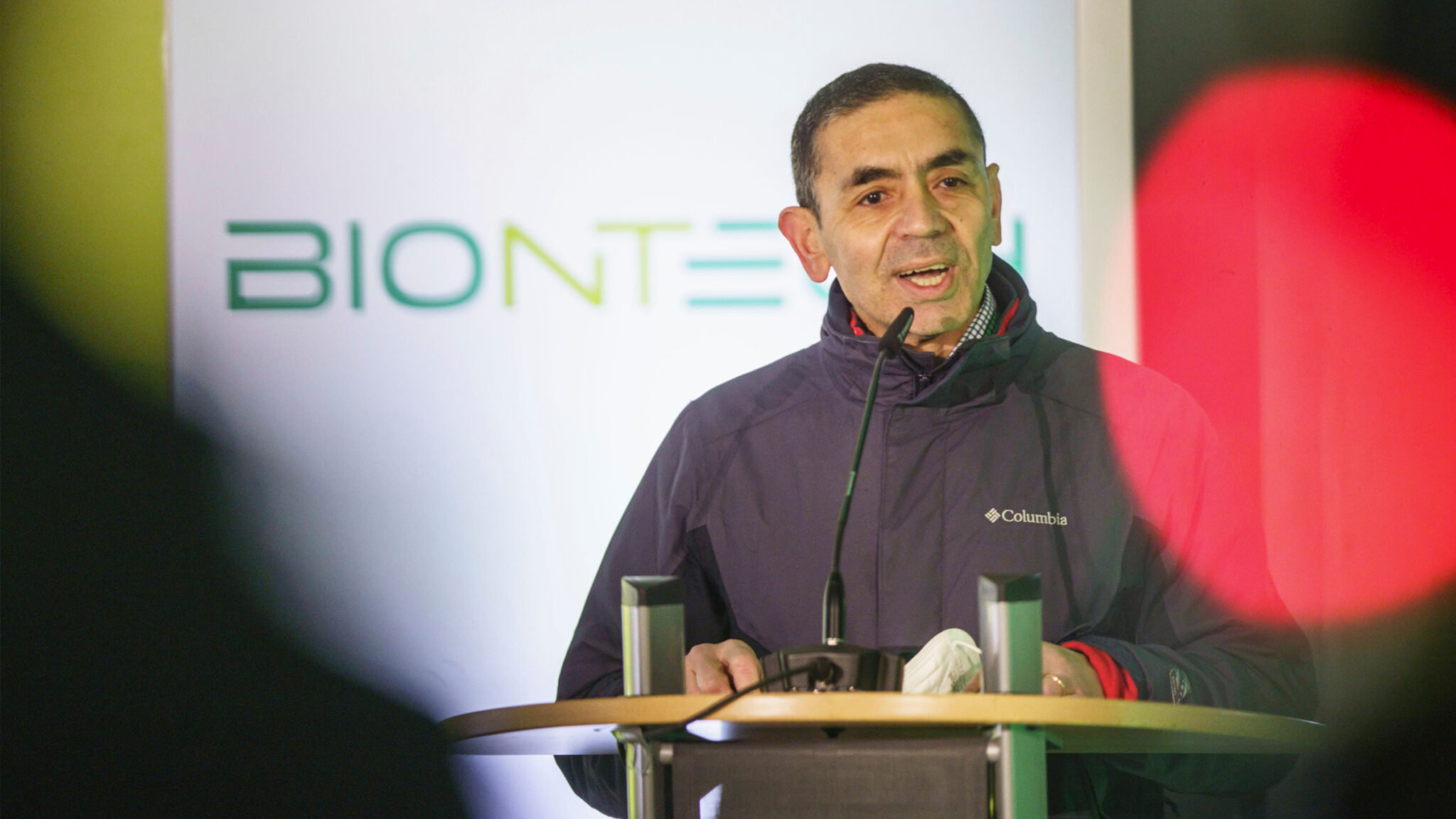 Ugur Sahin, BioNTech CEO (Frank Rumpenhorst/dpa via AP Images)
New stud­ies in­di­cate mR­NA vac­cines pro­vide lim­it­ed pro­tec­tion against Omi­cron, but boost­ers and new shots may be cru­cial
The first sub­stan­tial ev­i­dence for how mR­NA vac­cines will hold up against the new Omi­cron vari­ant was re­leased Tues­day night from sci­en­tists in South Africa.
The study, con­duct­ed by mix­ing sera from vac­ci­nat­ed in­di­vid­u­als with live Omi­cron virus, showed that the vari­ant could large­ly — but not en­tire­ly — dodge an­ti­bod­ies elicit­ed by the Pfiz­er-BioN­Tech vac­cine.
The re­sult sug­gests that the vac­cines will be less ef­fec­tive at pre­vent­ing in­fec­tion by Omi­cron. But be­cause many an­ti­bod­ies do still bind to the virus, ex­perts say, boost­ers should help stem the de­cline. And ef­fi­ca­cy will like­ly hold up against the most im­por­tant met­ric for vac­cines: pre­vent­ing se­vere dis­ease.
On Wednes­day morn­ing, Pfiz­er added its own ear­ly da­ta from in­ter­nal stud­ies, echo­ing the re­sults from South Africa while pro­vid­ing ev­i­dence that boost­ers can im­prove ef­fi­ca­cy.
"The im­por­tant ques­tion is whether vac­cines will main­tain ef­fi­ca­cy against se­vere dis­ease, mean­ing dis­ease that will cause you go to the doc­tor or a hos­pi­tal" Paul Of­fit, di­rec­tor of the Vac­cine Ed­u­ca­tion Cen­ter at Chil­dren's Hos­pi­tal of Philadel­phia, told End­points News. "And I think the an­swer to that is in all like­li­hood yes."
Flo­ri­an Kram­mer, a vac­ci­nol­o­gist at Mt. Sinai School of Med­i­cine, chimed in on Twit­ter, say­ing "Pro­tec­tion against se­vere dis­ease may re­main rea­son­ably high in all in­di­vid­u­als with base­line im­mu­ni­ty," though he cau­tioned it "was spec­u­la­tion."
4)….will take a hit and will be strong­ly re­duced. I think pro­tec­tion against in­fec­tion will re­main high­er in con­va­les­cent vac­ci­nat­ed and 3x vac­ci­nate in­di­vid­u­als. I would al­so spec­u­late, that pro­tec­tion against se­vere dis­ease may re­main rea­son­ably high in all…

— Flo­ri­an Kram­mer (@flo­ri­an_kram­mer) De­cem­ber 8, 2021
Caveats about the ear­ly da­ta abound. The study, led by Alex Si­gal, a vi­rol­o­gist at the Africa Health Re­search In­sti­tute in Dur­ban, South Africa, on­ly looked at the ef­fi­ca­cy of an­ti­bod­ies from six peo­ple who had re­ceived two dos­es of the Pfiz­er shot. They found a 41-fold re­duc­tion in neu­tral­iza­tion com­pared to pre­vi­ous ver­sions of the virus.
In peo­ple who have re­ceived three dos­es, the quan­ti­ty of the an­ti­bod­ies may com­pen­sate for some of the re­duced qual­i­ty. In­deed, Pfiz­er said its own da­ta con­firmed re­duced ef­fi­ca­cy for those who re­ceived two dos­es. But the com­pa­ny not­ed it found sera from in­di­vid­u­als who re­ceived boost­ers one month pri­or can still neu­tral­ize the virus.
It re­mains un­clear, though, how long that in­creased pro­tec­tion lasts, Walid Gel­lad, di­rec­tor of the Uni­ver­si­ty of Pitts­burgh Cen­ter for Phar­ma­ceu­ti­cal Pol­i­cy and Pre­scrib­ing, said on Twit­ter. An­ti­body lev­els tend to climb sub­stan­tial­ly af­ter every dose but then fall off.
New da­ta from Pfiz­er.
We need to know how this dif­fers by age, and by pri­or in­fec­tion sta­tus. These da­ta are 1 month af­ter boost­er – what about 4 months af­ter boost­er? How many times should we boost to in­crease neu­tral­iza­tion if pro­tec­tion against se­vere dis­ease is main­tained? https://t.co/0rpuetXYCt

— Walid Gel­lad, MD MPH (@walidgel­lad) De­cem­ber 8, 2021
An­ti­bod­ies are on­ly one part of a com­plex and mul­ti-pronged im­mune re­sponse. They are par­tic­u­lar­ly af­fect­ed by the new vari­ant and its 30 spike pro­tein mu­ta­tions be­cause to be ef­fec­tive, they need to latch on­to the spike, at which point they ei­ther block its func­tion or re­cruit oth­er im­mune cells to gob­ble the virus.
T cells, though, don't need to bind to the spike. They seek out in­fect­ed cells, in­duc­ing any they rec­og­nize to self-de­struct. Re­searchers ex­pect these will re­main ef­fec­tive against the vari­ant, help­ing pro­tect vac­ci­nat­ed in­di­vid­u­als from se­vere dis­ease.
In its state­ment, Pfiz­er said that 80% of spike epi­topes — re­gions, ba­si­cal­ly — rec­og­nized by killer T cells are not af­fect­ed by Omi­cron's mu­ta­tions. Of­fit not­ed these cells have main­tained ef­fi­ca­cy against every vari­ant through­out the pan­dem­ic.
Nev­er­the­less, these da­ta sug­gest that Mod­er­na and Pfiz­er should con­tin­ue de­vel­op­ing an Omi­cron-spe­cif­ic jab, Fred Hutch vi­rol­o­gist Jesse Bloom told The New York Times.
"Giv­en the very large drop in neu­tral­iz­ing an­ti­body titers that are seen here with Omi­cron," he said, "cer­tain­ly in my view it would mer­it push­ing for­ward as fast as pos­si­ble with mak­ing Omi­cron-spe­cif­ic vac­cines, as long as it seems like there's a pos­si­bil­i­ty it could spread wide­ly."
Pfiz­er, in its state­ment, in­di­cat­ed they were still eval­u­at­ing whether such a shot would be nec­es­sary. But they are work­ing on new se­quences and, if need­ed, those will be ready for tri­als by March.
The ques­tion, Of­fit said, cen­ters around pre­cise­ly what the goal of new shots is. Of­fi­cials can keep rolling out boost­ers, against the orig­i­nal virus or against the Omi­cron vari­ant, to try and stop in­fec­tion or mild dis­ease. But he not­ed of­fi­cials his­tor­i­cal­ly haven't asked that of vac­cines against flu, ro­tavirus or most oth­er bugs, and he ques­tioned how much of an im­pact such boost­ers, par­tic­u­lar­ly for young peo­ple, would make on the course of the pan­dem­ic.
Vari­ant-spe­cif­ic boost­ers will be need­ed in the un­like­ly event Omi­cron can still cause se­vere dis­ease in vac­ci­nat­ed in­di­vid­u­als, he said. Re­searchers should have more da­ta on that soon.
"I think we should know that with­in weeks," he said. "If Omi­cron is as con­ta­gious as is claimed, there are a lot of peo­ple out there who have been vac­ci­nat­ed who are go­ing to be in­fect­ed with this virus."
How those pa­tients fare could give re­searchers the best glimpse yet as to how much a threat Omi­cron is vac­ci­nat­ed. In the mean­time, Of­fit said, the biggest need is to get more peo­ple — in­clud­ing kids — vac­ci­nat­ed for the first time.