New­com­er Do­va hus­tles a phar­ma castoff through to an FDA ap­proval, shares sink any­way
Less than a year af­ter lit­tle Do­va Phar­ma­ceu­ti­cals popped up on Nas­daq to raise $75 mil­lion from an IPO, the biotech has raced ahead to an FDA ap­proval of its lead drug.
Durham-based Do­va picked up ava­trom­bopag from Ei­sai for a song — plus $5 mil­lion up front. It was al­ready Phase III ready at the time, al­low­ing Do­va to quick march to the mar­ket­place.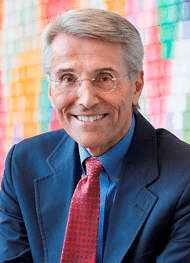 Richard Paz­dur
The FDA of­fered a green light to use the drug — to be mar­ket­ed as Doptelet — for a set of chron­ic liv­er dis­ease pa­tients suf­fer­ing from low blood platelet counts.
The news brought on­ly a tem­po­rary lift to its shares $DO­VA, though, which end­ed the day down 13% as a num­ber of biotech stocks went on a roller coast­er ride. Nev­er­the­less, at a lit­tle north of $24, the stock is still well up from its $17 launch price, which hit on the high end of the range.
Leerink's Ge­of­frey Porges has been crunch­ing the num­bers and be­lieves that Do­va is look­ing at $350 mil­lion in an­nu­al sales by 2025, with a Eu­ro­pean ap­proval pos­si­ble next sum­mer along with some la­bel ex­ten­sions to help boost its rev­enue. He notes:
This ap­proval of Do­va's first and on­ly drug is ex­act­ly on the FDA's pri­or­i­ty re­view PDU­FA date and matched in­vestors' gen­er­al­ly pos­i­tive views of the like­li­hood of the ap­proval. The la­bel re­flects the ef­fi­ca­cy and safe­ty of the two piv­otal tri­als, ADAPT-1 and ADAPT-2, does not in­clude a Black Box warn­ing for he­pa­to­tox­i­c­i­ty, and lists the clin­i­cal ex­pe­ri­ence of throm­bot­ic com­pli­ca­tions (0.2% of pa­tients) as a warn­ing for high-risk pa­tients. Do­va has hired all sales, mar­ket­ing, and re­im­burse­ment sup­port re­sources and is ready to launch in June, and the price will not be dis­closed un­til that time (we an­tic­i­pate $6,000).
"Doptelet was demon­strat­ed to safe­ly in­crease the platelet count," said the FDA's Richard Paz­dur, step­ping in as act­ing di­rec­tor of the Of­fice of Hema­tol­ogy and On­col­o­gy Prod­ucts. "This drug may de­crease or elim­i­nate the need for platelet trans­fu­sions, which are as­so­ci­at­ed with risk of in­fec­tion and oth­er ad­verse re­ac­tions."