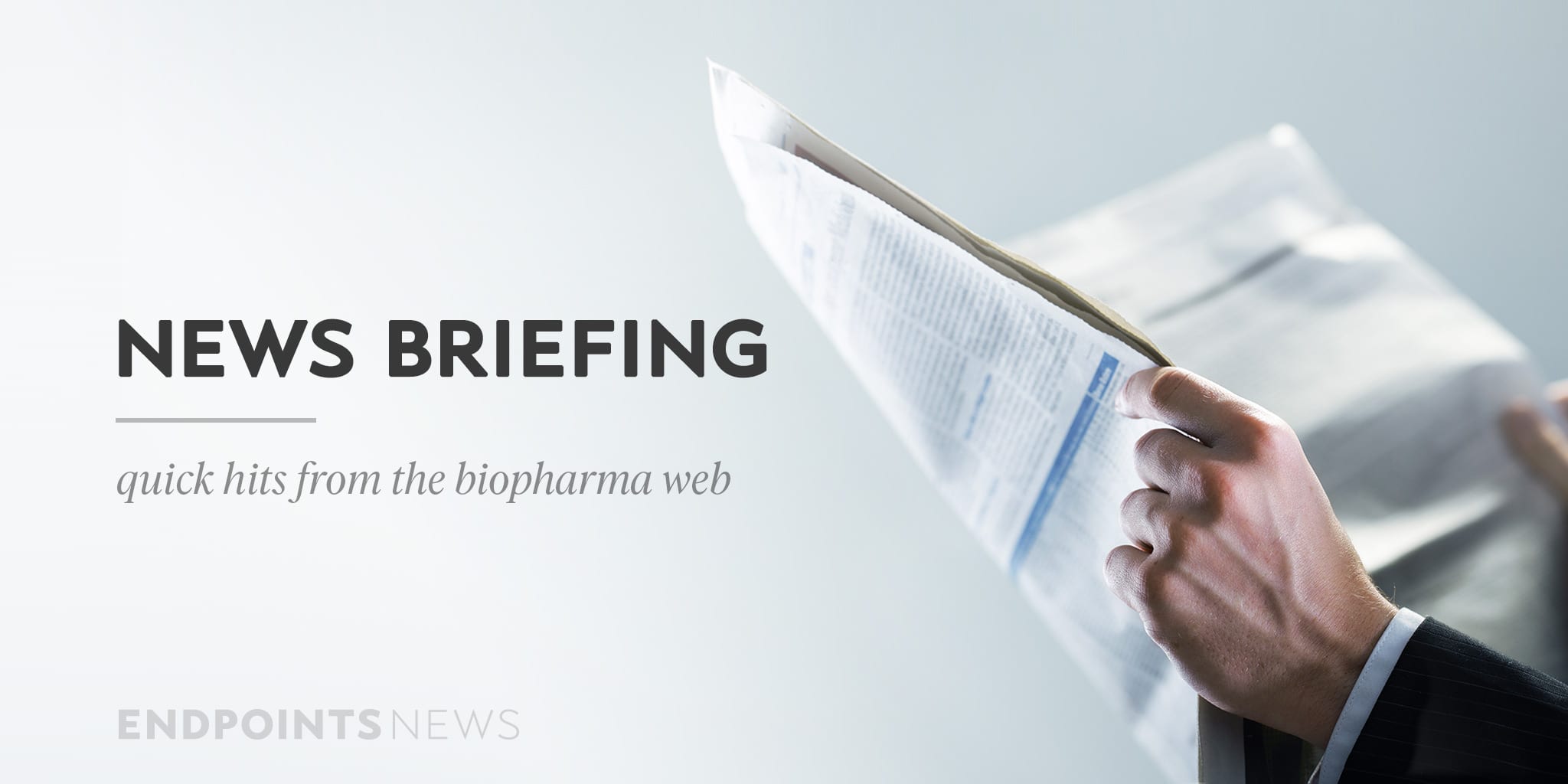 News brief­ing: Al­ny­lam wins EC OK for its third drug, putting them out front on PH1; Big biotech VC Qim­ing clos­es out Fund VII with $1.2B
Al­ny­lam $AL­NY put out word to­day that the Eu­ro­pean Com­mis­sion has ap­proved its third drug, lumasir­an, for pri­ma­ry hy­per­ox­aluria type 1, bet­ter known as PH1. It will be mar­ket­ed as Oxlu­mo.
An ul­tra rare ge­net­ic con­di­tion, Al­ny­lam CEO John Maraganore says there are on­ly some 1,000 to 1,700 pa­tients in the US and Eu­rope at any par­tic­u­lar point. The pa­tients, most­ly kids, suf­fer from an over­pro­duc­tion of ox­alate in the liv­er that spurs the de­vel­op­ment of kid­ney stones, right through to end stage kid­ney dis­ease.
A de­ci­sion from the FDA — most like­ly pos­i­tive — is due by the PDU­FA date of De­cem­ber 3, though it wouldn't be un­usu­al for the agency to act faster than that.
For right now, the Eu­ro­pean ap­proval puts Al­ny­lam as the fron­trun­ner in the field. But that isn't ex­pect­ed to last for­ev­er. Dicer­na is com­ing along with an RNAi ri­val that is ex­pect­ed to cov­er the range of PH1-3, though Maraganore notes that PH1 is the most com­mon type in the mix.
Big biotech VC Qim­ing clos­es out Fund VII with $1.2B
Shang­hai-based Qim­ing Ven­ture Part­ners has topped up and closed out Fund VII, end­ing up with $1.2 bil­lion — an add on of about $100 mil­lion from the ear­li­er close in April, which Am­ber Tong re­port­ed on.
Qim­ing man­ag­ing part­ner Nisa Le­ung has cut a wide swathe in Chi­na's ven­ture com­mu­ni­ty with a spe­cial fo­cus on biotech. The VC counts 370 some health and tech com­pa­nies in the port­fo­lio, with a spe­cial place of hon­or for the 30-plus that achieved uni­corn sta­tus and the 40-plus that have un­der­tak­en an IPO.
The in­vest­ments in Chi­na cov­er 3 big biotech plays: Tigermed, Zai Lab and CanSi­no Bi­o­log­ics.
"We are very grate­ful to our LPs for their trust and sup­port over the last 15 years," not­ed Le­ung in a pre­pared state­ment. "Qim­ing will con­tin­ue to fo­cus on in­vest­ing in vi­sion­ary en­tre­pre­neurs to bring long-term val­ue to hu­man­i­ty and so­ci­ety."
Achilles Ther­a­peu­tics reels in more than $69 mil­lion for T-cell ther­a­pies
A year af­ter bag­ging a $121 mil­lion Se­ries B megaround, Achilles Ther­a­peu­tics is bring­ing home an­oth­er $69.7 mil­lion from an over­sub­scribed Se­ries C.
Achilles tagged the funds for R&D, and for two on­go­ing Phase I/IIa tri­als in re­cur­rent or metasta­t­ic ma­lig­nant melanoma and ad­vanced non-small cell lung can­cer, re­spec­tive­ly. Both T-cell ther­a­py pro­grams tar­get clon­al neoanti­gens — an ap­proach which came from re­search out of Charles Swan­ton's lab at the Fran­cis Crick. Swan­ton il­lus­trat­ed the po­ten­tial of tar­get­ing clon­al neoanti­gens, which are formed in the ear­ly process a cell goes through as it mu­tates in­to a can­cer cell, as op­posed to lat­er-stage neoanti­gens.
"Achilles has made tremen­dous progress since its found­ing in 2016…" CEO Iraj Ali said in a state­ment. The biotech ex­pects to read out in­ter­im da­ta from both of its lead stud­ies in the first half of 2021.
Or­biMed, Box­er Cap­i­tal of Tavi­s­tock Group, RA Cap­i­tal, Syn­cona, For­bion, In­vus, Per­cep­tive Ad­vi­sors and Red­mile Group all chipped in­to the Se­ries C. — Nicole De­Feud­is