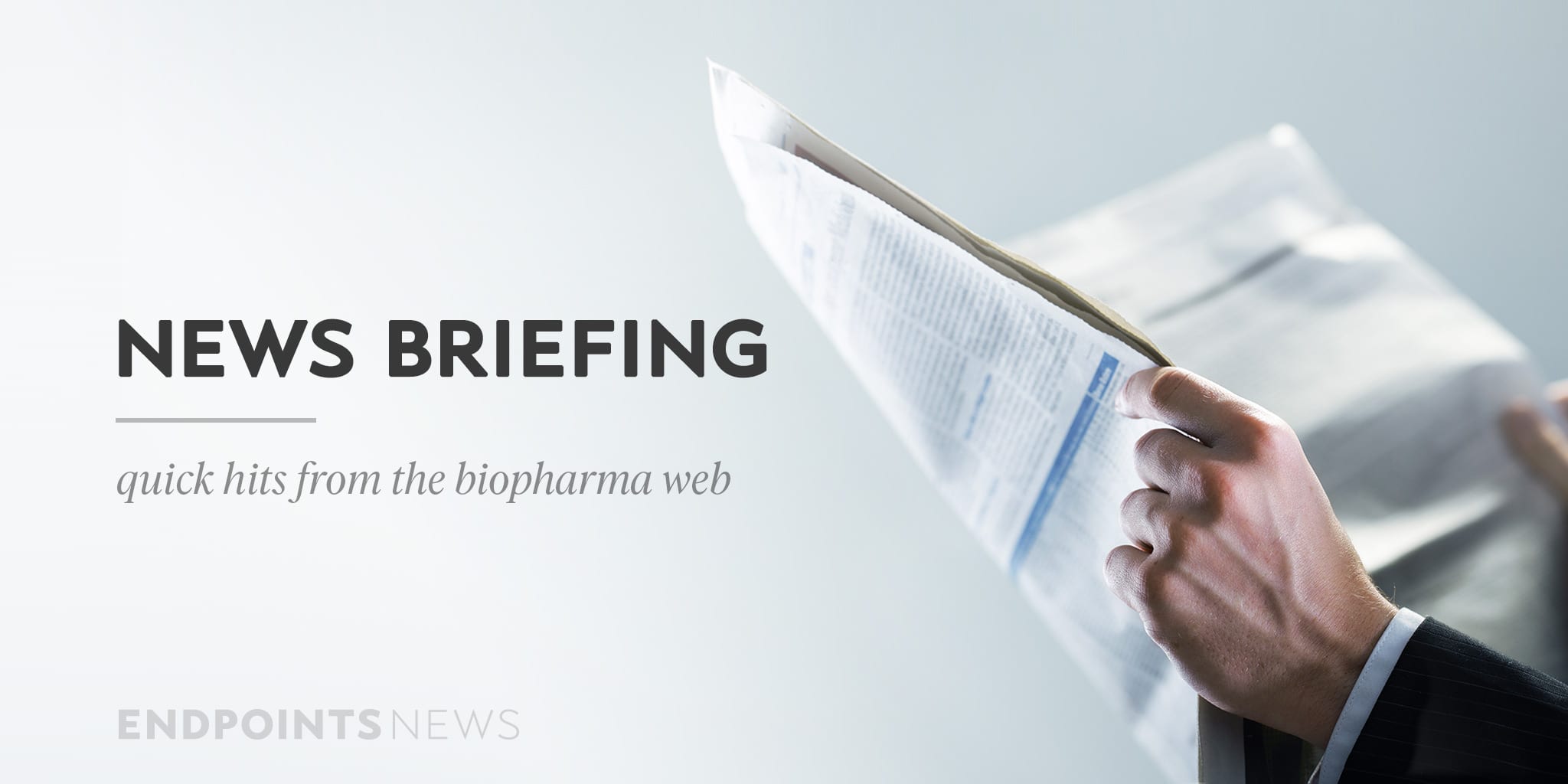 News brief­ing: Four biotechs an­nounce IPO terms, set­ting the pace to round out a busy year; FDA sets PDU­FA date for Kad­mon's graft-ver­sus-host drug
Four more biotechs set the terms for their IPOs, lin­ing up yet an­oth­er busy week on Wall Street.
Sil­ver­back Ther­a­peu­tics, which ini­tial­ly filed for a $100 mil­lion raise, is now shoot­ing for $125 mil­lion from 7 mil­lion shares at a range of $17 to $19. About $70 mil­lion is tagged for the com­pa­ny's lead Phase I/Ib an­ti­body-drug con­ju­gate, SBT6050, for ad­vanced or metasta­t­ic HER2-ex­press­ing sol­id tu­mors. In­ter­im da­ta from the Phase I dose-es­ca­la­tion co­horts are ex­pect­ed in the sec­ond half of 2021. An­oth­er $55 mil­lion is set aside for Sil­ver­back's two oth­er can­di­dates, which have yet to reach the clin­ic.
Kin­nate Bio­phar­ma is look­ing for a $170 mil­lion raise, and set a $16 to $18 range for its 10 mil­lion share of­fer­ing. About $105 is ear­marked for its RAF in­hibitors, in­clud­ing its lead pre­clin­i­cal can­di­date KIN002787 for pa­tients with lung can­cer, melanoma and oth­er sol­id tu­mors. An IND is com­ing in the first half of 2021, the com­pa­ny says. Back in Au­gust, it hooked a $98 mil­lion Se­ries C.
Seer al­so set its shares at a $16 to $18 range. The com­pa­ny, which is work­ing on next-gen pro­teome analy­sis tests, is of­fer­ing 8.8 mil­lion shares, go­ing for a $150 raise. About $65.0 mil­lion would go to its Pro­teo­graph Prod­uct Suite, which al­ready has one col­lab­o­ra­tor and could have a sec­ond by the end of the year.
Sig­ilon Ther­a­peu­tics is seek­ing $101 mil­lion from 5.6 mil­lion shares at a $17 to $19 range. Be­tween $30 to $35 mil­lion will be set aside for its lead can­di­date, SIG-001, which is in a Phase I/II tri­al to pre­vent bleed­ing episodes in pa­tients with he­mo­phil­ia A. An­oth­er $30 to $35 mil­lion would fund a scale-up of the com­pa­ny's GMP man­u­fac­tur­ing process­es SIG-001 and SIG-005, its pre­clin­i­cal can­di­date for pa­tients with mu­copolysac­cha­ri­do­sis type 1, or MPS-1.
More than 72 biotech and bio­phar­ma com­pa­nies and count­ing have hit Nas­daq so far this year, and head of health­care list­ings Jor­dan Saxe pre­dict­ed round­ing out the year with just un­der $14 bil­lion in pro­ceeds.
FDA sets PDU­FA date for Kad­mon's graft-ver­sus-host drug
Kad­mon's chron­ic graft-ver­sus-host drug belu­mo­sudil is in the FDA's hands.
The agency ac­cept­ed the biotech's NDA un­der its re­al-time on­col­o­gy re­view (RTOR) pi­lot pro­gram, and set the PDU­FA date for May 30, 2021. The sub­mis­sion was based on pos­i­tive re­sults from a piv­otal, open-la­bel tri­al dubbed ROCK­star, which en­rolled 132 pa­tients who had re­ceived at least two pri­or lines of ther­a­py.
Belu­mo­sudil is de­signed to tamp down the in­flam­ma­to­ry re­sponse seen af­ter hematopoi­et­ic stem cell trans­plant by block­ing Rho-as­so­ci­at­ed coiled-coil ki­nase 2 (ROCK2). In­stead of a com­para­tor arm, Kad­mon set the bar at a 30% over­all re­sponse rate, based on con­ver­sa­tions with the FDA. Pa­tients were giv­en 200 mg of the drug ei­ther once or twice dai­ly. At six months af­ter the com­ple­tion of en­roll­ment, Kad­mon saw an ORR of 73% and 75% in the re­spec­tive arms.
That's it for da­ta, un­til the full re­port is read out at ASH in De­cem­ber. The com­pa­ny's stock $KDMN was up 6.68% on Mon­day, at $4.39 per share. Kad­mon was found­ed by Sam Wak­sal, the biotech ex­ec who was sen­tenced to prison for his in­sid­er trad­ing con­vic­tion in­volv­ing Martha Stew­art.
Hookipa Phar­ma reads out in­ter­im re­sults from Phase II CMV vac­cine tri­al
Hookipa Phar­ma said no one from a small group of Phase II par­tic­i­pants treat­ed with its pro­phy­lac­tic cy­tomegalovirus vac­cine came down with the dis­ease, ac­cord­ing to in­ter­im re­sults.
The analy­sis was based on 41 par­tic­i­pants — 8 of whom re­ceived 3 dos­es, 19 of whom re­ceived 2 dos­es, and 14 of whom re­ceived a place­bo. Com­pared to the place­bo, re­searchers saw a 48% re­duc­tion in CMV viremia, and a 42% re­duc­tion in the use of an­tivi­ral ther­a­py. There were no cas­es of CMV dis­ease in the treat­ment arm, com­pared to 2 in the place­bo group.
"While these in­ter­im da­ta are from a small group of pa­tients, they of­fer ear­ly in­sight in­to the po­ten­tial of a three-dose sched­ule of HB-101 to help pro­tect kid­ney trans­plant re­cip­i­ents against CMV dis­ease," CEO Jo­ern Aldag said in a state­ment.
The can­di­date is go­ing head-to-head with Mod­er­na's mR­NA-1647, which pro­duced pos­i­tive re­sults from a proof-of-con­cept study back in Jan­u­ary. Re­searchers said they saw an in­creas­ing lev­el of neu­tral­iz­ing an­ti­body titers in those who had re­ceived a third vac­ci­na­tion.
"This could re­al­ly be a com­pa­ny builder," CEO Stéphane Ban­cel said at the time, adding that the can­di­date could turn in­to a $2 bil­lion to $5 bil­lion an­nu­al fran­chise.