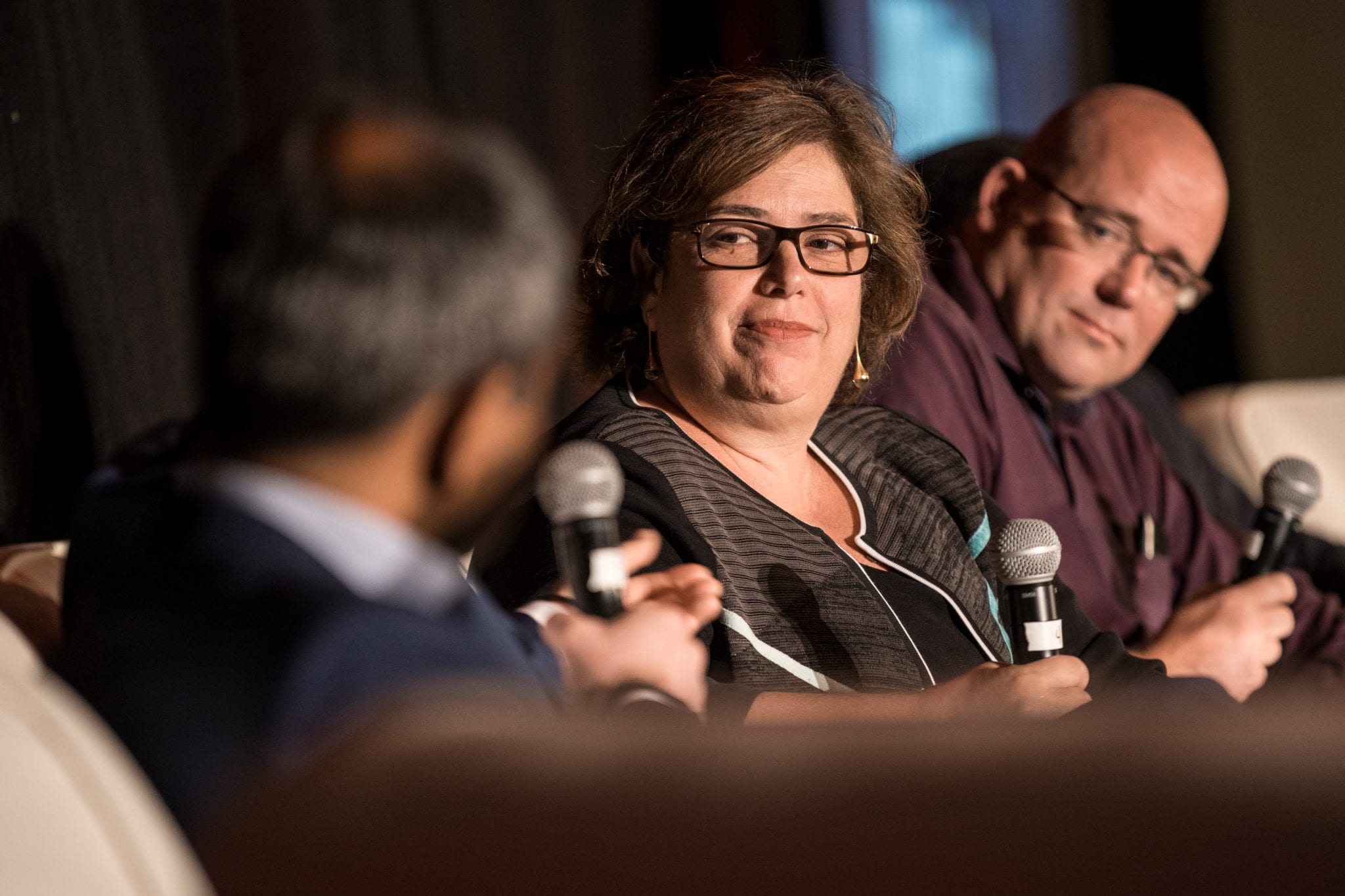 Rosana Kapeller listening to a member on the breakfast panel at #BIO19 discuss AI in R&D in Philadelphia (Jeff Rumans for Endpoints News)
Nim­bus founder Rosana Kapeller has a new com­pa­ny, with $50M and an eye on the 're­peatome'
Rosana Kapeller left Nim­bus two years ago de­ter­mined, af­ter 2 decades and 3 com­pa­nies, that her next spot would be as CEO. To­day, af­ter a 7-month sab­bat­i­cal and a stint at a top VC firm, the joc­u­lar com­pu­ta­tion­al bi­ol­o­gy pi­o­neer is back. And with full con­trol.
"I re­al­ly want­ed to… make a unique or­ga­ni­za­tion, a unique cul­ture," Kapeller told End­points News. "I want­ed that chal­lenge."
And a chal­lenge it will be, both sci­en­tif­i­cal­ly and be­cause, well, there's a pan­dem­ic keep­ing much of her 10-per­son team work­ing from her home. "This is a hard time to start a com­pa­ny," she ac­knowl­edged.
Still, Kapeller is con­fi­dent, plac­ing her faith both in the am­bi­tious sci­ence of her new com­pa­ny and in her own ex­pe­ri­ence as a busi­ness­woman, dat­ing back to her up­bring­ing in a busi­ness-fo­cused fam­i­ly in Brazil. The new com­pa­ny is ROME Ther­a­peu­tics and it's launch­ing out of stealth mode with $50 mil­lion in Se­ries A fund­ing from GV — where Kapeller served as en­tre­pre­neur-in-res­i­dence for the last year — ARCH Ven­tures, and Part­ners In­no­va­tion Fund. The biotech is one of a se­ries that have arisen in the past few years to tar­get parts of what was once deemed "junk DNA": the 97-99% of ge­net­ic code that doesn't code for pro­teins. Al­though sci­en­tists have known for decades now that at least parts of this vast nu­cle­ic flot­sam serve key func­tions, un­tan­gling those func­tions has been a ma­jor hur­dle. Drug­ging them has been an even larg­er one.
ROME will tar­get one seg­ment of this erst­while junk called the "re­peatome." The name has yet to catch on — a PubMed search pro­duced 22 re­sults and the Wikipedia page is a sin­gle para­graph at­trib­uted to one PLOS pa­per out of France — but the field has slow­ly gained steam since a 2011 Sci­ence pa­per, on which ROME co-founder David Ting was lead au­thor.
The re­peatome refers to some 50% of hu­man DNA that is made up of se­quences that re­peat over and over again — like a mu­si­cal or lit­er­ary mo­tif — and that don't make any pro­teins. Some of these, as sci­en­tists have long known, are retro­virus­es that in­fect­ed us and em­bed­ded their codes in our DNA over mil­lions of years of evo­lu­tions. Oth­er se­quences, though, are "virus-like," said Ting. Most of the time these se­quences are blocked from do­ing any­thing, trapped by methyl agents or hi­s­tones that wrap like chains around DNA. But in some in­stances — such as some can­cers — dis­tressed cells take the chains off and trans­late the se­quences in­to RNA. Those RNA se­quences don't make any pro­teins. But they look like RNA virus­es and ac­ti­vate the in­nate im­mune sys­tem as a virus would, call­ing it to at­tack a tu­mor.
"These re­peats are like the first re­spon­ders, telling the body these cells are be­com­ing un­con­trol­lable — con­trol it," Kapeller said.
Two prob­lems can emerge. First, can­cer cells can de­vel­op ways of re­verse tran­scrib­ing these RNA se­quences back in­to their genome, both si­lenc­ing the im­mune sig­nals and adding to the can­cer's ge­net­ic vari­abil­i­ty. In some au­toim­mune con­di­tions, the op­po­site prob­lem is at play, Kapeller said. Healthy cells send off these RNA re­peats, trig­ger­ing a dam­ag­ing im­mune re­sponse.
Kapeller talks about ROME's role as restor­ing "yin and yang": Keep­ing the im­mune sig­nals go­ing in can­cer and turn­ing them off in au­toim­mune dis­eases. ROME has not yet re­vealed how they plan on do­ing that, but when Ting first hy­poth­e­sized that can­cers were tran­scrib­ing these sig­nals, he start­ed a clin­i­cal tri­al with a com­mon HIV drug on 4th line colon can­cer pa­tients. The HIV drug, which is meant to stop the HIV virus from re­verse tran­scrib­ing it­self, ap­peared to in­hib­it the can­cer's abil­i­ty to re­verse tran­scribe the RNA sig­nals. The pa­tients on the study main­tained their con­di­tion, a rar­i­ty for that form and stage of can­cer.
"Some­how can­cer has re­pur­posed this process to repli­cate and grow in­to tu­mor," Ting told End­points, de­scrib­ing his dis­cov­ery. "It was kind of an ac­ci­dent, an ac­ci­dent of some­thing we were told was junk and find­ing the junk was ac­tu­al­ly do­ing some­thing."
That some­thing evad­ed sci­en­tists in part be­cause ear­ly DNA se­quencers lacked the abil­i­ty to pick up and an­a­lyze these vast codex­es of DNA and study which re­peats were be­ing tran­scribed in­to RNA. To do so, ROME will re­ly on two new but es­tab­lished tech­niques, se­quenc­ing of long stretch­es of DNA and se­quenc­ing of the RNA be­ing tran­scribed in­side a cell, along­side a ma­chine learn­ing ap­proach set up by the­o­ret­i­cal physi­cist Ben­jamin Green­baum. In part, that's what made it a fit­ting project for Kapeller, who did com­pu­ta­tion­al work at Mil­len­ni­um and Ailleron and then was en­list­ed by At­las Ven­tures to launch Nim­bus, one of the first ma­jor com­pu­ta­tion­al biotechs.
Al­though it will be Kapeller's first stint as a CEO, it will hard­ly be her first time in lead­er­ship. Nim­bus lacked a CEO for its first 4.5 years, she notes, leav­ing con­trol of the biotech be­tween her­self and the board. She says that she's learned a few things from her ex­pe­ri­ence with past com­pa­nies: That con­trol and com­mand doesn't work, trans­paren­cy is nec­es­sary, and di­ver­si­ty and putting women in man­age­ment mat­ters. She brings an MD-PhD's un­der­stand­ing of pa­tients, she said, and she took some­thing be­sides busi­ness acu­men back from her home­town of Rio de Janeiro: a cer­tain warmth.
"I'm from Brazil and Brazil­ians love to use hu­mor a lot," Kapel­lar said.
For in­stance, she led off the com­pa­ny's first meet­ing with their PR firm with a slide of her­self and her co-founders in Ro­man glad­i­a­tor cos­tumes. She's re­luc­tant to men­tion those jokes in in­ter­views, though, weary af­ter enough years as an ex­ec­u­tive of how it might be trans­lat­ed.
With the sci­ence, she's bold­er. They're one of the first jump­ing in­to a still-emerg­ing field, she said, and their goal is sus­tained re­mis­sion: can­cer and au­toim­mune treat­ments that won't stop work­ing af­ter a few months, or years.
This is "com­plete­ly un­chart­ed ter­ri­to­ry," Kapeller said.