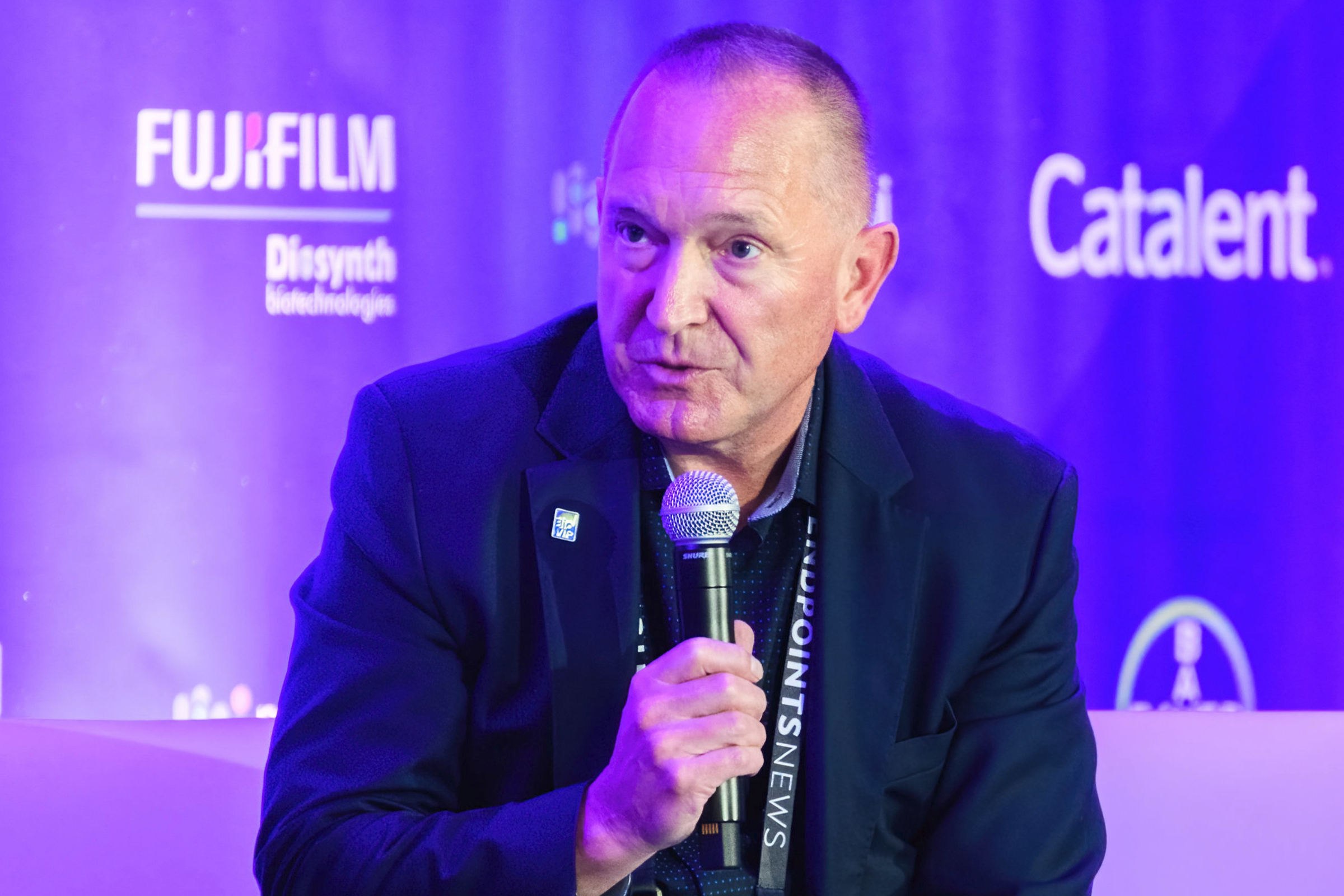 Nkarta CEO Paul Hastings at Endpoints' #BIO22 panel (J.T. MacMillan Photography for Endpoints News)
Nkar­ta un­der­scores safe­ty of CAR-NK, boasts ear­ly re­spons­es
The first gen­er­a­tion of per­son­al­ized CAR-T ther­a­pies made big waves in the treat­ment of lym­phoma for their stun­ning ef­fi­ca­cy. Nkar­ta is hop­ing its off-the-shelf nat­ur­al killer cell ap­proach will stand out on safe­ty — while keep­ing some of those im­pres­sive num­bers on re­spons­es.
In a new up­date from its Phase I dose es­ca­la­tion study, the South San Fran­cis­co-based biotech re­port­ed that sev­en out of 10 pa­tients treat­ed with the high­est dos­es of its NK cell ther­a­py, NKX019, achieved a com­plete re­sponse, trans­lat­ing to a com­plete re­sponse rate of 70%.
"The emerg­ing safe­ty pro­file of NKX019 is po­ten­tial­ly game-chang­ing," said CEO Paul Hast­ings on an in­vestor call.
NKX019 hits the same tar­get as Yescar­ta and Kym­ri­ah, the first ap­proved CAR-Ts. But there are some key dif­fer­ences: It con­sists of NK cells that are al­lo­gene­ic, mean­ing doc­tors don't need to go through the long process of har­vest­ing cells from pa­tients them­selves and en­gi­neer­ing them. And while most CAR-Ts are on­ly in­fused once, some pa­tients in the Nkar­ta tri­al were giv­en mul­ti­ple cy­cles of NKX019.
The new da­ta build on an ini­tial read­out in April, when the com­pa­ny re­port­ed ear­ly re­spons­es. This time around, they have six more pa­tients in the pool and a longer fol­low-up.
Specif­i­cal­ly, Nkar­ta sin­gled out the ab­sence of cy­tokine re­lease syn­drome or neu­ro­tox­i­c­i­ties, which have been the hall­mark of ear­ly CAR-T drugs.
"While oc­ca­sion­al tran­sit and man­age­able in­fu­sion-re­lat­ed re­ac­tions were ob­served and some were even la­beled as CRS by our in­ves­ti­ga­tors, the ear­ly on­set and prompt res­o­lu­tion of symp­toms, some­times with­out any in­ter­ven­tion at all, is clear­ly not the clas­sic CRS that is seen with CAR-T cell ther­a­pies," Hast­ings added.
Hav­ing en­rolled and dosed 19 pa­tients in the tri­al so far, in­ves­ti­ga­tors ob­served five com­plete re­spons­es across all dose lev­els af­ter just a sin­gle cy­cle — with ad­di­tion­al cy­cles, three par­tial re­spons­es deep­ened to com­plete re­spons­es.
Ten of the pa­tients were in the high­est dose co­horts, get­ting ei­ther three week­ly dos­es of a bil­lion cells or three week­ly dos­es of 1.5 bil­lion cells per cy­cle. Ei­ther of those achieved an ob­jec­tive re­sponse, in­clud­ing sev­en com­plete re­spons­es.
Ex­ecs al­lud­ed to dura­bil­i­ty by not­ing in the call that five pa­tients had com­plete re­spons­es that ex­ceed­ed six months, in­clud­ing one pa­tient with LB­CL who has main­tained CR for over nine months.
Nkar­ta added that it's ad­min­is­ter­ing what it calls con­sol­i­da­tion dos­ing to sev­en pa­tients with CRs, with the goal of erad­i­cat­ing resid­ual tu­mor cells and pro­long­ing re­sponse.
"Hav­ing the abil­i­ty to ad­min­is­ter mul­ti­ple treat­ment cy­cles gives us the op­por­tu­ni­ty to deep­en re­spons­es in those pa­tients who are show­ing a clin­i­cal ben­e­fit and to con­sol­i­date com­plete re­mis­sions with an ad­di­tion­al cy­cle for those pa­tients that achieve a CR," said David Shook, vice pres­i­dent of clin­i­cal de­vel­op­ment.
If the re­spons­es hold up, Nkar­ta sees a wide range of po­ten­tial ways for the drug to be de­ployed: as an op­tion for pa­tients who don't have ac­cess or can't tol­er­ate CAR-T; as a next-line treat­ment for those who have re­lapsed af­ter CAR-T; and in com­bi­na­tion with oth­er drugs, such as Roche's Rit­ux­an.
Ed­i­tor's note: A pre­vi­ous ver­sion of this sto­ry in­cor­rect­ly stat­ed that Nkar­ta did not of­fer num­bers on dura­bil­i­ty. It's been up­dat­ed to in­clude de­tails pro­vid­ed in a pre­sen­ta­tion.