Nobody wants radical changes at the FDA, except perhaps President Trump and a few close associates.
We've been tracking the industry's clear reluctance to discard the FDA gold standard in drug development. In our most recent survey yesterday, a plurality of biotech execs voted against significant changes at the agency, saying that reforms over the past few years has already sped up the process. And many of the execs that would like to see continued change were clearly more interested in specifically tailored upgrades, not a wholesale overhaul.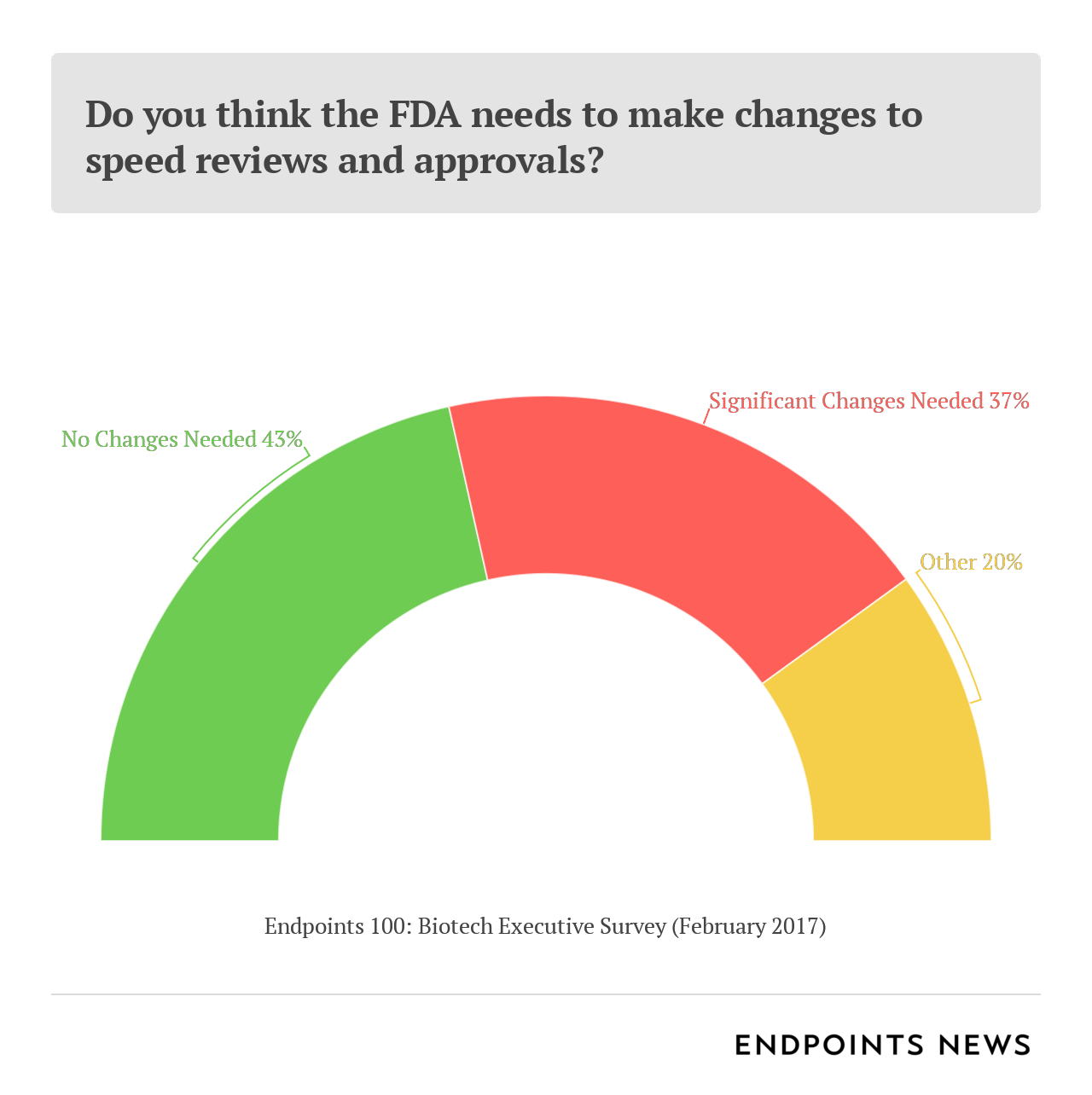 Today, Reuters added a few more biopharma voices to that mix, most notably to me Roger Perlmutter at Merck.
"People often argue that the FDA is too restrictive," Perlmutter told the wire service. "We have the sense that the balance is pretty right … you have to have a well-characterized risk/benefit profile."
Big Pharma's big goal at the new administration has been tax reform, and most of the CEOs have been notoriously quiet in the face of Trump's insistence that vast segments of the regulations around drug development need to be incinerated. So Perlmutter's position here speaks loudly to the industry's stand on deregulation.
Your run of the mill biotech focused almost exclusively on pipeline development will have no problem embracing Perlmutter's position. And interestingly, even BIO is willing to signal now — quietly — that it's advising Trump against a radical change in strategy at the FDA.
That's why there's been so much active support for Scott Gottlieb as the new commissioner. Gottlieb, a physician, is seen as someone who can help continue streamlining the FDA without uprooting standards that are essential to doing drug R&D with integrity.
A few years ago, I was impressed to hear Richard Pazdur stand up at ASCO and in no uncertain terms embrace the breakthrough therapy designation. Can anyone deny that his oncology group has followed through, completely overhauling timelines for new cancer drugs?
Different diseases call for different standards. Diabetes and heart disease are not cancer, and safety concerns for cancer drugs initially treated in dying patients aren't the same as safety concerns for drugs designed to prevent another heart attack or live with a chronic disease. Still, the rest of the FDA can do more to follow Pazdur's lead.
Change is needed at the FDA. Just not the kind of bomb throwing that has been so loudly voiced by Trump. We hope he gets the message, soon.
---
The best place to read
Endpoints News

? In your inbox.

Comprehensive daily news report for those who discover, develop, and market drugs. Join 47,200+ biopharma pros who read Endpoints News by email every day.

Free Subscription
---
---
---