No­var­tis and Am­gen launch new Alzheimer's study
No­var­tis and Am­gen are ex­pand­ing their col­lab­o­ra­tion with the Ban­ner Alzheimer's In­sti­tute, launch­ing a new study to as­sess whether their drug will slow the pro­gres­sion of Alzheimer's dis­ease.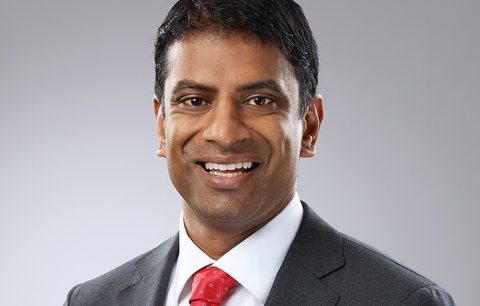 Vas Narasimhan
The study will look at No­var­tis' $NVS BACE1 in­hibitor ther­a­py called CNP520 (joint­ly de­vel­oped with Am­gen $AMGN), to see if it can pre­vent or de­lay the on­set of Alzheimer's in a high-risk pop­u­la­tion.
BACE drugs like CNP520 es­sen­tial­ly seek to in­ter­fere in the process that cre­ates amy­loid be­ta, a tox­ic pro­tein of­ten found in the brains of Alzheimer's pa­tients. As the top amy­loid be­ta drugs like bap­ineuzum­ab and solanezum­ab — which sought to ex­tract ex­ist­ing amy­loid be­ta loads — ex­pe­ri­enced re­peat­ed fail­ures, drug mak­ers are in­creas­ing­ly turn­ing to BACE ther­a­pies as an al­ter­na­tive mech­a­nism that could slow the dis­ease down.
"This ap­proach con­tin­ues to shift the Alzheimer's re­search par­a­digm from re­vers­ing dis­ease dam­age to at­tack­ing its root cause be­fore symp­toms sur­face," said Vas Narasimhan, glob­al head of drug de­vel­op­ment and chief med­ical of­fi­cer at No­var­tis. "It is our hope that by tar­get­ing peo­ple ear­li­er, we will have a bet­ter chance of de­lay­ing or pre­vent­ing the on­set of the dis­ease."
This is the sec­ond BACE study in­volv­ing No­var­tis, Am­gen and Ban­ner. The first one, which the part­ner­ship is call­ing Gen­er­a­tion Study 1, was an­nounced in 2014 and launched last year. The study, fund­ed by a $33.2 mil­lion NIH grant, was on­ly look­ing at pa­tients who car­ried two copies of the apolipopro­tein E (APOE) 4 gene, which is a ma­jor ge­net­ic risk fac­tor for late-on­set Alzheimer's.
With this sec­ond study, how­ev­er, the group is look­ing at pa­tients who on­ly have one copy of the gene.
"Rough­ly one in four peo­ple car­ry a sin­gle copy of the APOE4 gene, but on­ly about two per­cent of the world's pop­u­la­tion car­ries two copies," the Ban­ner press re­lease states.
Pa­tients with on­ly one copy will need ev­i­dence of el­e­vat­ed brain amy­loid to be in­clud­ed in the tri­al.
The lat­est tri­al, called Gen­er­a­tion Study 2, start­ed en­rolling pa­tients in Au­gust, and will even­tu­al­ly in­clude more than 180 sites around the world. The five-year study will re­cruit 2,000 cog­ni­tive­ly healthy par­tic­i­pants, aged 60 to 75, who are at high risk of de­vel­op­ing AD based on their age and ge­net­ic make­up.