No­var­tis an­nounces pos­i­tive da­ta from halt­ed Zol­gens­ma tri­al
The tri­al may be on hold, but No­var­tis says the drug works.
No­var­tis an­nounced to­day new da­ta on a de­liv­ery route to make the gene ther­a­py Zol­gens­ma ap­plic­a­ble and ac­ces­si­ble to old­er kids with spinal mus­cu­lar at­ro­phy, even as the Phase I/II tri­al on that route re­mains on hold. The FDA paused the tri­al in Oc­to­ber af­ter pre­clin­i­cal stud­ies showed loss of neur­al func­tion in some mice. The hold came af­ter an in­dus­try-rock­ing scan­dal over how No­var­tis han­dled da­ta-tam­per­ing in a dif­fer­ent set of pre­clin­i­cal Zol­gens­ma stud­ies.
No­var­tis sub­sidiary AveX­is, which de­vel­oped and mar­kets Zol­gens­ma, said that in the me­di­an dos­ing arm of their STRONG tri­al, the 2-year-old to 5-year-old pa­tients met the pri­ma­ry end­point: They im­proved an av­er­age of 6.0 points on the Ham­mer­smith Func­tion­al Mo­tor Scale-Ex­pand­ed, a met­ric used to mea­sure mus­cle func­tion in kids with spinal mus­cu­lar at­ro­phy. AveX­is said that was twice the im­prove­ment re­quired to be clin­i­cal­ly mean­ing­ful and re­flect­ed ad­vances in three to six mo­tor skills.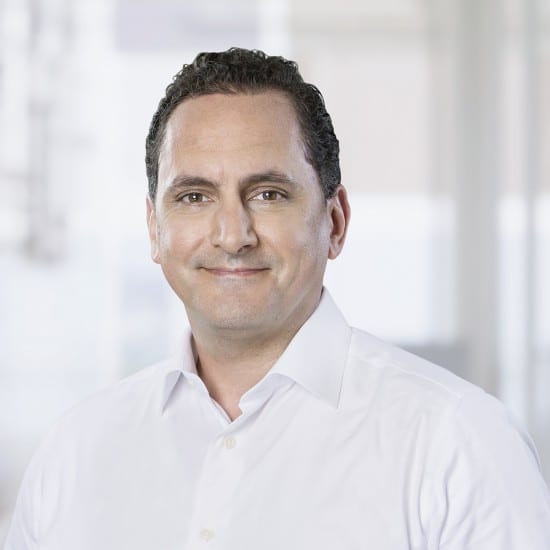 David Lennon No­var­tis
In a press re­lease, AveX­is CEO David Lennon praised the re­sults and hint­ed he hoped they would con­vince reg­u­la­tors to re­sume the tri­al. He used the ex­per­i­men­tal com­pa­ny name of the drug.
"STRONG da­ta demon­strat­ed po­ten­tial best-in-cat­e­go­ry pro­file with re­mark­able mo­tor func­tion im­prove­ment fol­low­ing a sin­gle, one-time in­trathe­cal dose," Lennon said. "We look for­ward to shar­ing these da­ta with reg­u­la­tors to fur­ther our dis­cus­sions to­ward reg­is­tra­tion of in­trathe­cal AVXS-101."
Ap­proved last year, Zol­gens­ma was the sec­ond gene ther­a­py to reach the mar­ket in the US and just the sec­ond-ever treat­ment for spinal mus­cu­lar at­ro­phy af­ter the 2016 ap­proval of Io­n­is's and Bio­gen's Spin­raza. The ther­a­py was lim­it­ed, though, to pa­tients un­der the age of 2. The swift­ness of the ge­net­ic dis­or­ders re­duced the odds of suc­cess the old­er pa­tients got. Most kids with SMA type 1 — the first ap­proved in­di­ca­tion — do not live past the age of 2.
Peo­ple with SMA type 2, how­ev­er, can live in­to ear­ly adult­hood, and No­var­tis has been try­ing to test if an in­trathe­cal in­jec­tion of Zol­gens­ma — as op­posed to an in­tra­venous one — can im­prove their prog­no­sis.
The hold on the tri­al af­fect­ed the high­est dos­ing arm of the study. Since Oc­to­ber, the Swiss gi­ant has tried to get the FDA to lift the halt, point­ing to the fact that the neur­al dam­age shown in the pre­clin­i­cal study has nev­er ap­peared across the 300-plus pa­tients who have re­ceived the gene ther­a­py. The com­pa­ny said they ex­pect a de­ci­sion from the FDA next quar­ter.