No­var­tis-backed In­fla­zome rais­es $46M for their clin­i­cal chal­lenge to prove NL­RP3 is a great an­ti-in­flam­ma­to­ry tar­get
The big CAN­TOS study may not have pro­duced the block­buster ap­proval that No­var­tis had been promis­ing in car­dio, but its suc­cess in the IL-1 be­ta path­way has helped in­spire a slate of star­tups that are mov­ing up­stream to what's be­come a hot field in NL­RP3 in­hi­bi­tion.
To­day's sto­ry cen­ters on In­fla­zome, which de­scribes it­self as one of the pi­o­neers in NL­RP3. The biotech has raised $46 mil­lion for its Se­ries B round to shift out of pre­clin­i­cal work and head straight in­to the clin­ic next year, with plans to tee up a safe­ty study fol­lowed by a for­ay in­to an or­phan CNS con­di­tion.
Based in Dublin and Cam­bridge, UK, where its re­search is cen­tered, the biotech al­so has an of­fice in Aus­tralia to al­low for a quick shift to hu­man tri­als, where the gov­ern­ment of­fers a hefty 43% tax cred­it for the drug tri­als un­der­tak­en Down Un­der.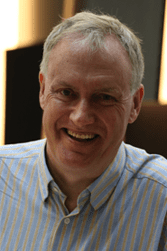 Luke O'Neill
Pfiz­er, As­traZeneca, No­var­tis and oth­ers may have failed at their ear­ly at­tempts in this are­na, says CEO Matthew Coop­er, but they have all helped pave the way for In­fla­zome. Coop­er co-found­ed the com­pa­ny with Trin­i­ty Col­lege's Luke O'Neill. They now have a dozen staffers, with plans to beef up the team now that the B round has ar­rived.
The biotech's ear­ly work has in­volved hun­dreds of com­pounds and 29 patents cen­tered around NL­RP3, an in­flam­ma­zome that ap­pears to play a key role in push­ing in­flam­ma­tion in a long ros­ter of ail­ments big and small.
Their goal has been to iden­ti­fy the best drug can­di­date de­pend­ing on the tar­get, which starts with cry­opy­rin-as­so­ci­at­ed pe­ri­od­ic syn­drome, an or­phan in­di­ca­tion in­volv­ing hy­per-in­flam­ma­tion that can lead to men­tal re­tar­da­tion. That gives them a chance to pro­vide a proof-of-con­cept dis­play of the tech with a small study be­fore they branch out in­to big­ger dis­eases.
The biotech doesn't go out of its way to at­tract at­ten­tion. "We're very Eu­ro­pean in that way," says Coop­er, a pro­fes­sor at the Uni­ver­si­ty of Queens­land who I queried af­ter the re­lease hit the wire.
At the same time, he's clear­ly pumped and be­lieves that In­fla­zome is on a great jour­ney, start­ing with CNS and the pos­si­bil­i­ty of go­ing in­to some tough con­di­tions like Parkin­son's and Alzheimer's, where tamp­ing down on longterm in­flam­ma­tion could pay sol­id ben­e­fits over time.
That will re­quire com­pounds that can get in­to the brain to do their job. But out­side the brain there are plen­ty of ad­di­tion­al tar­gets, run­ning a gamut rang­ing from gout to arthri­tis to car­dio.
Like his biotech ri­vals — a group that in­cludes NodThera and IFM — Coop­er is pur­su­ing the be­lief that rather that tack­ling the en­tire IL-1 be­ta path­way, it's pos­si­ble to much more safe­ly sin­gle out the "lone wolf" that they be­lieve is the prime sus­pect for the laun­dry list of con­di­tions it may trig­ger.
In­ter­est­ing­ly, there's al­so been ear­ly work done to link the ke­to­genic di­et to hit­ting NL­RP3, which may ex­plain why the ul­tra low carb di­et could work in a range of cas­es for child­hood epilep­sy, as prac­ticed at Johns Hop­kins for decades. Coop­er, though, says it's go­ing to take some­thing with re­al ther­a­peu­tic strength to have an im­pact on the dis­eases they're af­ter, and ke­to may not qual­i­fy on that lev­el.
For­bion led the round, with Lon­gi­tude Cap­i­tal and found­ing in­vestors No­var­tis Ven­ture Fund and Foun­tain Health­care Part­ners al­so par­tic­i­pat­ing.
---
Im­age: Matthew Coop­er. UNI­VER­SI­TY OF QUEENS­LAND