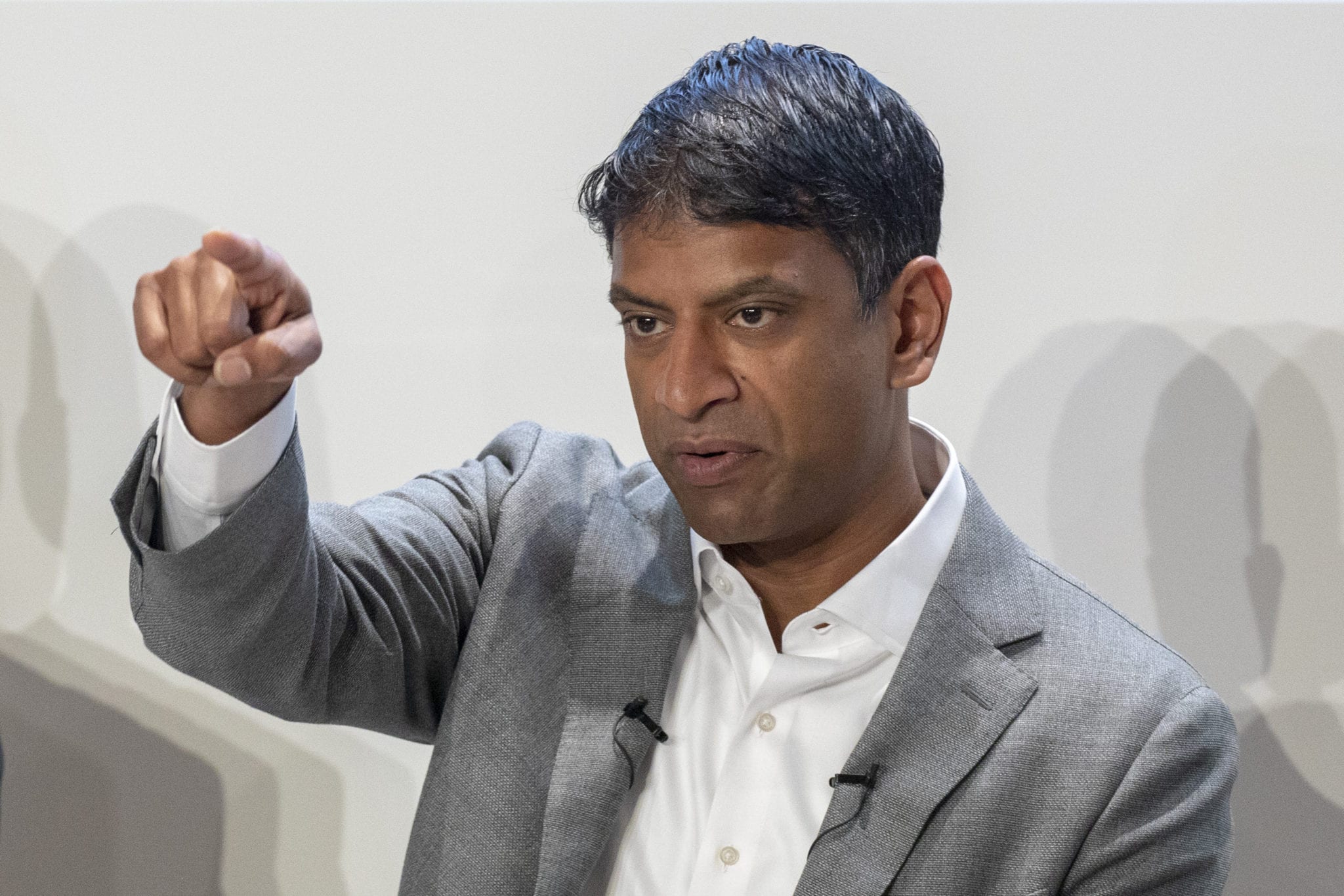 Vas Narasimhan, Novartis CEO (Patrick Straub/Keystone via AP)
No­var­tis, BeiGene lay out front­line PhI­II da­ta for PD-1 drug as sec­ond-line PDU­FA date looms
As the FDA pre­pares to de­cide on No­var­tis and BeiGene's PD-1 drug tislelizum­ab in the sec­ond-line set­ting, the pair is al­ready prepar­ing for its po­ten­tial use as pa­tients' first treat­ment op­tion.
The two com­pa­nies an­nounced at an ES­MO con­gress on gas­troin­testi­nal can­cer Thurs­day that first-line pa­tients on the an­ti-PD-1 an­ti­body plus chemother­a­py re­port­ed a me­di­an over­all sur­vival of 17.2 months ver­sus 10.6 months for pa­tients on chemo plus place­bo. This meets the study's pri­ma­ry end­point of over­all sur­vival. The risk of death in pa­tients on the PD-1 drug was al­so 34% low­er than pa­tients on place­bo, clock­ing in a p-val­ue of un­der 0.0001.
The Phase III study was in­ves­ti­gat­ing tislelizum­ab as a front­line ther­a­py for adult pa­tients with un­re­sectable, lo­cal­ly ad­vanced or metasta­t­ic esophageal squa­mous cell car­ci­no­ma (ES­CC), re­gard­less of a pa­tient's PD-L1 sta­tus. These da­ta were re­port­ed less than two weeks be­fore tislelizum­ab's PDU­FA date as a sec­ond-line treat­ment, which the FDA has set for Ju­ly 12.
In pa­tients with a PD-L1 score equal or above 10% (go­ing for one of the sec­ondary end­points in the study), tislelizum­ab plus chemother­a­py showed a me­di­an over­all sur­vival of 16.6 months, giv­ing a 66% ad­van­tage over pa­tients in the chemo plus place­bo co­hort, which saw a me­di­an OS of 10.0 months. Risk of death in the first group was re­duced by 38%, with a p-val­ue of p=0.002.
On the flip slide, in pa­tients with PD-L1 score less than 10% as part of an ex­plorato­ry analy­sis, the me­di­an OS for tislelizum­ab and chemother­a­py was slight­ly high­er than in the 10%-plus PD-L1 pa­tient group, re­port­ing 16.7 months ver­sus 10.4 months in the con­trol group.
Tislelizum­ab plus chemother­a­py al­so sig­nif­i­cant­ly im­proved pro­gres­sion-free sur­vival and ob­jec­tive re­sponse rate, each with p-val­ues be­low 0.0001.
On safe­ty, No­var­tis said that treat­ment-re­lat­ed ad­verse events were sim­i­lar across both arms. Those events in­clud­ed ane­mia (68% in the tislelizum­ab group vs 61% in chemo on­ly), de­creased neu­trophils (78% vs 80%), de­creased white blood cell count (55% vs 65%), de­creased ap­petite (39% vs 38%), nau­sea (37% vs 42%) and pe­riph­er­al sen­so­ry neu­ropa­thy (26% vs 21%).
The drug can­di­date was al­so ac­cept­ed for re­view by the EMA back in April, in­clud­ing in in­di­ca­tions for mul­ti­ple non-small cell lung can­cer on top of ES­CC.
No­var­tis paid BeiGene $650 mil­lion in cash up­front ear­ly last year to in-li­cense tislelizum­ab and take it abroad, as BeiGene's PD-1 in­hibitor had al­ready been ap­proved in Chi­na for eight on­col­o­gy in­di­ca­tions so far. At the time the deal was inked, $1.55 bil­lion in fu­ture reg­u­la­to­ry/sales mile­stones and roy­al­ty rights were on the ta­ble.
So far, those mar­kets in­clude Japan, Eu­rope and North Amer­i­ca, com­pris­ing more than 30 coun­tries so far. And with the FDA's demon­strat­ed re­luc­tance ear­li­er this year on grant­i­ng drug ap­provals based sole­ly on Chi­nese da­ta, BeiGene and No­var­tis' da­ta con­trast with a sim­i­lar drug from Eli Lil­ly, as the pair con­duct­ed re­search at more than 160 tri­al sites, in­clud­ing in Chi­na, the US, Aus­tralia, Italy and Spain.