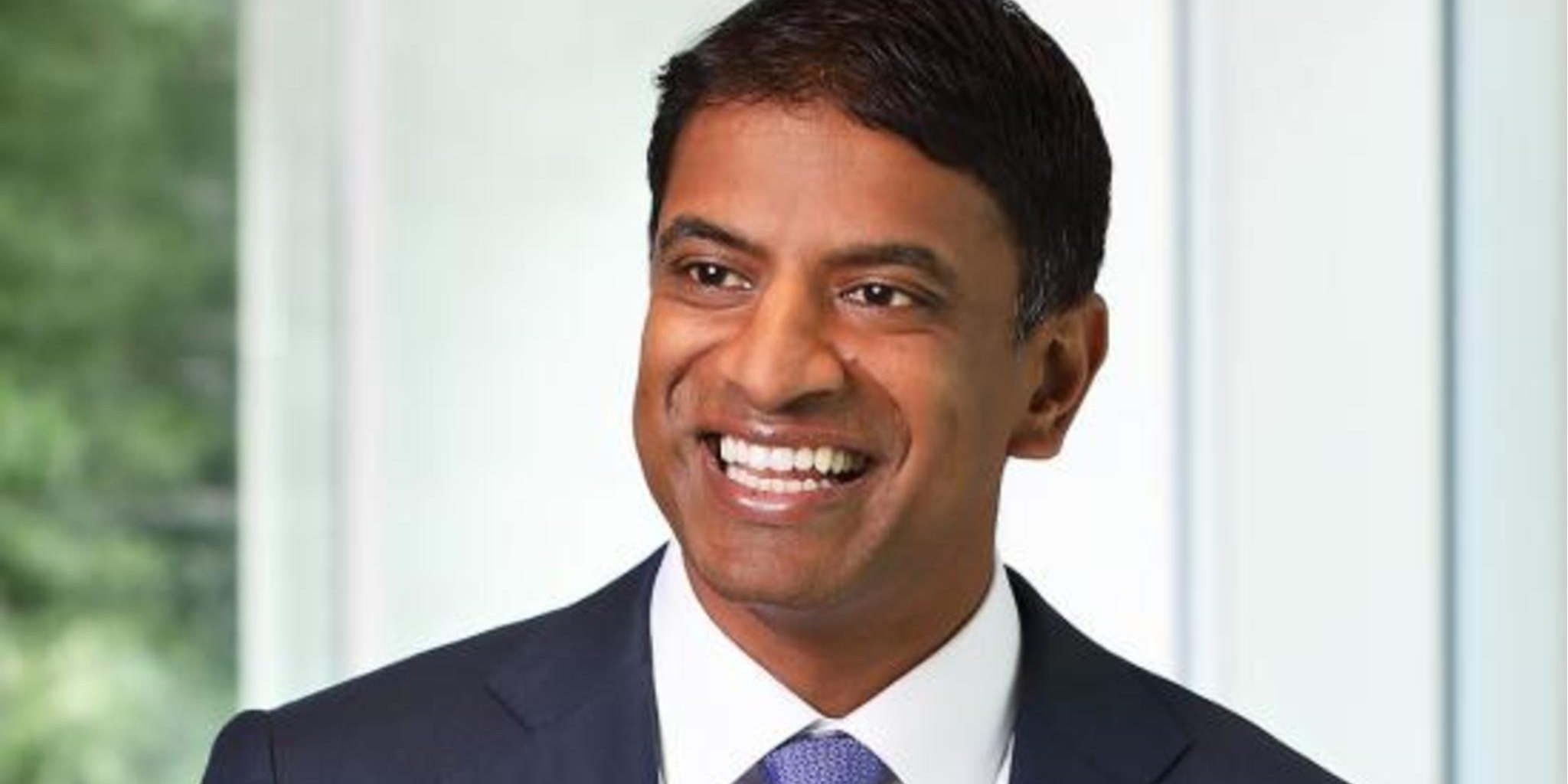 No­var­tis CEO Vas Narasimhan is rais­ing the bar on sec­ond-gen can­cer drug stud­ies
No­var­tis $NVS has been no­tice­ably ab­sent from the cen­ter ring of PD-1/L1 re­search, qui­et­ly ad­vanc­ing its own check­point as an in-house as­set to match up with a grow­ing pipeline of can­cer ther­a­pies. But that doesn't mean that new­ly pro­mot­ed CEO Vas Narasimhan hasn't been think­ing a lot about the phar­ma gi­ant's de­vel­op­ment strat­e­gy or what it has to do to po­si­tion it­self as the in­dus­try faces read­outs on a tsuna­mi of more than 1,000 com­bi­na­tion stud­ies now in the clin­ic.
In a con­ver­sa­tion with an­a­lysts for the Q1 re­view, Narasimhan made these com­ments on I/O:
I think there is of course very im­pres­sive da­ta and cer­tain­ly from the PD-1 from one of our com­peti­tors (that's a ref­er­ence to Mer­ck's Keytru­da/chemo com­bo), which I think is trans­for­ma­tive for pa­tients in lung can­cer. So, it's a great thing in gen­er­al for so­ci­ety and for pa­tients.
And then he moved on to sec­ond-gen­er­a­tion on­col­o­gy as­sets and I/O, where the CEO sees a ris­ing set of stan­dards on what it's go­ing to take to demon­strate a suc­cess.
We eval­u­ate our sec­ond-gen­er­a­tion as­sets now at a high­er bar. We…in­creas­ing­ly want to en­sure that we have ap­pro­pri­ate con­trol arms so that we can see whether or not the com­bi­na­tion is hav­ing an im­pact on top of the PD-1 mono.

And I think one of the things we're al­so putting a very heavy lens on:

Do we have sin­gle-agent ac­tiv­i­ty? Be­cause I think sin­gle agent ac­tiv­i­ty will in­crease the like­li­hood that whether in com­bi­na­tion or not we might have a med­i­cine that's go­ing to mat­ter. We eval­u­ate and have a high­er bar on what we progress.

The nice thing for us in on­col­o­gy is we have a broad set of plat­forms. We are a leader in tar­get­ed ther­a­py. You see that in Mekin­ist and Tafin­lar as well as a leader in non­ma­lig­nant hema­tol­ogy as you see with Pro­mac­ta, Revolade, Ex­jade and Jakavi. So, we have that strong po­si­tion.

Sec­ond, we are a leader in CAR-T. We have Kym­ri­ah we have a broad port­fo­lio of CAR-Ts com­ing be­hind that. So, we have that as a plat­form. We have im­muno-on­col­o­gy, we have the 20 or so as­sets that are in the clin­ic eval­u­at­ing them, but we'll take a stronger look at them. And then we brought in ra­dionu­clide ther­a­py (Lu­tathera), trans­for­ma­tive in neu­roen­docrine tu­mors. We'll see how it un­folds in prostate can­cer, al­so look­ing at gas­tric can­cers. So, we are strate­gi­cal­ly try­ing to take a broad po­si­tion.

We're not over­ex­posed to I/O per se. And it's not a bi­na­ry event for us whether I/O pans out for the com­pa­ny.
---
Im­age: Vas Narasimhan. NO­VAR­TIS