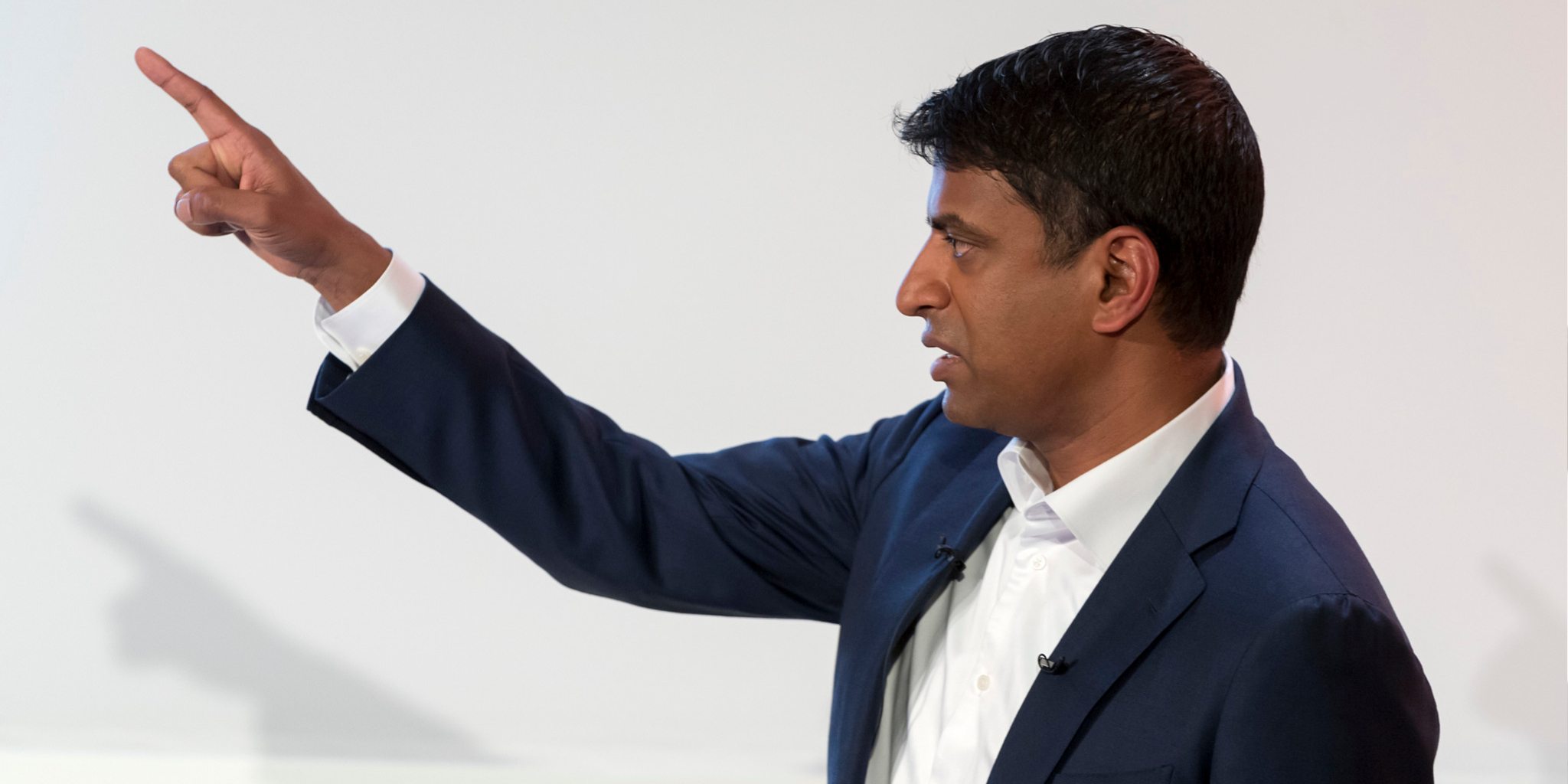 No­var­tis CEO Vas Narasimhan lines up his late-stage block­buster con­tenders — mix­ing old fa­vorites and add-ons
Every Big Phar­ma com­pa­ny is judged by its late-stage pipeline and the num­ber of prospec­tive block­busters in play. No­var­tis CEO Vas Narasimhan is giv­ing his piv­otal strat­e­gy top marks to­day as the gi­ant play­er re­views its de­vel­op­ment game plan in the wake of a cou­ple of key set­backs.
Adding it all up, No­var­tis is us­ing its R&D re­view to high­light a tal­ly of 26 block­busters in the pipeline, 13 projects in what is now grouped in­to cell, gene and ra­di­oli­gand work — adding ra­dio­phar­ma­ceu­ti­cals to the group — while aim­ing for 60 "ma­jor" reg­u­la­to­ry sub­mis­sions from 2019-2022. And it's al­ready lin­ing up promised ap­provals for next year, bet­ting that they can shoot for key reg­u­la­to­ry OKs based on the da­ta in hand.
The move to ease con­cerns about the com­pa­ny's fu­ture rev­enues comes af­ter No­var­tis re­port­ed that the FDA had re­ject­ed its big ap­pli­ca­tion to sell canakinum­ab for heart dis­ease, wip­ing out one of their ear­li­er boasts, with a de­ci­sion on the gener­ics side of the busi­ness to throw in the tow­el on a Rit­ux­an copy­cat rather than try to make a mark as a run­ner-up in that heav­i­ly con­test­ed field.
Of all the Big Phar­ma play­ers, No­var­tis has been one of the least re­luc­tant to pro­mote the scale of its in-house work, with lots of big num­bers when it comes to fu­ture op­por­tu­ni­ties for drugs that can earn $1 bil­lion or more per year. Even in late-stage de­vel­op­ment, though, the odds of suc­cess can be daunt­ing — and No­var­tis will find plen­ty of chal­lenges in get­ting these drugs to mar­ket.
Keep in mind, No­var­tis is one of the top spenders in R&D, with a bud­get of close to $9 bil­lion last year — just be­hind Roche and Mer­ck. And that rais­es the bar con­sid­er­ably on their per­for­mance in an era of steadi­ly dwin­dling ROI for the top com­pa­nies in drug de­vel­op­ment.
Here are the top drugs now spot­light­ed in late-stage de­vel­op­ment at No­var­tis:
AVXS101, which No­var­tis says should be good to go for a mar­ket­ing ap­proval in H1 of next year. Back in April, Narasimhan made his biggest bet yet with his $8.7 bil­lion deal to buy AveX­is and ex­pand the com­pa­ny's pro­file in gene ther­a­py. It was a bold move, and there are plen­ty of great ex­pec­ta­tions on the line af­ter this pro­gram de­liv­ered some im­pres­sive re­sults for spinal mus­cu­lar at­ro­phy. This could be a big headache for Bio­gen, which has been rack­ing up big sales for its SMA drug Spin­raza — which al­so high­lights No­var­tis' op­por­tu­ni­ty.
Mayzent (sipon­i­mod) should launch in Q1 for mul­ti­ple scle­ro­sis, says No­var­tis. Com­pa­ny of­fi­cials de­scribed this drug's lat­est re­sults as "pret­ty much the first and on­ly study in sec­ondary pro­gres­sive MS that showed mean­ing­ful re­sults." No­var­tis needs this one bad­ly as its $3.2 bil­lion fran­chise for Gilenya is about to get hit. An­a­lysts have of­fered a $3 bil­lion peak sales pro­jec­tion to help out.
Arz­er­ra — OMB157 (ofa­tu­mum­ab) — has caused plen­ty of headaches for No­var­tis this year. They were forced to pull it off the mar­ket out­side the US as com­pe­ti­tion heat­ed up for the leukemia drug. No­var­tis thinks it can re­pur­pose this drug, though, for MS, call­ing it a "next gen­er­a­tion B-cell de­ple­tor with a po­ten­tial­ly fa­vor­able safe­ty pro­file from faster b-cell re­ple­tion and pre­served im­mu­ni­ty, and with a con­ve­nient month­ly sub-cu­ta­neous dos­ing."

No­var­tis has a CRTh2 re­cep­tor an­tag­o­nist for mod­er­ate to se­vere asth­ma called QAW039 (fe­vip­iprant) which is be­ing lined up for a pitch. No­var­tis has in­sist­ed for years this oral ther­a­py is a po­ten­tial block­buster, but it hasn't been in the spot­light as much as you might ex­pect for a would-be top con­tender.
RTH258 (brolu­cizum­ab) is slat­ed to be the big Re­gen­eron ri­val to Eylea that can slice away a chunk of the block­buster fran­chise with an eas­i­er dos­ing reg­i­men. It's been a top con­tender at No­var­tis for some time, but an­a­lysts have be­gun to raise doubts as Re­gen­eron came on with its own new dos­ing strat­e­gy and Roche jumped in as well with its own con­tender, faricimab, which has 16-week da­ta to boast about.
No­var­tis has had plen­ty of is­sues with be­ing a lit­tle lat­er to the game than planned, and that has been on dis­play with its sick­le cell dis­ease drug SEG101 (crizan­l­izum­ab). The ther­a­py has demon­strat­ed a dou­bling of the re­sponse rate over place­bo in pre­vent­ing a painful va­so-oc­clu­sive cri­sis for pa­tients. But af­ter ini­tial­ly ink­ing in a 2018 fil­ing time­line, No­var­tis has shift­ed back to 2019.
Just a cou­ple of weeks ago No­var­tis ac­knowl­edged that reg­u­la­tors had bat­ted back its ap­pli­ca­tion to mar­ket ACZ885 (canakinum­ab) for car­dio risk re­duc­tion, but com­pa­ny ex­ecs im­me­di­ate­ly piv­ot­ed to their work in can­cer, with 3 Phase lll tri­als in ad­ju­vant NSCLC, 1st line NSCLC, and 2nd line NSCLC. No­var­tis says it has a shot at be­com­ing the "stan­dard of care in these set­tings," but they of­ten hype prospects.
Not all of these drugs will make it, but they do help raise the bar for R&D per­for­mance in this sec­tor as oth­er Big Phar­ma ri­vals an­gle in with their own de­vel­op­ment strate­gies. No­var­tis has al­so shown that it's ca­pa­ble of sur­prise, so don't ex­pect this tal­ly to re­main sta­t­ic through 2019.
---
Im­age: Vas Narasimhan. AP IM­AGES