No­var­tis hus­tles along an­oth­er FDA ap­pli­ca­tion for CAR-T star, tack­ling Gilead head on
Gilead like­ly won't have DL­B­CL can­cer to it­self in the CAR-T are­na for very long.
No­var­tis put out word ear­ly Tues­day that it has added pos­i­tive 6-month da­ta to its pack­age on its CAR-T Kym­ri­ah (ti­s­agen­le­cleu­cel) and sent it in to the FDA for their re­view on dif­fuse large B-cell lym­phoma.
We don't know what the 6-month da­ta look like, but the phar­ma gi­ant says it will tell all at the up­com­ing ASH con­fer­ence in At­lanta in ear­ly De­cem­ber. Re­searchers have, how­ev­er, spelled out a suc­cess af­ter three months, just as Kite has.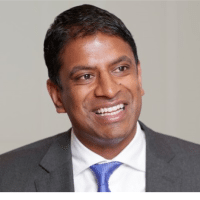 Vas Narasimhan
The move comes just days af­ter Gilead's new­ly ac­quired $12 bil­lion sub­sidiary Kite won their first OK for the same in­di­ca­tion. No­var­tis got start­ed with an ap­proval for acute lym­phoblas­tic leukemia and plans to ex­pand the block­buster fran­chise as rapid­ly as pos­si­ble. And be­fore the end of this year No­var­tis' CAR-T team plans to fol­low up with Eu­ro­pean ap­pli­ca­tions for both.
They are like­ly to get a lot of help from reg­u­la­tors.
The FDA's can­cer di­vi­sion has es­tab­lished a rep in the in­dus­try as a fast mover when it comes to ac­cel­er­at­ed re­views. Kym­ri­ah is one of their "break­through" drugs, which com­mits the agency to speedy ac­tion on their be­half. And once reg­u­la­tors get some ex­pe­ri­ence with the first ap­proval, these new meds can stack up ap­provals at a rapid pace.
None of that, though, should mean that Gilead can't com­pete on its own. The big biotech has a fear­some rep in the com­mer­cial mar­ket, and a track record for cap­i­tal­iz­ing on suc­cess. In this are­na, it's al­so like­ly to hit hard on a bet­ter turn­around time in mak­ing these per­son­al­ized cell ther­a­pies, look­ing to build a rep­u­ta­tion for bet­ter qual­i­ty over No­var­tis, which has had some is­sues on the man­u­fac­tur­ing side of the busi­ness to con­tend with.
Pric­ing may al­so get a sec­ond look. No­var­tis start­ed out pric­ing Kym­ri­ah at $475,000, but on­ly when a pa­tient re­sponds to ther­a­py. Gilead start­ed out at $373,000 for Yescar­ta, with no qual­i­fi­ca­tion on re­sponse.
No­var­tis de­vel­op­ment chief — and soon CEO — Vas Narasimhan isn't shy about tout­ing Kym­ri­ah's po­ten­tial.
The re­sponse rates we've seen in the JULI­ET tri­al show that Kym­ri­ah has the po­ten­tial to trans­form treat­ment for these pa­tients and we look for­ward to col­lab­o­rat­ing with the FDA to make it avail­able to pa­tients for this sec­ond in­di­ca­tion.