No­var­tis makes its case on why RTH258 can grab a block­buster piece of Re­gen­eron's AMD mar­ket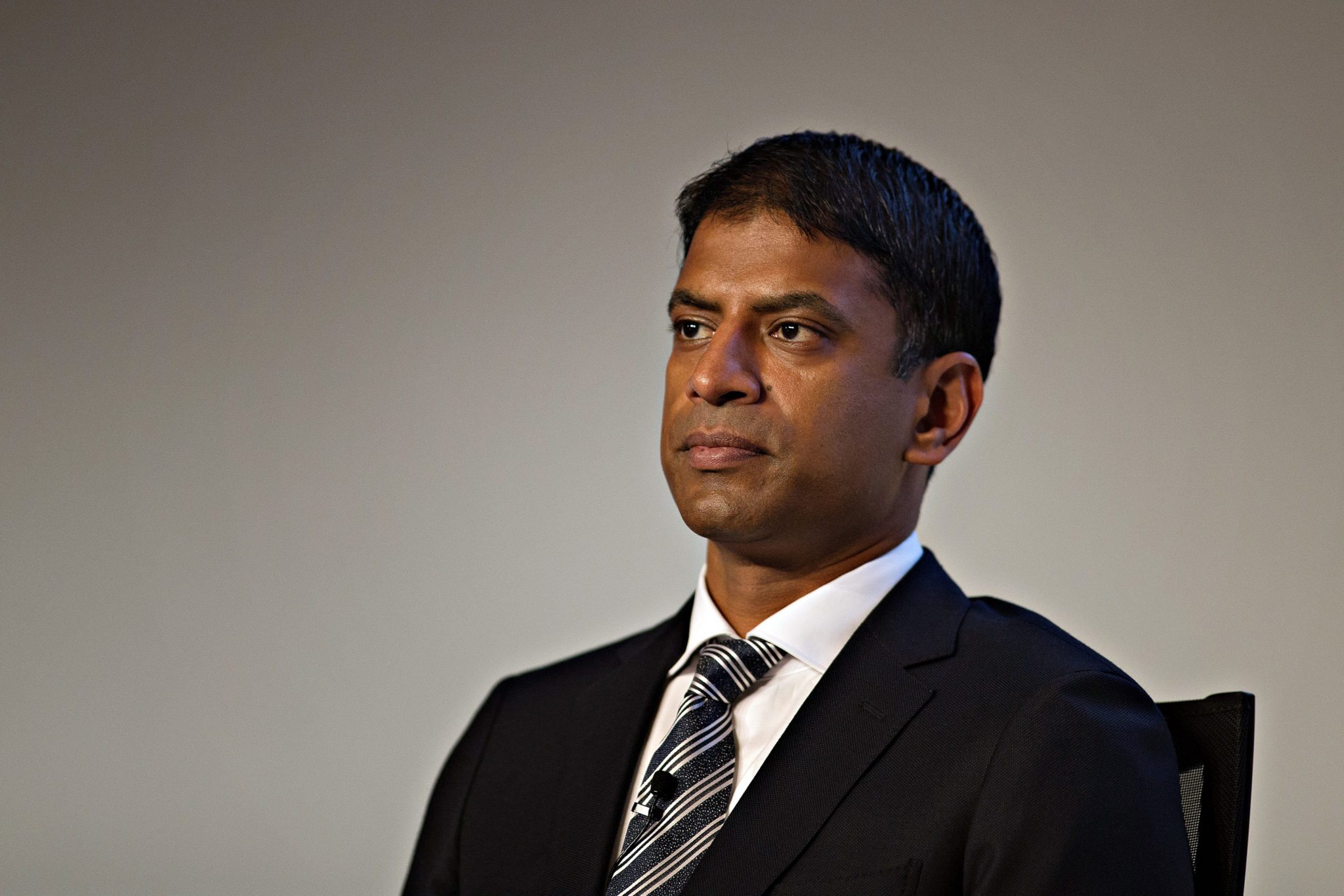 Vas­ant Narasimhan, No­var­tis' CEO-des­ig­nate
Bloomberg
---
Soon-to-be No­var­tis $NVS CEO Vas Narasimhan has peeled back the cov­er on more de­tailed Phase III da­ta for their block­buster Eylea ri­val RTH258 (brolu­cizum­ab), ex­plain­ing why he be­lieves the phar­ma gi­ant has a new drug for wet age-re­lat­ed mac­u­lar de­gen­er­a­tion that has proven to be con­sid­er­ably bet­ter than Re­gen­eron's $5 bil­lion fran­chise ther­a­py Eylea. But he has one oth­er hur­dle to clear be­fore mak­ing a slight­ly paused ar­rival at the FDA.
In a pre­view of da­ta be­ing re­leased at the Amer­i­can Acad­e­my of Oph­thal­mol­o­gy con­fer­ence in New Or­leans, the phar­ma gi­ant's de­vel­op­ment chief once again hit on the 52% to 57% suc­cess rate for their two big Phase II­Is. That hand­i­ly cleared the 40% to 50% bar need­ed to qual­i­fy for an im­pres­sive suc­cess set by some an­a­lysts cov­er­ing the com­pa­ny.
No­var­tis is bet­ting that mov­ing pa­tients from once every 8 weeks for Re­gen­eron's flag­ship ther­a­py to a 12-week reg­i­men will win over a big slice of the mar­ket. But they're back­ing up the ap­peal to pa­tients with a pitch to pay­ers and physi­cians, of­fer­ing ev­i­dence of the drug's abil­i­ty to re­duce the flu­id that builds up be­hind the reti­na as the dis­ease pro­gress­es, which dam­ages the eye and leads to blind­ness.
"Pay­ers wants to see flu­id is­sues re­solved to make sure the dis­ease is con­trolled," not­ed Narasimhan in a con­fer­ence call with re­porters. The drug, he ex­plains, is a nov­el an­ti­body frag­ment that is built in a way that al­lows an in­jec­tion to squirt a high con­cen­tra­tion of ther­a­py in­to the eye. Bet­ter pen­e­tra­tion is a key part of its ar­gu­ment that this drug can be more ef­fec­tive at longterm care than Eylea as well as the No­var­tis/Roche drug Lu­cen­tis.
At week 16 the two RTH258 arms had 33% and 35% few­er pa­tients with dam­ag­ing reti­nal flu­id, and at 48 weeks one arm had 41% few­er pa­tients in the dan­ger zone, com­pared to the com­peti­tor. Ac­tive dis­ease was ob­served in 23.5% of brolu­cizum­ab 6 mg pa­tients ver­sus 33.5% of afliber­cept pa­tients in HAWK, and in 21.9% of brolu­cizum­ab pa­tients ver­sus 31.4% of afliber­cept pa­tients in HAR­RI­ER.
The drug, says Narasimhan, "was con­sis­tent­ly su­pe­ri­or to Eylea." And there's a lot at stake, with Re­gen­eron tak­ing in $953 mil­lion in US Eylea sales in Q3.
But there is one po­ten­tial hitch. No­var­tis ob­tained the drug through the ac­qui­si­tion of a small com­pa­ny, through which they in­her­it­ed one man­u­fac­tur­ing process. No­var­tis sub­se­quent­ly de­vel­oped its own process and now reg­u­la­tors want the phar­ma team to run some pa­tients through a small test to see if the new process holds up equal­ly well.
As a re­sult, Narasimhan says the com­pa­ny plans to file at the end of next year, rather than hus­tling the drug to the agency now, as most man­u­fac­tur­ers would pre­fer. That's to­ward the end of the H2 2018 sched­ule that No­var­tis has told in­vestors, putting back any com­mer­cial show­down with Re­gen­eron un­til lat­er in 2019, af­ter Narasimhan moves in­to his new job as­sur­ing in­vestors that the com­pa­ny knows how to de­vel­op big new prod­ucts.
That will buy Re­gen­eron some more time to line up a pos­si­ble com­pet­i­tive re­sponse. They're work­ing on nes­vacum­ab (Ang2)/Eylea Phase II stud­ies in DME and wet AMD that an­a­lysts are watch­ing close­ly. And a spokesper­son notes that Re­gen­eron is al­so push­ing ahead with its own quar­ter­ly dos­ing reg­i­men of Eylea.
Re­gen­eron is one of the most ag­gres­sive biotechs in the in­dus­try. They won't sim­ply stand aside as No­var­tis ze­roes in on their big fran­chise.