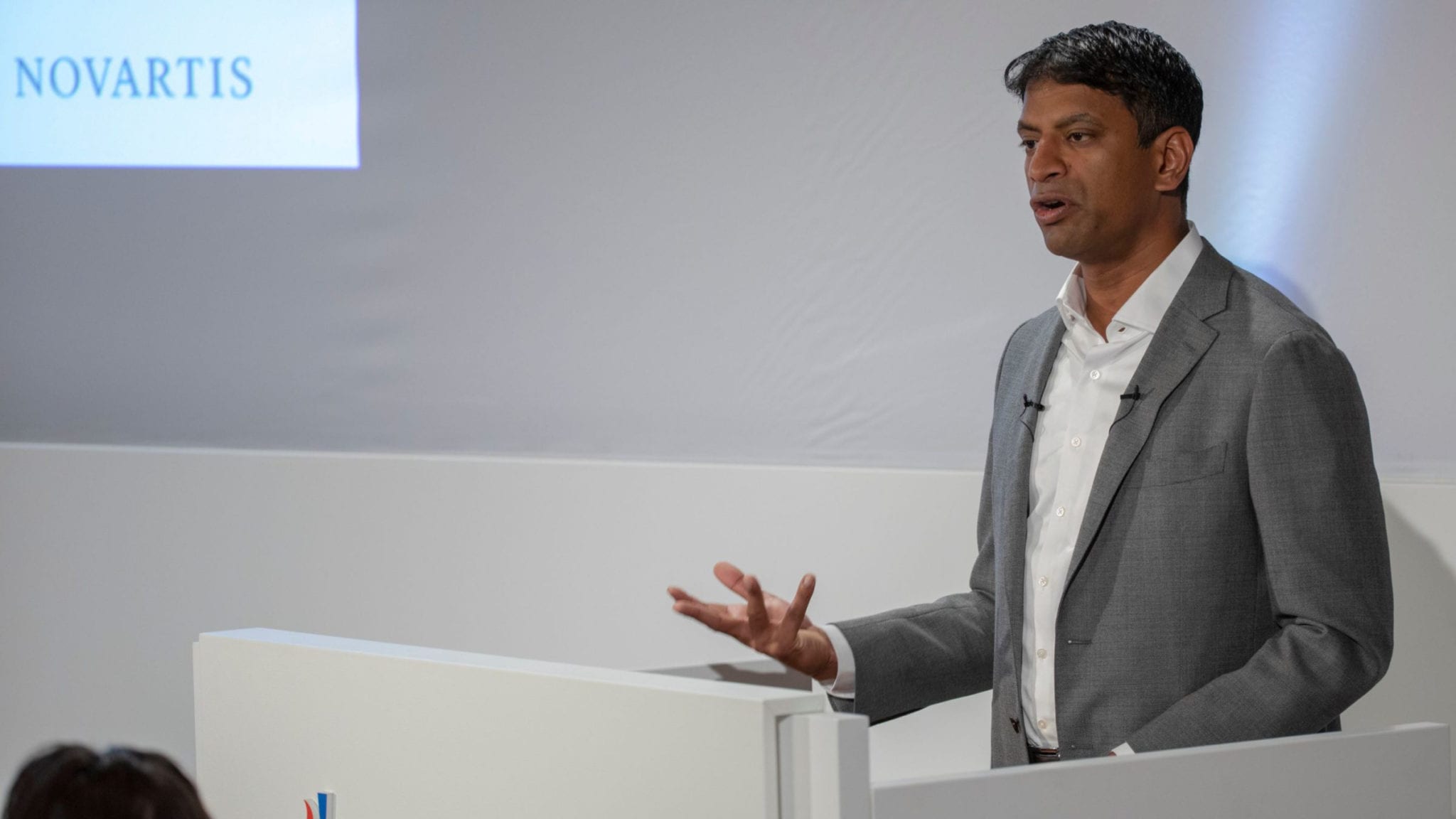 Vas Narasimhan, Novartis CEO (Patrick Straub/​EPA-EFE/​Shutterstock)
No­var­tis pays $678M for kick­back scheme as Vas Narasimhan tries to dis­tance phar­ma gi­ant from shady be­hav­ior
No­var­tis has reached an­oth­er large set­tle­ment to re­solve mis­con­duct al­le­ga­tions, agree­ing to pay more than $678 mil­lion to set­tle claims that it had spent hun­dreds of mil­lions of dol­lars on lav­ish din­ners, so-called speak­ing fees and ex­pen­sive al­co­hol "that were noth­ing more than bribes" to get doc­tors to pre­scribe No­var­tis med­ica­tions.
The top-shelf al­co­hol and lav­ish meals in­clud­ed a $3,250 per per­son night at Nobu in Dal­las, a $672-per per­son din­ner at Wash­ing­ton DC's Smith & Wol­len­sky and a $314 per per­son meal at Sushi Roku in Pasade­na, ac­cord­ing to the Jus­tice De­part­ment com­plaint. There were at least 7 trips to Hoot­ers and fish­ing trips in Alas­ka and off the Flori­da coast. Each of these events were sup­posed to be "speak­er pro­grams" where doc­tors ed­u­cat­ed oth­er doc­tors on a drug, but the DOJ al­leged many were "bo­gus" wine-and-dine events where the drug was bare­ly men­tioned, if at all. ("No­body pre­sent­ed slides on the fish­ing trips," the com­plaint says.)
The civ­il suit, first filed by a No­var­tis whistle­blow­er in 2011 and joined by the Jus­tice De­part­ment two years lat­er, cov­ers com­pa­ny con­duct from 2002 to 2011. They large­ly cov­er car­dio­vas­cu­lar drugs, in­clud­ing Lotrel, Dio­van, Ex­forge, Tek­tur­na, Val­tur­na and Tekam­lo. A Jus­tice De­part­ment state­ment said that No­var­tis made "ex­ten­sive fac­tu­al ad­mis­sions" in the set­tle­ment.
"For more than a decade, No­var­tis spent hun­dreds of mil­lions of dol­lars on so-called speak­er pro­grams, in­clud­ing speak­ing fees, ex­or­bi­tant meals, and top-shelf al­co­hol that were noth­ing more than bribes to get doc­tors across the coun­try to pre­scribe No­var­tis's drugs," said act­ing US At­tor­ney Au­drey Strauss.
In a sec­ond set­tle­ment, No­var­tis agreed to pay $51.5 mil­lion to re­solve al­le­ga­tions it fun­neled mon­ey to cov­er pa­tients' co-pays and il­le­gal­ly sub­si­dize the cost of its own high-priced drugs.
The res­o­lu­tions come as CEO Vas Narasimhan tries to dis­tance the com­pa­ny from its oc­ca­sion­al­ly un­sa­vory rep­u­ta­tion, say­ing in a state­ment to­day that they are "a dif­fer­ent com­pa­ny to­day" than they were dur­ing the pe­ri­od cov­ered by the law­suit. He added that they were mov­ing to­ward a dig­i­tal sys­tem that would large­ly move away from speak­ing pro­grams.
"To­day's set­tle­ments are con­sis­tent with No­var­tis com­mit­ment to re­solve and learn from lega­cy com­pli­ance mat­ters," Narasimhan said. "We are a dif­fer­ent com­pa­ny to­day — with new lead­er­ship, a stronger cul­ture, and a more com­pre­hen­sive com­mit­ment to ethics em­bed­ded at the heart of our com­pa­ny. I have been clear that I nev­er want us to achieve com­mer­cial suc­cess at the ex­pense of our val­ues — our val­ues must al­ways come first and are the foun­da­tion of every­thing we do. With these agree­ments we mark an im­por­tant mile­stone on our jour­ney to build trust with so­ci­ety as we con­tin­ue reimag­in­ing med­i­cine to im­prove and ex­tend lives all around the world."
Yet this is not the first time that No­var­tis has promised re­form. Much of the com­plaint from to­day's set­tle­ment cen­ters on the fact that the lav­ish din­ners took place while the Swiss phar­ma was han­dling a dif­fer­ent kick­backs law­suit and, in some in­stances, af­ter they had signed a Cor­po­rate In­tegri­ty Agree­ment. That law­suit was set­tled in 2010 for $442 mil­lion.
A week ago, No­var­tis paid $345 mil­lion to re­solve bribery charges re­lat­ed to ac­tions the com­pa­ny took in Greece, South Ko­rea and Viet­nam. And ear­li­er this year, they pled guilty and agreed to pay $195 mil­lion to charges that its gener­ics unit, San­doz, en­gaged in price fix­ing.
They're not out of the woods yet. In June, 51 at­tor­neys gen­er­al sued a laun­dry list of gener­ics mak­ers for more price-fix­ing charges. San­doz was at the top of their list.