No­var­tis re­turns to the dis­count aisle, buys Xo­ma's failed PhI­II drug for $31M
Two years af­ter a Phase III flop for its lead drug gevok­izum­ab put Xo­ma $XO­MA un­der a dark cloud, No­var­tis has stepped up to buy the drug and help re­lieve the fi­nan­cial strain at the biotech.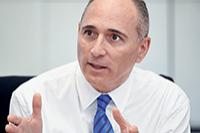 No­var­tis CEO Joe Jimenez
One look at this deal and you can see that No­var­tis CEO Joe Jimenez is dead se­ri­ous when he says he won't pay top dol­lar for biotech as­sets.
In a bot­tom feed­ing ex­pe­di­tion, the phar­ma gi­ant has agreed to pay $31 mil­lion for gevok­izum­ab, which in­cludes $5 mil­lion for an eq­ui­ty stake. No­var­tis is al­so set­tling a €12 mil­lion bill out­stand­ing with Les Lab­o­ra­toires Servi­er while re­struc­tur­ing its own loan to Xo­ma.
In re­turn No­var­tis gets the glob­al com­mer­cial rights to gevok­izum­ab and its IP for IL-1 be­ta tar­get­ing an­ti­bod­ies in the treat­ment of car­dio­vas­cu­lar dis­ease — a ma­jor fo­cus at No­var­tis.
Xo­ma shares cu­ri­ous­ly jumped 12% yes­ter­day and added a 26% gain this morn­ing as in­vestors shared the biotech's en­thu­si­asm at be­ing able to open a new chap­ter at the com­pa­ny.
Xo­ma was bat­tered by the news that gevok­izum­ab failed a Phase III study in pa­tients with Be­hçet's dis­ease uveitis back in 2015. With its shares crushed, Xo­ma had to scram­ble to stay in busi­ness. A few months ago the biotech re­port­ed pos­i­tive but very ear­ly proof-of-con­cept re­sults for a small study of XO­MA-358 in post­bariatric surgery hy­per­in­sulin­ism (PBS) and con­gen­i­tal hy­per­in­sulin­ism.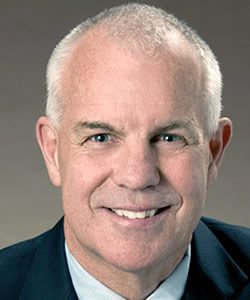 Jim Neal
No­var­tis has played a key role in keep­ing Xo­ma afloat. Back in 2015, af­ter the tri­al cat­a­stro­phe, the phar­ma gi­ant front­ed $37 mil­lion on an­oth­er one of the biotech's pro­grams, which helped buy time for the ex­ec­u­tive crew.
Said Jim Neal, the CEO at Xo­ma:
The im­me­di­ate im­pact of these li­cens­ing agree­ments for gevok­izum­ab and our IL-1 be­ta in­tel­lec­tu­al prop­er­ty elim­i­nates al­most half of XO­MA's out­stand­ing debt, more than dou­bles our cash po­si­tion, and gen­er­ates po­ten­tial re­cur­ring rev­enues through roy­al­ties.
The small deal, along with the news of the Di­men­sion buy­out this morn­ing in an all-stock deal, tend to un­der­score Big Phar­ma's lack of in­ter­est in ex­e­cut­ing big mon­ey deals this year. It's been qui­et on the deal front, and these new pacts won't im­prove the in­dus­try's sen­ti­ment on that score.