Sponsored — This post recommended by Pharmcube.
Although it's possible to prevent HBV infection with the HBV vaccine, the global population of infected patients still exceeds 250 million, with more than 60 million of those at risk for cirrhosis and liver cancer. Therefore, viral hepatitis B has become one of the significant threats facing global public health.
The cure for patients infected with hepatitis C virus has already been achieved, but unlike HCV's single stranded RNA structure, HBV is a DNA virus that exists in the nucleus of cells, with a more stable structure and more complex function. It is thus more difficult to eliminate. In the replication process of HBV, the viral DNA enters the host's cell nucleus and forms a supercoil covalently closed circular DNA (cccDNA) — the source for HBV progeny RNAs. The common belief is that only by removing the HBV cccDNA within the cell nucleus can we eradicate the viral carrier status of patients. This was also the goal of anti-HBV therapies.
HBV capsid protein (also known as core protein) plays multiple functions in the replication and stability of the virus. Through inhibiting HBV viral assembly, disassembly, and transcription, capsid inhibitors interfere with the replication of the virus. That prevents new infection in liver cells, reducing and eventually eliminating infected cells, thus raising cure rates.
On November 9, 2018, at the annual meeting of the American Association for the Study of Liver Diseases in San Francisco, Shanghai Zhimeng Biopharma Company showcased an HBV nucleocapsid formation inhibitor with a novel chemical structure, CB-HBV-001. The current HBV capsid protein inhibitors under development globally can be divided into two big groups according to their chemical structure: heteroaryldihydropyrimidine (HAP, represented by clinical compounds from Roche and HEC Pharm) and sulfonamide (represented by Johnson's clinical compound). Meanwhile, CB-HBV-001 is a pyrazole with a novel structure.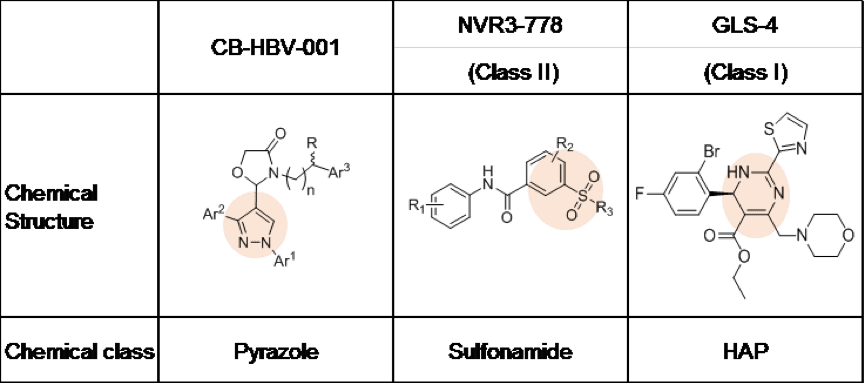 ---
As Zhimeng Biopharma's data show, compared to HAPs and sulfonamides, CB-HBV-001 possesses favorable anti-HBV activity (EC50=12nM, tested in primary human liver cells) and excellent pharmacokinetics and safety profiles (mice NOAEL: 800mg/kg/day, mice MTD >2000mg/kg). Furthermore, CB-HBV-001 also demonstrates favorable antiviral activity against viruses that show resistance to nucleoside drugs in the clinic. When used in combination with nucleosides and interferon, CB-HBV-001 demonstrates favorable additive effect in inhibiting both HBV DNA and HBsAg, suggesting that CB-HBV-001 has potential in overcoming resistance to nucleosides and achieving better therapeutic effect when used in combination with existing HBV treatments.
Worth noting is that CB-HBV-001 demonstrates strong antiviral activity against different variants carrying mutations in HBV capsid protein — in particular the T33Q and I105F mutations, which are resistant to both HAPs heteroaryldihydropyrimidines and sulfonamides, the other types of nucleocapsid inhibitors.

---
Zhimeng Biopharma is currently conducting pre-IND research on CB-HBV-001. It plans to submit an IND in the second-half of 2019 and launch clinical studies in early 2020.
Anti-HBV drugs mainly include immunomodulators and nucleoside analogues. Common immunomodulators include interferons (IFN); nucleosides include lamivudine, telbivudine, entecavir and tenofovir disoproxil. Although these drugs can effectively inhibit the replication of the virus, they have obvious limitations. For instance, among immunomodulators, long acting polyethylene glycol-interferon-α are effective for only 30% of hep B patients, and its cure rate is around 7% to 8%. Its flaws are also pronounced: It requires injections, is expensive, and leads to side effects like flu-like syndrome and insomnia. On the other hand, nucleosides don't possess a mechanism to eradicate the virus, so once patients stop taking the drugs they relapse rapidly, but sustained dosing could lead to problems like resistance.
Since current therapeutic approaches are clearly inadequate to address the clinical need for hep B therapeutics, the research and development of new anti-HBV drugs have become a major research direction for multiple big pharmaceutical companies. Nucleocapsid formation inhibitors, immunomodulators, siRNA, and therapeutic vaccines have all become ways to explore the goal of curing hep B.
Dr. Huanming Chen, founder of Zhimeng Biopharma, said: "Discovering new targets and developing drugs with new mechanisms of action are the prerequisites of achieving a cure for hep B. But it is very difficult to eradicate a virus with a monotherapy. Combination treatment is more widely endorsed in the industry as a strategy in achieving a hep B cure."
---
The best place to read
Endpoints News

? In your inbox.

Comprehensive daily news report for those who discover, develop, and market drugs. Join 47,300+ biopharma pros who read Endpoints News by email every day.

Free Subscription
---
---
---