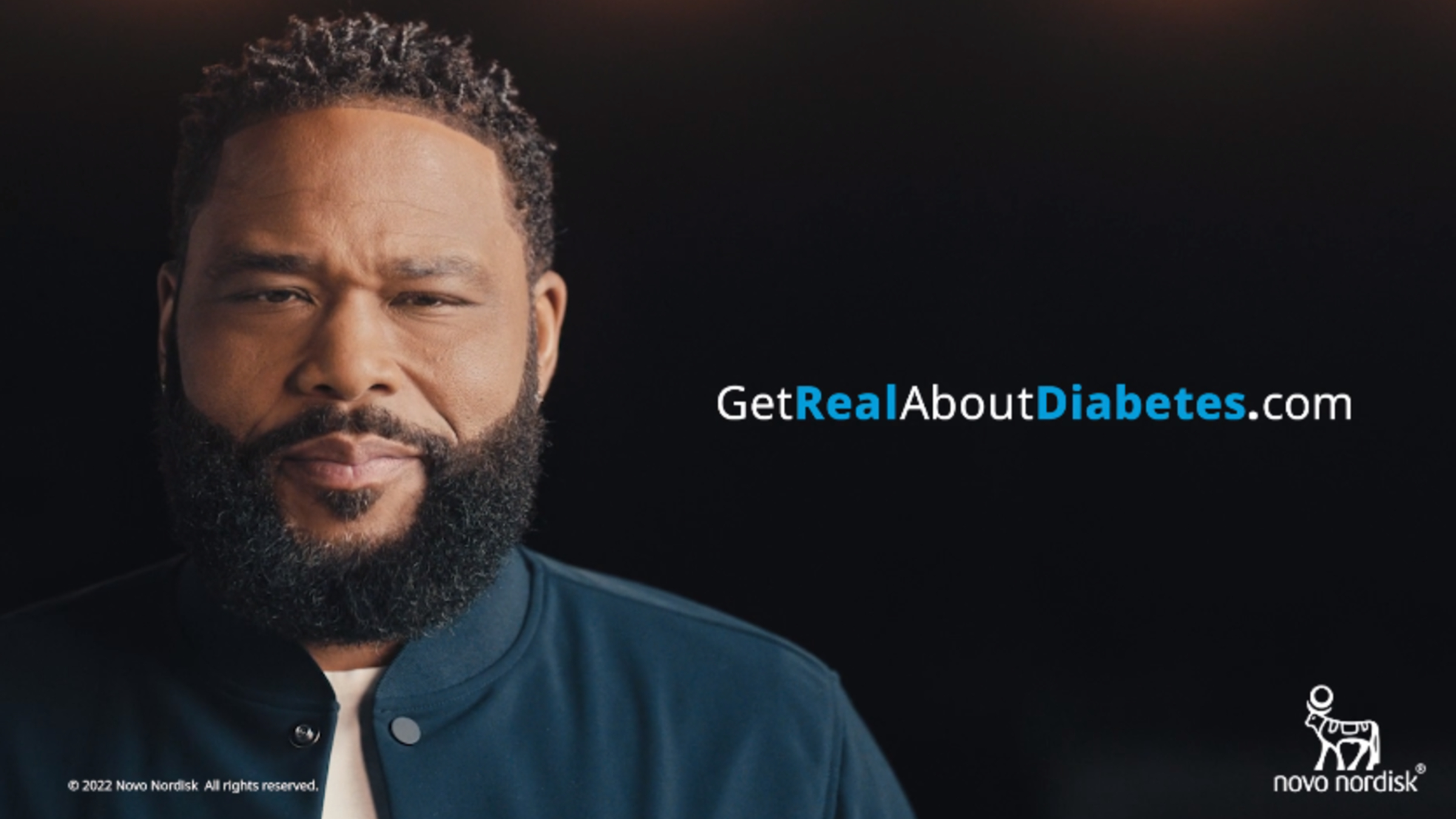 'Law & Order' star Anthony Anderson re-ups his spokesman role in Novo's Type 2 effort with a tougher tone on CV risks.
No­vo Nordisk gets se­ri­ous in 'Get Re­al' di­a­betes cam­paign with spokesman, ac­tor and pa­tient An­tho­ny An­der­son
Ac­tor An­tho­ny An­der­son is a long-time No­vo Nordisk spokesman and Type 2 di­a­betes ad­vo­cate. As the star of the hit TV show "Black-ish," An­der­son first teamed with No­vo for the orig­i­nal "Get Re­al About Di­a­betes" cam­paign launch in 2018. The ef­fort de­buted around a spe­cial episode of "Black-ish" in which An­der­son's char­ac­ter, An­dre "Dre" John­son, is di­ag­nosed with Type 2 di­a­betes.
Fast for­ward to 2022, and An­der­son, who was di­ag­nosed with Type 2 di­a­betes in 2002, is con­tin­u­ing on with the next it­er­a­tion of the cam­paign, speak­ing up in a new "Get Re­al" TV ad with a dis­tinc­tive­ly hard­er-hit­ting tone about the car­dio­vas­cu­lar risks of the dis­ease.
"As some­one liv­ing with Type 2 di­a­betes, I want to keep it re­al and talk about some risks," An­der­son says in the TV ad open­ing. "Peo­ple with Type 2 di­a­betes have a 4 times greater risk of stroke, heart at­tack or death," he says. Then he points to a hos­pi­tal bed, a wheel­chair and last­ly, a loud flatlin­ing car­diac mon­i­tor as places that pa­tients may end up.
"Too much?" he says, look­ing di­rect­ly in­to the cam­era. "That's the point."
Mark Mat­er­acky, No­vo Nordisk VP of con­sumer mar­ket­ing, said with An­der­son's range as an ac­tor and his per­son­al cred­i­bil­i­ty, he was the right per­son to de­liv­er the new mes­sag­ing.
"His sto­ry is so au­then­tic that we felt he could de­liv­er this bold, break­through hard-hit­ting mes­sage to try to get peo­ple more aware – and cre­ate the se­ri­ous­ness need­ed around the top­ic to give peo­ple a sense of ur­gency to talk with their doc­tor," Mat­er­acky said.
The cam­paign up­date co­in­ci­den­tal­ly comes as An­der­son is chang­ing act­ing roles, mov­ing from the af­fa­ble dad in the "Black-ish" sit­com that re­cent­ly end­ed af­ter 8 sea­sons and go­ing back to his dra­mat­ic turn as a New York city de­tec­tive on "Law & Or­der." Mat­er­acky said the Type 2 cam­paign change up was not planned around that, but rather was sim­ply a "hap­py co­in­ci­dence."
The orig­i­nal cam­paign was cre­at­ed around An­der­son and his de­sire to raise aware­ness es­pe­cial­ly among African Amer­i­cans who are dis­pro­por­tion­ate­ly af­fect­ed by Type 2 di­a­betes. The new cam­paign cen­ters more on the car­dio­vas­cu­lar risks for every­one liv­ing with di­a­betes, al­though all the orig­i­nal con­tent with An­der­son and videos around eat­ing healthy, stay­ing ac­tive and cre­at­ing a treat­ment plan with a health­care provider re­mains on the Get Re­al web­site. Ad­di­tion­al added el­e­ments there in­clude a car­dio­vas­cu­lar risk fo­cus on the land­ing page as well as a new car­dio­vas­cu­lar doc­tor dis­cus­sion guide.
Along with the TV ad and web­site, the work will run on so­cial me­dia and in dig­i­tal ads while An­der­son will al­so do me­dia in­ter­views as part of the ef­fort through the rest of the year and like­ly in­to 2023, Mat­er­acky said.
Al­though the cam­paign launched on­ly re­cent­ly, some feed­back from health­care providers has trick­led in with a "very pos­i­tive re­cep­tion" for the tougher mes­sag­ing.
"In the past, it was more every­day re­lat­able, and we were sort of that friend putting their arm around you and help­ing you with healthy eat­ing and healthy lifestyles – a lot of the day-to-day liv­ing with Type 2 di­a­betes," he said. "But we re­al­ly want­ed to el­e­vate the im­por­tance of this risk fac­tor be­cause peo­ple aren't tak­ing the ac­tion of speak­ing with their health­care provider."
He's right. De­spite mul­ti­ple phar­ma com­pa­ny and ad­vo­ca­cy or­ga­ni­za­tions' aware­ness-rais­ing ef­forts, car­dio­vas­cu­lar risks still face low aware­ness among Type 2 pa­tients. On­ly half of peo­ple aged 45 and old­er who are liv­ing with Type 2 di­a­betes rec­og­nize their risk or have dis­cussed their risk for heart at­tacks or strokes with their health care team, ac­cord­ing to a 2021 study by The Har­ris Poll for the Amer­i­can Heart As­so­ci­a­tion.
Even worse is lit­tle is be­ing done – the AHA re­ports on­ly 20% of peo­ple liv­ing with Type 2 di­a­betes are meet­ing sug­gest­ed lifestyle tar­gets around ex­er­cise, di­et, mon­i­tor­ing blood sug­ar and ab­stain­ing from smok­ing and al­co­hol to re­duce heart dis­ease risks.
The "Get Re­al" No­vo Nordisk and An­der­son cam­paign is un­brand­ed. How­ev­er, No­vo is among a hand­ful of Type 2 di­a­betes drug mak­ers to nab an added in­di­ca­tion for re­duced risk of car­dio­vas­cu­lar events. Its Ozem­pic brand, along with com­peti­tors Eli Lil­ly's Trulic­i­ty, As­traZeneca's Farx­i­ga, John­son & John­son's In­vokana and Lil­ly and Boehringer In­gel­heim's co-mar­ket­ed brand Jar­diance, all have car­dio­vas­cu­lar risk in­di­ca­tions.