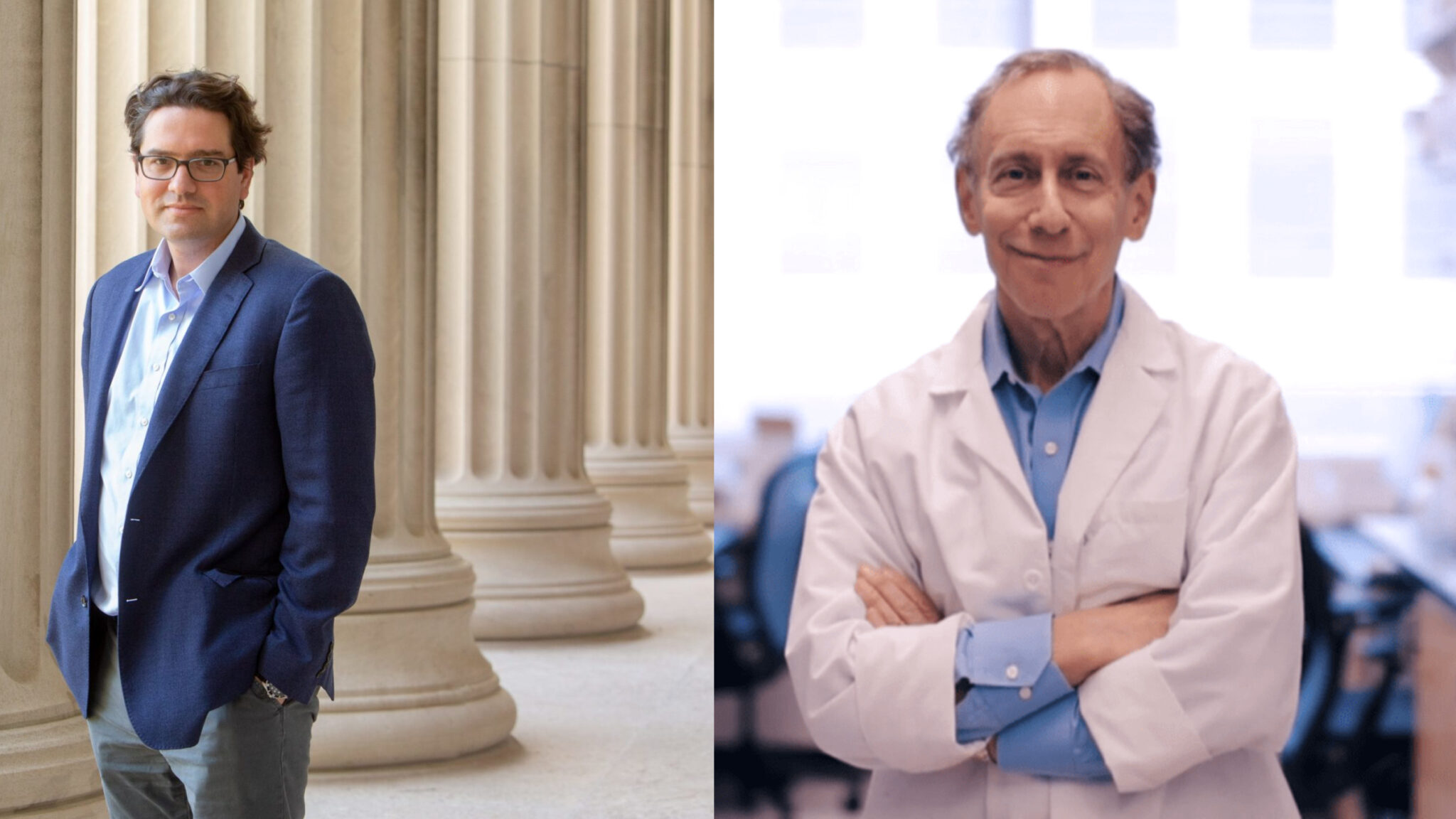 Giovanni Traverso (L), Harvard's Brigham and Women's Hospital and Robert Langer, MIT
No­vo Nordisk 'think­ing big' in re­newed col­lab­o­ra­tion with high-pro­file sci­en­tists Tra­ver­so, Langer
Three years ago, No­vo Nordisk mo­men­tar­i­ly cap­tured the cen­ter stage of the sci­en­tif­ic world with the pro­to­type for a whole new kind of de­liv­ery ve­hi­cle for in­sulin. Work­ing with two world renowned sci­en­tists — Gio­van­ni Tra­ver­so at Har­vard's Brigham and Women's Hos­pi­tal and MIT's Robert Langer — as well as the re­searchers in its labs, they de­signed a unique, leop­ard tor­toise shell-shaped de­vice that had the po­ten­tial to land on the stom­ach wall and in­ject in­sulin in­to a pa­tient's blood stream.
The de­vice was still years away from the clin­ic at the time, but No­vo — which li­censed sole rights — clear­ly loved the glow of at­ten­tion for land­mark ad­vances. In­sulin fit di­rect­ly in­to their wheel house. And this de­liv­ery tech al­so had po­ten­tial to ex­pand far be­yond in­sulin.
"In­sulin is a proof of con­cept," Langer told the New York Times when the sto­ry broke in 2019.
So it seems on­ly nat­ur­al that No­vo Nordisk has now ex­tend­ed the pact be­gun in 2015, out to 2026.
This al­liance is all about "think­ing big, work­ing with the best, and us­ing our dis­tinct ca­pa­bil­i­ties to aim to achieve what might oth­er­wise seem im­pos­si­ble," en­thused Mar­cus Schindler, ex­ec­u­tive VP and chief sci­en­tif­ic of­fi­cer of No­vo Nordisk.
The sci­en­tists are pret­ty pleased as well.
"We con­tin­ue to ex­plore the im­mense po­ten­tial for en­hanced de­liv­ery of bi­o­log­ic drugs and stem cell-de­rived ther­a­peu­tics through the plat­forms we are de­vel­op­ing," said Tra­ver­so.
As for Langer, he's built a glob­al rep around the biotechs he's co-found­ed and the in­tri­cate net­work of ad­vi­so­ry roles he plays for a host of biotechs, big and small. His foun­da­tion­al role in de­vel­op­ing the lipid nanopar­ti­cle de­liv­ery tech for Mod­er­na's mR­NA work earned him bil­lion­aire sta­tus, though there's no sign he's ever sold any of the com­pa­ny stock he got.
"I don't be­lieve in that," he once told me about sell­ing Mod­er­na stock.
He does be­lieve in con­tin­u­ing in­no­va­tion, and shows no signs of let­ting up at the age of 73.