Now a three-time los­er, selume­tinib con­tin­ues to cause headaches as As­traZeneca dumps a failed PhI­II
Selume­tinib con­tin­ues to cause big headaches at As­traZeneca $AZN.
The MEK in­hibitor — now part­nered with Mer­ck $MRK in their big $8.5 bil­lion al­liance — failed a Phase III study for dif­fer­en­ti­at­ed thy­roid can­cer, ac­cord­ing to the Q2 re­port from As­traZeneca. And they qui­et­ly whisked that pro­gram out of the pipeline in a vir­tu­al foot­note to its quar­ter­ly re­port.
The fail­ure makes this drug a three-time los­er, though it's still in clin­i­cal tri­als.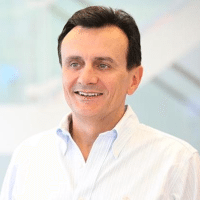 Pas­cal So­ri­ot
As­traZeneca was forced to con­cede two years ago that the drug flopped in KRAS-pos­i­tive non-small cell lung can­cer. Selume­tinib whiffed on pro­gres­sion-free sur­vival and failed to score on over­all sur­vival as well. And As­traZeneca had to walk away from the first Phase III for selume­tinib in 2015 af­ter the drug — in-li­censed from Ar­ray — failed for an eye can­cer called uveal melanoma.
Once up­on a time selume­tinib loomed large at As­traZeneca. Pas­cal So­ri­ot con­fi­dent­ly pre­dict­ed that it could be­come a block­buster as he made the case to in­vestors that Pfiz­er's buy­out at­tempt should be firm­ly re­ject­ed. These days, you don't hear too much about the block­buster fore­cast or the 2017 fil­ing So­ri­ot out­lined back when he as­sert­ed the com­pa­ny could achieve $45 bil­lion in sales in 2023.
As­traZeneca did re­port a few months ago that the drug achieved or­phan drug sta­tus for neu­rofi­bro­mato­sis type 1.
But there­in lies a sep­a­rate tale.
Ar­ray got an­gry with As­traZeneca for in­clud­ing selume­tinib in the Mer­ck part­ner­ship, fil­ing a suit claim­ing that their big phar­ma part­ner breached its con­tract and had no right to strike a deal with Mer­ck on neu­rofi­bro­mato­sis. Ar­ray claimed that as it is due a 12% roy­al­ty on their deal, is owed $192 mil­lion on the $1.6 bil­lion up­front that Mer­ck paid to buy in­to As­traZeneca's can­cer pipeline.
As­traZeneca, not sur­pris­ing­ly, takes an op­pos­ing opin­ion.
To be fair, As­traZeneca had plen­ty to boast about to­day when it came to their on­col­o­gy group's Q2 per­for­mance, with its big three Lyn­parza, Tagris­so and Imfinzi help­ing buoy ex­pec­ta­tions that the phar­ma gi­ant will fi­nal­ly turn the cor­ner with ris­ing prod­uct sales this year.