Now with ac­tu­al da­ta in hand, Cel­gene touts an ear­ly re­sponse for Crohn's drug mon­gersen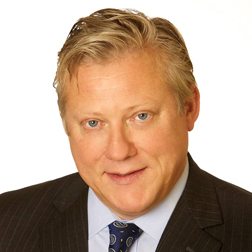 Scott Smith, Cel­gene
A month af­ter post­ing an un­der­whelm­ing top-line as­sess­ment of a Phase Ib study of its close­ly watched Crohn's drug mon­gersen (GED-0301) for Crohn's dis­ease, Cel­gene post­ed an up­date Sun­day evening that in­clud­ed a pos­i­tive snap­shot of the ac­tu­al da­ta.
In­ves­ti­ga­tors for the study say they were able to track a quick re­sponse to the drug, which Cel­gene paid a whop­ping $710 mil­lion in cash to in-li­cense the drug for Crohn's. The re­searchers tracked the im­pact of 160 mg dos­es of the drug on en­do­scop­ic re­sponse and clin­i­cal re­mis­sion among 63 pa­tients with ac­tive Crohn's dis­ease over short pe­ri­ods stretch­ing from 4 to 8 to 12 weeks. And they say the 12-week group has re­spond­ed with the most im­pres­sive re­sults — though some might ob­ject to what qual­i­fies as im­pres­sive at this stage of the game for such an ex­pen­sive ther­a­py.
The da­ta:
Clin­i­cal im­prove­ment was seen by week 2, and clin­i­cal re­sponse (CDAI de­crease ≥100) and re­mis­sion (CDAI <150) rates were high­est in the 12-week treat­ment group at 67 and 48 per­cent re­spec­tive­ly, at week 12. The mean CDAI re­duc­tion from base­line at week 12 in the 12-week treat­ment group was 133 points. Of the pa­tients with evalu­able en­do­scopies at week 12 (n=52), 37 per­cent had an en­do­scop­ic re­sponse (≥25 per­cent re­duc­tion in SES-CD score from base­line), with no mean­ing­ful dif­fer­ence across treat­ment groups. In ad­di­tion, of those pa­tients with greater en­do­scop­ic dis­ease ac­tiv­i­ty at base­line (SES-CD score of >12; n=16), 63 per­cent ex­hib­it­ed a re­duc­tion ≥25 per­cent in SES-CD score and 31 per­cent had a re­duc­tion of ≥50 per­cent.
The in­ves­ti­ga­tors tout­ed the re­sults be­ing post­ed at Unit­ed Eu­ro­pean Gas­troen­terol­o­gy Week in Vi­en­na as ev­i­dence of the kind of ef­fi­ca­cy that Cel­gene was look­ing for. An­a­lysts con­cen­trat­ed on that re­sponse rate and whether it qual­i­fies as the kind of re­sult they were look­ing for. And they can be a tough crowd.
Baird's Bri­an Sko­r­ney gave a thumbs up to 48% re­mis­sion rate, but was unim­pressed by the 37% en­do­scop­ic re­sponse score. His bot­tom line:
This da­ta ap­pears to be more promis­ing than we ex­pect­ed but it is un­like­ly to dri­ve a ma­te­r­i­al in­crease in con­fi­dence. The en­doscopy re­sults fall short of what we have seen from oth­er stud­ies but the CDAI re­spons­es do ap­pear in line with oth­er agents.
Like­wise, Leerink's Ge­of­frey Porges saw the po­ten­tial here for block­buster sales of $1.3 bil­lion in 2023 with the drug a like­ly win­ner on front­line ap­proval sta­tus. But there's noth­ing here that sug­gests an out-of-the-park home run hit. And Cred­it Su­isse cau­tions that this is still ear­ly da­ta from a small study. Doc­tors don't usu­al­ly do en­do­scopies at 12 weeks and in­ves­ti­ga­tors were re­al­ly look­ing for signs of ac­tiv­i­ty.
In­vestors liked the sounds of that, dri­ving up Cel­gene's shares by 1.3% Mon­day af­ter­noon.
Add it all up and the drug still looks promis­ing though the ju­ry is def­i­nite­ly still out on what kind of mar­ket awaits GED-0301.
High­light­ed as a key pro­gram in its at­tempt to build a fran­chise for in­flam­ma­tion and im­munol­o­gy, GED-0301 is one of the com­pa­ny's biggest ex­per­i­men­tal as­sets in the pipeline of the big biotech, which has struck a se­ries of bold deals to build its port­fo­lio of ex­per­i­men­tal ther­a­pies. The drug is de­signed to slice Smad7 pro­tein lev­els. Spik­ing lev­els of Smad7 in­ter­fere with TGF-β1 an­ti-in­flam­ma­to­ry path­ways in the gut, spurring in­flam­ma­tion.
Cel­gene, though, was clear­ly hap­py to praise the re­sults.
"We are en­cour­aged that oral GED-0301 showed both mean­ing­ful en­do­scop­ic im­prove­ment and clin­i­cal re­mis­sion at an ear­ly time point in this study," said Scott Smith, pres­i­dent of Cel­gene In­flam­ma­tion & Im­munol­o­gy, in a state­ment. "The fact that this study in­clud­ed near­ly 50 per­cent bi­o­log­ic-ex­pe­ri­enced pa­tients fur­ther re­flects the po­ten­tial of GED-0301 as a nov­el ap­proach for pa­tients with Crohn's dis­ease search­ing for al­ter­na­tives."
The big biotech al­so post­ed some up­dat­ed ozan­i­mod da­ta from a mid-stage pro­gram on ul­cer­a­tive col­i­tis, not­ing some fresh signs of ef­fi­ca­cy from the ex­ten­sion re­sults. The added da­ta were al­so re­leased in Vi­en­na.