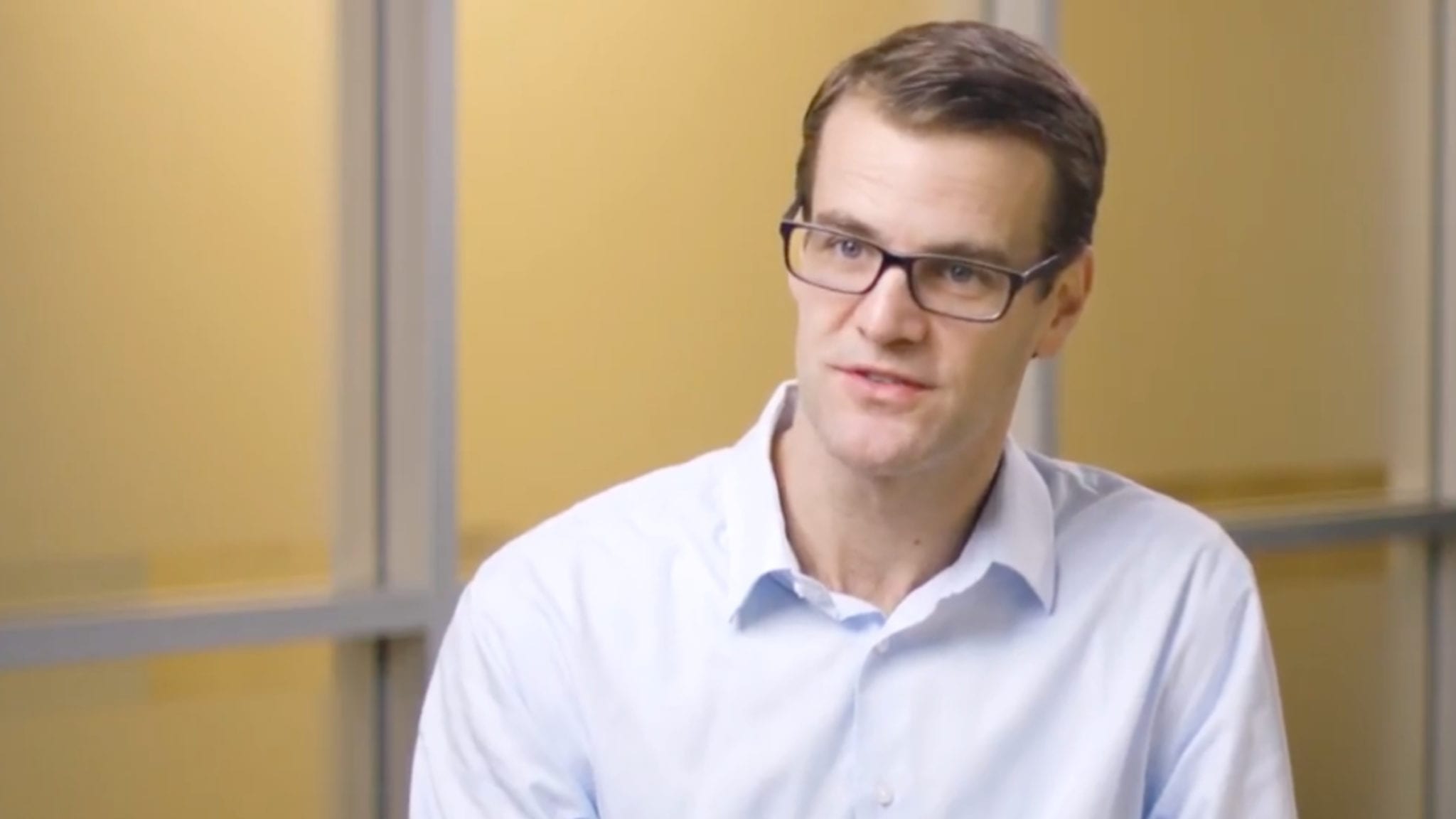 Stephen Hoge, Moderna president (Moderna)
On morn­ing of FDA Covid-19 ad­comm, Mod­er­na com­pletes PhI­II en­roll­ment, putting them neck-and-neck with Pfiz­er
Weeks away from a po­ten­tial EUA ap­pli­ca­tion, Mod­er­na an­nounced they have com­plet­ed en­roll­ment in their 30,000-per­son Phase III Covid-19 vac­cine tri­al, with over a third of vol­un­teers non-white and a quar­ter over the age of 65.
The an­nounce­ment caps what has been the most close­ly-watched re­cruit­ment race in the his­to­ry of drug de­vel­op­ment, as Pfiz­er and Mod­er­na rushed to get enough vol­un­teers to prove whether or not ex­per­i­men­tal vac­cines could ac­tu­al­ly pro­tect peo­ple from con­tract­ing Covid-19. Pfiz­er reached that mark on Sept. 15. Mod­er­na said around the same time that they would slow down en­roll­ment to en­sure they en­rolled enough par­tic­i­pants from mi­nor­i­ty and at-risk groups.
The race has cooled some­what since then, as new FDA guid­ance de­mand­ing more safe­ty da­ta threw cold wa­ter on a po­ten­tial Oc­to­ber ap­proval. Still, Mod­er­na says it's re­mained in­tense­ly fo­cused, giv­ing a rare shoutout to their CRO PPD in a press re­lease for stay­ing on top of things as they steered the Phase III in a new di­rec­tion.
"The at­ten­tion on this tri­al has been un­like any­thing any­one has ever been through be­fore," Mod­er­na pres­i­dent Stephen Hoge told End­points News. "The amount of re­port­ing be­fore we even dosed a pa­tient was amaz­ing and al­most dai­ly since."
The com­plet­ed en­roll­ment comes on the same day that a much-an­tic­i­pat­ed FDA ad­vi­so­ry com­mit­tee sits down to dis­cuss the var­i­ous vac­cine tri­als, al­though they won't dive in­to any spe­cif­ic can­di­dates.
Since mid-Sep­tem­ber, Mod­er­na has al­most ex­clu­sive­ly en­rolled non-white par­tic­i­pants, slides re­leased to­day show. Their num­bers now com­pare fa­vor­ably with Pfiz­er, whose study was 75% white when it crossed the 29,000-per­son mark, al­though the Big Phar­ma has since blue­print­ed plans to en­roll an­oth­er 14,000 vol­un­teers, par­tic­u­lar­ly from pop­u­la­tions un­der-rep­re­sent­ed in their ini­tial co­horts.
With­out of­fer­ing spe­cif­ic bench­marks, the FDA has em­pha­sized the need for this kind of di­ver­si­ty for months, not­ing the dis­pro­por­tion­ate toll the virus has tak­en on Black and Lati­no Amer­i­cans and those who are old­er and have co-mor­bidi­ties.
With en­roll­ment com­plet­ed, the fu­ture of Mod­er­na's vac­cine can­di­date now lies in the hands of the FDA ad­comm, the agency it­self, and the vi­cis­si­tudes of epi­demi­ol­o­gy. Hoge said that the com­pa­ny ex­pects to have both an in­ter­im ef­fi­ca­cy read­out and enough safe­ty fol­low-up to sat­is­fy the FDA by mid-No­vem­ber, a time­line that would put them al­most neck-and-neck with Pfiz­er.
Among the main ques­tions fac­ing the ad­comm to­day is what hap­pens to the tri­als if the vac­cines look ef­fec­tive at that point. Pfiz­er asked the FDA to al­low them to vac­ci­nate those in the place­bo. Hoge ex­pressed a sim­i­lar sen­ti­ment, though he ac­knowl­edged that raised ques­tions about how oth­er com­pa­nies will be able to con­duct tri­als for much-need­ed vac­cines.
"It re­al­ly de­pends on what the scope of an EUA or ap­proval is," he said. "Clear­ly, if there's a vol­un­teer in our study or any study and a vac­cine be­comes avail­able to them, whether it's un­der ap­proval or EUA, eth­i­cal­ly they have every right to go get that vac­cine. And what that means is you al­so want them to know whether they got the vac­cine or not. You don't want them to go get dou­ble-vac­ci­nat­ed, which cre­ates oth­er risks."
"One of the things we all have to wres­tle with here — I don't think it's a com­pa­ny health mat­ter, it's a reg­u­la­to­ry mat­ter, it's a pub­lic health mat­ter — is how do we deal with that," he added. "It's com­pli­cat­ed."
Hoge of­fered that, if their vac­cine was au­tho­rized on­ly for those over 75, then oth­er com­pa­nies could test their vac­cine in peo­ple un­der the age of 75 and ex­trap­o­late from there. He al­so spec­u­lat­ed about syn­thet­ic con­trols where, rather than ran­dom­iz­ing vol­un­teers, vac­ci­nat­ed in­di­vid­u­als are com­pared epi­demi­o­log­i­cal­ly to "sim­i­lar" un­vac­ci­nat­ed peo­ple.
Huge mar­ket ques­tions al­so loom for both Pfiz­er and Mod­er­na. SVB Leerink's Ge­of­frey Porges spec­u­lat­ed yes­ter­day that Pfiz­er could gain a mul­ti-bil­lion dol­lar mar­ket ad­van­tage by hav­ing the first vac­cine out of the gate. Hoge, though, re­ject­ed that idea, point­ing out that vac­cines will be in short sup­ply for con­sid­er­able time af­ter the first few are au­tho­rized, mak­ing them dif­fer­ent than vir­tu­al­ly any oth­er new drug in re­cent mem­o­ry.
"The re­al­i­ty is if you don't have enough sup­ply to sat­is­fy all that de­mand, it's re­al­ly just gonna be main­tain­ing that sup­ply and sat­is­fy­ing as much as you can," he said. "Frankly, I think if we on­ly get two out there — Pfiz­er and Mod­er­na — in the near term, I think that's a big con­cern."
Longer term, an­a­lysts have tried to parse how large the mar­ket is for boost­er shots and re­peat vac­ci­na­tions, while pub­lic health ex­perts have puz­zled over just how long im­mu­ni­ty will last. Hoge of­fered a mid­dle ground, ar­gu­ing that the fu­ture for Covid may look sim­i­lar to the fu­ture for RSV, where on­ly the el­der­ly need re­peat­ed boost­er shots. He ar­gued the cur­rent da­ta sug­gest young peo­ple wouldn't need more than a sin­gle boost­er over a long-term pe­ri­od.
"Whether there's go­ing to be val­ue for a boost­er or an en­dem­ic mar­ket down be­low the age of 55 or out­side of those co-mor­bid conid­tions — my hope is no," he said. "That would sug­gest that we re­al­ly don't have con­trol over this virus."
For a look at all End­points News coro­n­avirus sto­ries, check out our spe­cial news chan­nel.