Once scored as a po­ten­tial block­buster, No­var­tis' sere­lax­in fiz­zles in crit­i­cal car­dio out­comes test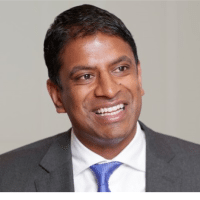 Vas­ant Narasimhan
You can scratch sere­lax­in off No­var­tis' list of po­ten­tial block­busters in the late-stage pipeline.
This morn­ing the phar­ma gi­ant said that its 4-year study of the heart drug flubbed the pri­ma­ry end­point, fail­ing to sig­nif­i­cant­ly cut the rate of car­dio­vas­cu­lar death or re­duce wors­en­ing heart fail­ure among pa­tients with acute heart fail­ure.
No­var­tis Chief Med­ical Of­fi­cer Vas Narasimhan said that the phar­ma gi­ant will con­tin­ue to look over the da­ta to de­ter­mine next steps. But the R&D jour­ney would ap­pear to be over.
De­spite win­ning one of the first break­through drug des­ig­na­tions at the FDA for this pro­gram, an FDA pan­el wasn't per­suad­ed by the da­ta that No­var­tis of­fered. The agency for­mal­ly re­ject­ed the drug in the spring of 2014, look­ing for the out­comes da­ta from the 6,600 pa­tients re­cruit­ed for RE­LAX-AHF-2.
The EU fol­lowed up soon af­ter with a thumbs down as well.
No­var­tis ex­ecs had been con­vinced that sere­lax­in would be the next big thing in heart drugs, set on a course to block­buster sta­tus. The da­ta, how­ev­er, wouldn't co­op­er­ate with their plans. And Leerink's Sea­mus Fer­nan­dez was ready with last rites:
Giv­en the post-hoc na­ture of the pre­vi­ous analy­ses, rel­a­tive­ly small num­ber of clin­i­cal events, and lack of his­tor­i­cal suc­cess for oth­er agents in large acute HF tri­als, we had pre­vi­ous­ly been cau­tious on the chances for a fa­vor­able ben­e­fit on mor­tal­i­ty out­comes. Ac­cord­ing to pre­vi­ous dis­cus­sions with MEDA­Corp KOLs, suc­cess in this tri­al would have cre­at­ed a strong eth­i­cal man­date for use; how­ev­er we be­lieve the fail­ure es­sen­tial­ly ter­mi­nates all en­thu­si­asm for the drug.
The lat­est and per­haps last set­back on this drug leaves No­var­tis' car­dio di­vi­sion de­pen­dent on En­tresto for its fu­ture. That drug has jumped off to a slow start, though, leav­ing an­a­lysts scratch­ing their heads over the drug's po­ten­tial earn­ings.
En­tresto earned just $170 mil­lion last year, de­spite the com­pa­ny's com­mit­ment to pay-for-per­for­mance con­tracts and a re­lent­less ef­fort to build the da­ta and pay­er deals need­ed to make the drug a suc­cess. Pay­ers, though, have their own ideas on how to han­dle a drug like this. They erect­ed bar­ri­ers with high co-pays and pri­or au­tho­riza­tion de­mands that made the drug hard to get. As Am­gen and the Re­gen­eron/Sanofi team found out the hard way with PC­SK9 drugs, try­ing to mar­ket a new drug aimed at heart dis­ease can be a dev­il­ish­ly dif­fi­cult task.
That kind of re­sis­tance will make it in­creas­ing­ly hard for large play­ers to tack­le the big and ex­pen­sive late-stage ef­forts that are need­ed to get these drugs across the fin­ish line. Sere­lax­in may ul­ti­mate­ly ex­er­cise ex­act­ly the op­po­site kind of in­flu­ence that No­var­tis was look­ing for.