On­col­o­gy pipeline chief Alessan­dro Ri­va joins the ex­o­dus at Gilead, head­ing to helm a biotech spin­off 4 days af­ter O'­Day's ar­rival as CEO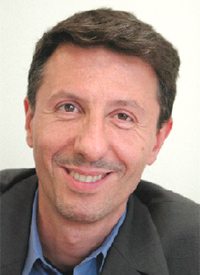 Alessan­dro Ri­va
Daniel O'Day's third work day as the new CEO of Gilead was marked by the de­par­ture of one of the com­pa­ny's top re­search sci­en­tists.
Alessan­dro Ri­va, who joined Gilead just a lit­tle more than 2 years ago, is leav­ing his post as ex­ec­u­tive vice pres­i­dent of on­col­o­gy "to pur­sue an­oth­er op­por­tu­ni­ty."
Min­utes lat­er, we learned that Ri­va is shift­ing over to lead the new biotech spin­off from In­dia's Glen­mark, which will be based in the US. Ri­va will be CEO of the sub­sidiary com­pa­ny, which will have its own board. Glen­mark's new biotech spin­off is heav­i­ly fo­cused on on­col­o­gy and T cells, with "five clin­i­cal and three pre­clin­i­cal as­sets in de­vel­op­ment, three clin­i­cal as­sets are cur­rent­ly in Phase 2b, and one as­set is like­ly to en­ter Phase 2b in FY20.
Ri­va — a No­var­tis vet — was in charge of the on­col­o­gy pipeline dur­ing a time that Gilead had been ramp­ing up its R&D work on can­cer in the wake of its $12 bil­lion Kite buy­out. The com­pa­ny has been beef­ing up its cell ther­a­py tech, but has ex­pe­ri­enced plen­ty of chal­lenges in get­ting one of the first cus­tomized CAR-Ts suc­cess­ful­ly es­tab­lished in the mar­ket­place.

John McHutchi­son
CSO John McHutchi­son pro­vid­ed the shout out to Ri­va, say­ing he left the com­pa­ny in a good po­si­tion to fol­low up in on­col­o­gy.
Ri­va is the lat­est in a long line of de­par­tures for Gilead, with CEO John Mil­li­gan, Chair­man John Mar­tin out the ex­it, fol­low­ing the de­par­ture of R&D chief Nor­bert Bischof­berg­er. Bischof­berg­er's re­place­ment, An­drew Cheng, stepped up as chief med­ical of­fi­cer at Gilead, then he left as well to run his own biotech.
Now the big ques­tion is what O'Day will do to re­store con­fi­dence in Gilead, which re­lies on a sta­ble set of HIV drug lead­ers as its hep C fran­chise dwin­dles and the fu­ture of CAR-T re­mains an open ques­tion mark. To his ad­van­tage, the com­pa­ny has rich re­sources to draw on, leav­ing the door open to a ma­jor M&A deal.