On­coSec's de­fense of weak pre­lim­i­nary Ta­vo da­ta for PD-1 re­sis­tant melanoma can't stop a rout
On­coSec ex­ecs may be re­gret­ting their de­ci­sion to re­lease pre­lim­i­nary Phase IIb da­ta on the com­bi­na­tion of Mer­ck's Keytru­da and their big pipeline play Ta­vo.
Re­searchers are re­port­ing re­sults for on­ly 9 pa­tients with metasta­t­ic melanoma at 12 weeks, and came out in a de­fen­sive pos­ture for the 2 par­tial re­spons­es they tracked at that stage in KEYNOTE-695. All of the pa­tients had seen their can­cer progress af­ter treat­ment with Op­di­vo or Keytru­da in the lead study at On­coSec.
De­spite its de­fense, and a chance to wait for 24-week da­ta on more pa­tients, in­vestors bailed in an ug­ly rout that sent the biotech's shares $ONCS down 57% in pre-mar­ket trad­ing. The set­back for what has been in­tend­ed to be a reg­is­tra­tion study pushed shares in­to pen­ny stock ter­rain.
On­coSec is tak­ing a pop­u­lar route in the on­col­o­gy field, look­ing to spur an im­mune re­sponse among pa­tients who aren't durably helped by the PD-1/L1 crowd of check­point in­hibitors. On­ly about 1 in 5 of those pa­tients see a big im­pact from ther­a­py, leav­ing a big mar­ket to ad­dress by the next-gen com­bo crowd.
On­coSec, though, on­ly man­aged to raise doubts about its ap­proach, though the game is far from over. A to­tal of 21 pa­tients have been re­cruit­ed for the study.
On­coSec and Mer­ck ham­mered out their col­lab­o­ra­tion on this in 2017, then fol­lowed up last spring with an agree­ment to ex­pand in­to breast can­cer.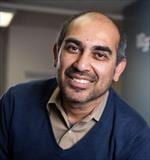 Adil Daud
"There is cur­rent­ly no ap­proved ther­a­py for the KEYNOTE-695 pa­tient pop­u­la­tion. A 10% re­sponse rate is con­sid­ered mean­ing­ful in this co­hort, since this is about what we ex­pect with ad­di­tion­al chemother­a­py, how­ev­er, such re­spons­es lack dura­bil­i­ty. The pre­lim­i­nary tu­mor re­spons­es (22% BORR and 33% DCR) and sup­port­ing im­mune da­ta ob­served here for the first time are im­por­tant," said Adil Daud, a pro­fes­sor at the UCSF He­len Diller Fam­i­ly Com­pre­hen­sive Can­cer Cen­ter.