One of the top late-stage drugs Bris­tol-My­ers wants in its $74B Cel­gene deal faces a 'road­block' — an­a­lyst
Bris­tol-My­ers Squibb has an­oth­er big headache to fret about as it scram­bles to ral­ly in­vestor sup­port for its $74 bil­lion ac­qui­si­tion of Cel­gene.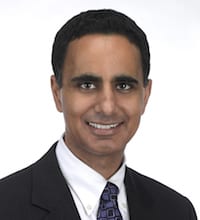 Vi­mal Di­van
There's been some buzz about a patent that No­var­tis holds on the dose-titra­tion class patent to S1P mod­u­la­tors/ag­o­nists. And Cred­it Su­isse an­a­lyst Vamil Di­van has put that in the spot­light with a note say­ing the patent pos­es a threat to any com­mer­cial­iza­tion work in­volv­ing ozan­i­mod — the big MS drug at Cel­gene that Bris­tol-My­ers touts as a ma­jor rea­son for its $74 bil­lion buy­out bid.
Cel­gene $CELG had to take back their ap­pli­ca­tion af­ter the FDA re­fused to file it a year ago, plan­ning a makeover and re­sub­mis­sion in a mat­ter of days. The EMA got their ap­pli­ca­tion pack­age ear­li­er this week. But the de­lay cost it the lead in a de­vel­op­ment race with No­var­tis, which the Basel-based phar­ma gi­ant could win any day now.
The MS drug is one of the key late-stage as­sets that Bris­tol-My­ers is buy­ing in the deal and any threat to its IP would be just fresh fu­el for the dis­si­dents protest­ing the deal, a group led by Star­board Val­ue, joined by Welling­ton — Bris­tol-My­ers' biggest in­vestor — and sup­port­ed by Lon­car Funds and oth­ers grous­ing about the rea­sons for the deal.
Di­van ac­tu­al­ly is­sued two notes on the top­ic, in­clud­ing a re­vi­sion that fol­lowed a quick call from Bris­tol-My­ers. The bot­tom line:
(W)e spoke with Bris­tol, which in­di­cat­ed it is aware of this class patent that we be­lieve could be a road­block to ozan­i­mod com­mer­cial­iza­tion, and they be­lieve they will be able to man­age through this hur­dle and are not over­ly con­cerned about it.
The rea­son why Cred­it Su­isse is con­cerned is be­cause ozan­i­mod re­lies on dose titra­tion, un­like, say, Are­na's ri­val ther­a­py $AR­NA, which it says is a $4 bil­lion op­por­tu­ni­ty — a pitch that has helped swell their share price.
No­var­tis, mean­while, has been an­gling for a block­buster OK for its ri­val S1P MS drug sipon­i­mod, which has post­ed good enough da­ta to war­rant the use of a pri­or­i­ty re­view vouch­er to beat a short path to the FDA. The PDU­FA date is set for this month — so look for word on that any time now. And an­a­lysts have pegged 2024 sales at $1.3 bil­lion.
Cel­gene's late-stage pipeline is the fo­cus in the buy­out be­cause its big mon­ey­mak­er, Revlim­id, ac­counts for the li­on's share of com­pa­ny rev­enue. Once it goes over the patent cliff, you have to gen­er­ate new rev­enue from the pipeline — a lot of rev­enue — to make up for it.