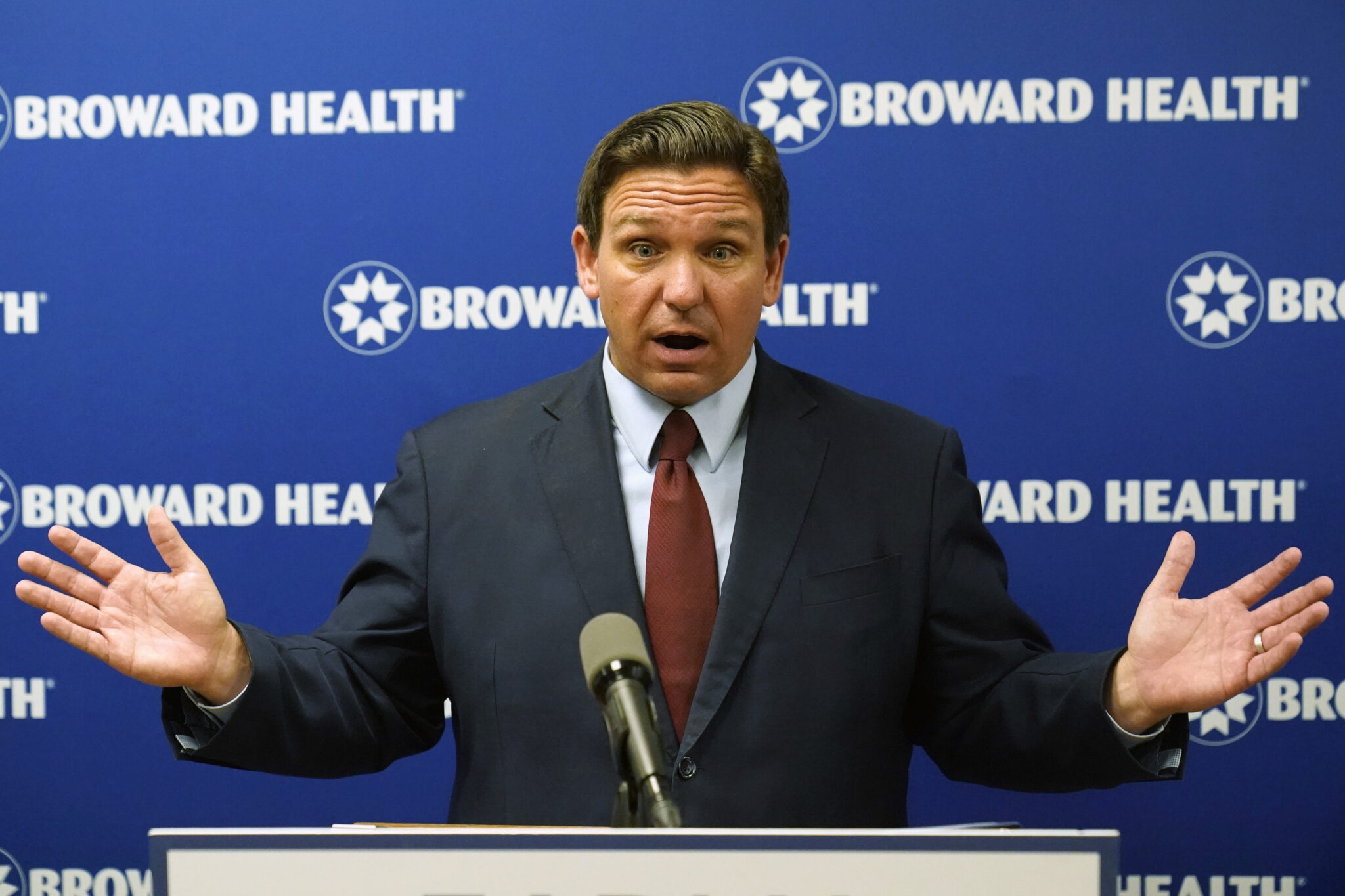 Florida Gov. Ron DeSantis (AP Photo/Wilfredo Lee, File)
Opin­ion: Flori­da is so mAb crazy, Ron De­San­tis wants to use mAbs that don't work
Flori­da Gov. Ron De­San­tis is try­ing so hard to politi­cize the FDA and de­mo­nize the fed­er­al gov­ern­ment that he en­tered in­to an al­ter­nate uni­verse on Mon­day evening in de­scrib­ing a re­cent FDA ac­tion to re­strict the use of two mon­o­clon­al an­ti­body, or mAb, treat­ments for Covid-19 that don't work against Omi­cron.
With­out fur­ther ado, let's break down his state­ment from last night, line by line, ad­jec­tive by ad­jec­tive.
First, he calls the FDA move "sud­den and reck­less," and, "abrupt and uni­lat­er­al."
In re­al­i­ty, Re­gen­eron (more be­low) and Eli Lil­ly — both for-prof­it com­pa­nies that have made bil­lions from these mAbs and would put up a fight if there was a fight to be had — back the FDA's de­ci­sion to halt the use of their prod­ucts. They've al­so been up­front about the fact that their mAbs don't work against Omi­cron, which now ac­counts for vir­tu­al­ly every new Covid case in the US. The Na­tion­al In­sti­tutes of Health al­so up­dat­ed its guid­ance on the mat­ter, say­ing the same, and so did every­one else who's fol­low­ing along.
Then De­San­tis claims the FDA move was made "with­out a shred of clin­i­cal da­ta," and lat­er in his state­ment he refers to it as "clin­i­cal­ly un­sup­port­ed." In­deed, the FDA has made many de­ci­sions through­out the pan­dem­ic with­out clin­i­cal da­ta. But in this case, no one needs to run a clin­i­cal tri­al to un­der­stand these mAbs don't work against Omi­cron.
A Re­gen­eron spokesper­son ex­plained this very sim­ply via email:
The orig­i­nal RE­GEN-COV an­ti­body cock­tail has been ad­min­is­tered to mil­lions of peo­ple, and we are ex­treme­ly proud of the crit­i­cal role this med­i­cine has played dur­ing the pan­dem­ic. How­ev­er, it does not work against Omi­cron in lab tests, which tells us that un­for­tu­nate­ly it is al­so not go­ing to work in peo­ple in­fect­ed with this vari­ant. Ac­cord­ing to the CDC, over 99% of COVID-19 cas­es in the U.S. are now caused by the Omi­cron vari­ant, and thus we be­lieve the FDA's de­ci­sion to amend the Emer­gency Use Au­tho­riza­tion was ap­pro­pri­ate at this time.
Flori­da Lt. Gov. Jeanette Nuñez lat­er in­cor­rect­ly refers to the mon­o­clon­al an­ti­body treat­ment as Re­gen­eron (Re­gen­eron is the com­pa­ny that makes the cock­tail), and the state­ment says that this FDA de­ci­sion "was made sole­ly by Biden's Food and Drug Ad­min­is­tra­tion (FDA) with­out ad­vance warn­ing to states or health providers and with­out clin­i­cal da­ta to sup­port the de­ci­sion."
If Flori­da has any­one who tunes in­to the week­ly calls from HHS Of­fice of the As­sis­tant Sec­re­tary for Pre­pared­ness and Re­sponse on Covid-19 treat­ment dis­tri­b­u­tion, then De­San­tis' ad­min­is­tra­tion would've known this was com­ing, as both mAbs were a fre­quent top­ic of con­ver­sa­tion over the last sev­er­al calls.
Mount Sinai Hos­pi­tal in New York and oth­ers al­so stopped ad­min­is­ter­ing these mAbs in late De­cem­ber, which came as the com­pa­nies made their an­nounce­ments that the mAbs don't work against Omi­cron.
But Re­gen­eron, which al­so stressed that it will "con­tin­ue to work close­ly with the FDA," and oth­ers are still hard at work on oth­er an­ti­body and an­tivi­ral can­di­dates that will need to be test­ed in hu­mans to ob­tain new EUAs.
Un­til then, Flori­da and every oth­er state will have to make do with a short sup­ply of the GSK mAb (not men­tioned by De­San­tis), the Pfiz­er and Mer­ck an­tivi­rals, Gilead's remde­sivir, and the As­traZeneca pro­phy­lac­tic mAb. It's not a per­fect sit­u­a­tion, but no one knew what Omi­cron would look like be­fore it ar­rived.