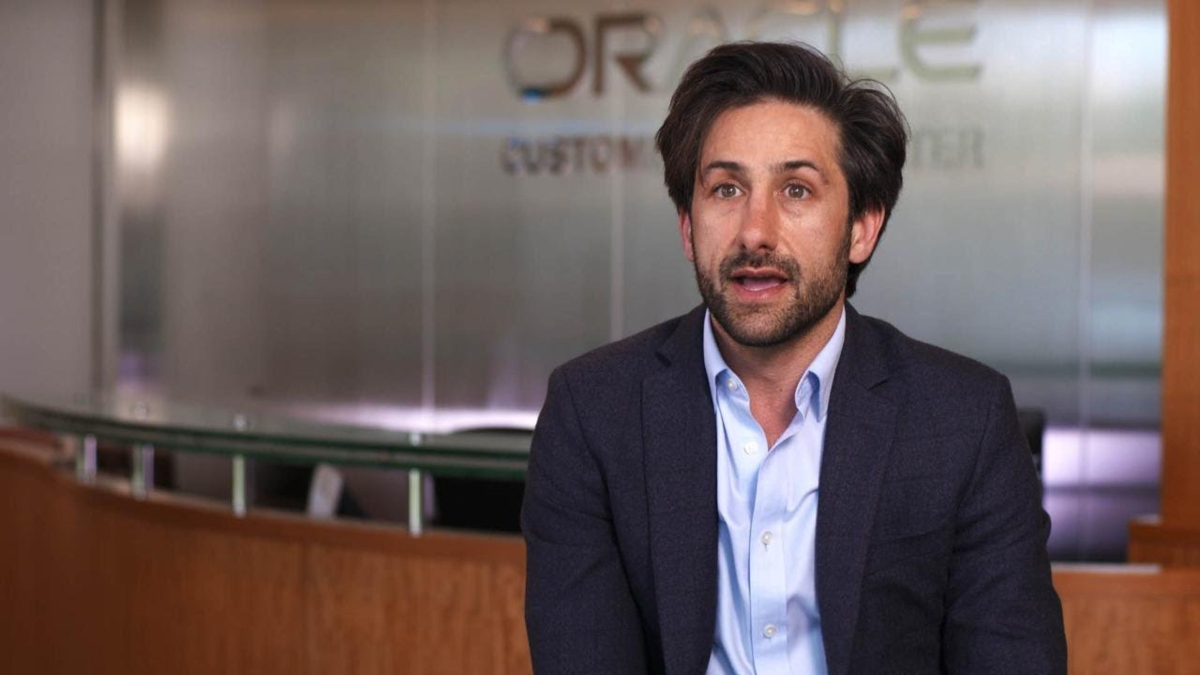 Troy Tazbaz, FDA's newly-named director of the Digital Health Center of Excellence (Oracle via YouTube)
Or­a­cle ex­ec­u­tive Troy Tazbaz named new FDA di­rec­tor of dig­i­tal health
The FDA has found a brand new di­rec­tor of the Dig­i­tal Health Cen­ter of Ex­cel­lence in Troy Tazbaz, a for­mer se­nior vice pres­i­dent at Or­a­cle.
Ac­cord­ing to Tazbaz's LinkedIn, he took a five-month break af­ter leav­ing an 11-year ca­reer at Or­a­cle be­fore join­ing the FDA in Jan­u­ary. Stat News first re­port­ed the hire. Tazbaz al­so said on his LinkedIn that he biked all the way from Chesa­peake Bay to the San Fran­cis­co Bay over 58 days dur­ing his ca­reer break.
Tazbaz is the third leader of the de­part­ment since Bakul Pa­tel left nine months ago to join Google as se­nior di­rec­tor of the gi­ant's dig­i­tal health strat­e­gy and reg­u­la­to­ry team. Deputy Di­rec­tor Bren­dan O'Leary then took over as act­ing di­rec­tor un­til Tazbaz joined.
In an emailed state­ment to End­points News, the FDA said Tazbaz will lead the pro­gram as dig­i­tal health tech­nolo­gies be­come more sig­nif­i­cant, and as Con­gress has called on the FDA to pro­vide more guid­ance in this space.
"In his role, Troy will lead the Dig­i­tal Health Cen­ter of Ex­cel­lence in its next phase, which is fo­cused on con­tin­ued growth and im­prove­ment of build­ing and sus­tain­ing ca­pac­i­ty for strate­gic part­ner­ships, in­no­vat­ing reg­u­la­to­ry frame­works for dig­i­tal health and con­tin­ued har­mo­niza­tion with oth­er reg­u­la­tors," an FDA spokesper­son wrote.
At Or­a­cle, Tazbaz start­ed out as se­nior di­rec­tor of the com­pa­ny's cloud da­ta cen­ter strat­e­gy and plan­ning, then moved to VP of cor­po­rate op­er­a­tions be­fore end­ing as SVP of the in­dus­tries busi­ness unit strat­e­gy and op­er­a­tions.
The Dig­i­tal Health Cen­ter of Ex­cel­lence opened its doors in 2020, housed with­in the Cen­ter for De­vices and Ra­di­o­log­i­cal Health as a way to ad­vance tech­nol­o­gy with­in health­care, via mo­bile health de­vices, soft­ware as a med­ical de­vice, wear­able med­ical de­vices and tech­nolo­gies used to study med­ical prod­ucts.
Tazbaz isn't the on­ly one to flip-flop be­tween big tech and the FDA. Cur­rent FDA Com­mis­sion­er Robert Califf went to Al­pha­bet to take a full-time role as head of med­ical strat­e­gy and pol­i­cy across the Google Health and Ver­i­ly units in 2019 be­fore be­ing con­firmed again as com­mis­sion­er in 2022.