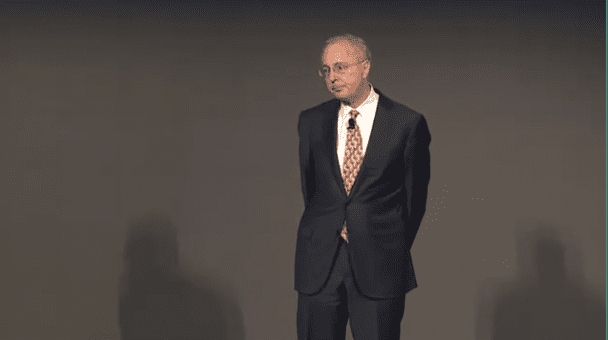 Roger Perlmutter. Merck via webcast
'Our lega­cy mat­ter­s': Mer­ck maps out Keytru­da king­dom while spot­light­ing ad­vances in vac­cines, hos­pi­tal care
"You can for the mo­ment stop tak­ing notes. You can put down your pens and your pad. I have no slides. I have no sub­stan­tive da­ta. I have no pitch."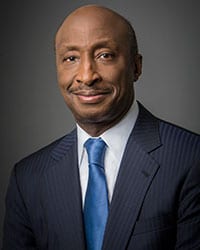 Ken Fra­zier Mer­ck
So be­gan Roger Perl­mut­ter's brief ap­pear­ance on­stage at Mer­ck's first in­vestor day in five years, where he dived in­to the com­pa­ny's his­to­ry dat­ing back to 1933. The first em­ploy­ees at Mer­ck Re­search Lab­o­ra­to­ries, hand­picked by founder George W. Mer­ck, were crit­i­cal to Mer­ck's abil­i­ty to achieve clin­i­cal and com­mer­cial suc­cess.
"Un­der­neath these pro­grams, un­der­neath these prod­ucts […] un­der­neath what Ken and Rob told you about the fu­ture of the com­pa­ny, there is this enor­mous­ly sta­ble plat­form and what you will hear this morn­ing is first of all our abil­i­ty to ex­e­cute clin­i­cal­ly and com­mer­cial­ly to bring these prod­ucts to life," he said of the Mer­ck lega­cy be­fore turn­ing to Roy Baynes and Mike Nal­ly for a more de­tailed look on R&D.
Perl­mut­ter's com­ments echo CEO Ken Fra­zier's in­sis­tence that the team here can build a fran­chise like Keytru­da not just once or twice but re­peat­ed­ly, and come as the board is re­port­ed­ly scout­ing their suc­ces­sors.
Fra­zier ad­dressed the in­evitable tran­si­tion ques­tion dur­ing Q&A by say­ing this:
Every­thing we need to dri­ve the growth we talked about […] is al­ready in our hands and so for us it's re­al­ly fo­cus­ing on ex­e­cut­ing in the mar­ket­place and fo­cus­ing in the de­vel­op­ment space to make sure we main­tain that lead­er­ship. As it re­lates to suc­ces­sion, the board is very much fo­cused on that is­sue. What I can say is I'm ex­treme­ly pleased by the breadth of the lead­er­ship tal­ent in the com­pa­ny.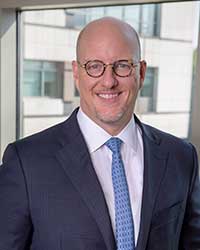 Rob Davis Mer­ck
The take-home mes­sage: Mer­ck, now at a 52-week high mar­ket cap of $221 bil­lion, is go­ing to do just fine.
On the BD front, the com­pa­ny is stick­ing to bolt-on M&A deals and strate­gic col­lab­o­ra­tions, though CFO Rob Davis em­pha­sizes that "we have the ca­pa­bil­i­ty to pret­ty much do what we want." He al­so promised a top-down, com­pa­ny-wide ef­fort to cre­ate a lean­er struc­ture, with an eye to be­gin cut­ting R&D ex­pens­es as a per­cent­age of sales — a stan­dard met­ric in phar­ma — be­gin­ning in 2021.
Roy Baynes Mer­ck
As much as ex­ecs hyped up the growth po­ten­tial across the en­tire pipeline, Keytru­da re­mains the foun­da­tion­al pro­gram as an un­prece­dent­ed, ex­treme­ly large prod­uct that's "on­ly go­ing to get big­ger" ac­cord­ing to Fra­zier.
"I re­al­ly be­lieve we're still in the ear­ly stages of the op­por­tu­ni­ty we have with Keytru­da," added Frank Clyburn, chief com­mer­cial of­fi­cer. And if you take Lyn­parza and Lenvi­ma in­to ac­count, "we be­lieve over the next five years I want you to think about the op­por­tu­ni­ty for more than 50 ad­di­tion­al in­di­ca­tions."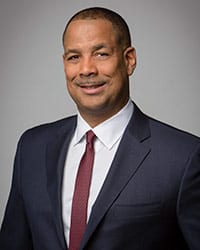 Frank Clyburn Mer­ck
The mas­sive net­work of tri­als cen­tered around Keytru­da has pushed over the 1,000 mark, Baynes, the head of clin­i­cal de­vel­op­ment, said, with more than 100 in ear­li­er lines of ther­a­py (be­fore or right af­ter surgery), up­wards of 600 com­bi­na­tions, and 75 reg­is­tra­tional stud­ies un­der­way.
Breast and prostate can­cers loom large among them. As monother­a­py ap­proach­es have proven weak, Mer­ck is look­ing at new com­bos and ear­li­er lines for po­ten­tial first-to-mar­ket op­por­tu­ni­ties. The PARP in­hibitor Lyn­parza might al­so play a big role in tack­ling those two mar­kets, while Mer­ck and part­ner As­traZeneca ex­plore 19 oth­er in­di­ca­tions for the drug.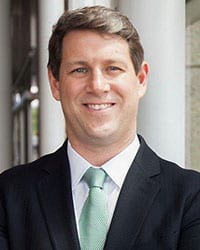 Mike Nal­ly Mer­ck
As for the rest of the pipeline out­side on­col­o­gy — vac­cines and hos­pi­tal care be­ing the main pil­lars — the com­pa­ny is look­ing to both grow ex­ist­ing prod­ucts while steadi­ly push­ing a "rich pipeline."
Chief mar­ket­ing of­fi­cer Mike Nal­ly high­light­ed two drugs in par­tic­u­lar: MK-8591, which "has a true po­ten­tial to be a game chang­er for pa­tients with HIV"; and gefapix­ant, a P2X3 and P2X2/3 re­cep­tor an­tag­o­nist first po­si­tioned for chron­ic cough.
A glob­al vi­sion will be cru­cial to achiev­ing all of this. In his pre­sen­ta­tion, CFO Davis de­scribed Mer­ck has the fastest-grow­ing multi­na­tion­al phar­ma in Chi­na, swelling 43% over the last 18 months when the av­er­age was 11% — thanks in part to prod­uct ap­provals from Keytru­da to the HPV vac­cine Gar­dasil.