Out­rac­ing 2 gi­ant ri­vals, J&J touts promis­ing PhI­II In­vokana da­ta as a game-chang­er for kid­ney dis­ease risks
In a race to ex­pand mar­ket share against two top ri­vals in the di­a­betes field, J&J just scored one in the win col­umn. And they'll play it for all it's worth in an at­tempt to re­vive flag­ging sales.
Re­searchers for the phar­ma gi­ant spelled out a sig­nif­i­cant ad­van­tage for di­a­bet­ics tak­ing their SGLT2 stan­dard bear­er In­vokana. In a Phase III study, the drug scored a 30% re­duc­tion in the risk of a com­pos­ite of ail­ments that many pa­tients face: a pro­gres­sion to the dou­bling of serum cre­a­ti­nine, end-stage kid­ney dis­ease and re­nal or car­dio­vas­cu­lar death. Just look­ing at ES­KD — a ma­jor fear among tens of mil­lions of di­a­bet­ics, 40% of whom will go on to de­vel­op kid­ney dis­ease — there was a 32% re­duc­tion in risk.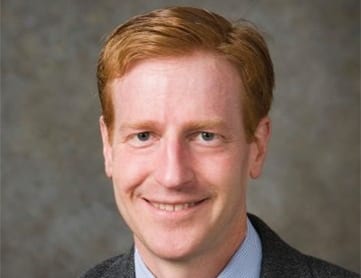 James List
That da­ta "could es­tab­lish In­vokana as the on­ly med­i­cine to safe­ly re­duce the risk of re­nal fail­ure in this high-risk pa­tient pop­u­la­tion when added to cur­rent stan­dard of care," said James List, J&J's glob­al head for car­dio and me­tab­o­lism.
Big deal? "It's been al­most 2 decades since there's been a drug that slows pro­gres­sion in chron­ic kid­ney dis­ease," List tells me in a pre­view of the pre­sen­ta­tion. "It has the po­ten­tial to change the way we treat chron­ic kid­ney dis­ease."
And this time they did it with no in­creased risk of am­pu­ta­tions, pro­vid­ing J&J the safe­ty pro­file they were look­ing for.
Whether In­vokana in fact the on­ly SGLT2 to score in this cat­e­go­ry has yet to be seen. The class of­fers a lot of sim­i­lar­i­ties, though In­vokana's la­bel has been hand­i­capped by a risk for am­pu­ta­tion that it doesn't share with Jar­diance from Eli Lil­ly and Boehringer In­gel­heim and As­traZeneca's Farx­i­ga. Both ri­vals are in late-stage re­nal out­comes stud­ies, so we'll find out soon enough how well they fair against In­vokana.
Not want­i­ng to waste any time, J&J hus­tled their ap­pli­ca­tion to the FDA on March 27, hop­ing for a pri­or­i­ty re­view that could cut down the turn­around to 6 months. In the mean­time, Farx­i­ga is ex­pect­ed to re­port out its re­sults next fall, with Jar­diance da­ta ar­riv­ing about 18 months lat­er. That could give In­vokana a head start, at least.
The drug needs all the help it can get. Its rev­enue from In­vokana fell last year to $881 mil­lion while As­traZeneca re­port­ed a big in­crease in Farx­i­ga sales, which swelled to $1.39 bil­lion. Jar­diance rev­enue, mean­while, grew 47% to $658 mil­lion in 2018.
---
Im­age: Shut­ter­stock