PARP in­hibitors for ALS? Penn re­searchers post promis­ing finds in brain dis­ease
As a can­cer drug, PARP in­hibitors have in­spired block­buster pro­jec­tions for drug­mak­ers like As­traZeneca and Pfiz­er. What if they can al­so treat brain dis­eases?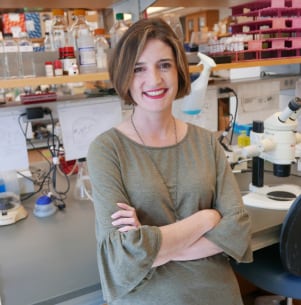 Leeanne McGurk
A team of re­searchers at the Uni­ver­si­ty of Penn­syl­va­nia are try­ing to an­swer that ques­tion, hav­ing found that aside from stop­ping tu­mor cells from re­pair­ing dam­aged DNA, PARP in­hibitors can al­so re­duce the amount of a harm­ful struc­ture that's as­so­ci­at­ed with amy­otroph­ic lat­er­al scle­ro­sis — known as ALS or Lou Gehrig's dis­ease — and some forms of fron­totem­po­ral de­gen­er­a­tion (FTD).
The key here, ac­cord­ing to their pa­per in Mol­e­c­u­lar Cell, is the in­ter­ac­tion be­tween the PAR mol­e­cule and a pro­tein dubbed TDP-43. When TDP-43 is out of place, it some­times binds with PAR, even­tu­al­ly form­ing a harm­ful struc­ture called stress gran­ules.
When the re­searchers per­formed tests on cul­tured cells, how­ev­er, they ob­served that the PARP in­hibitors could "al­le­vi­ate the buildup of TDP-43 that mir­rors the ab­nor­mal pro­tein clumps we see in dis­ease," said lead au­thor Leeanne McGurk, a re­search as­so­ciate in Penn bi­ol­o­gy pro­fes­sor Nan­cy Boni­ni's lab. Boni­ni led the study with col­league James Short­er.
As­traZeneca has been ag­gres­sive­ly pur­su­ing new in­di­ca­tions for Lyn­parza, its first-in-class PARP star now ap­proved for breast and ovar­i­an can­cers. Ri­vals in­clud­ing Tesaro, Clo­vis and Pfiz­er are com­ing up close in an in­creas­ing­ly crowd­ed race, and that's not to men­tion new­er play­ers like Chi­na's Im­pact and UK's Ar­tios, run by a pair of Lyn­parza vets.
This pre­lim­i­nary sci­en­tif­ic find­ing could well af­fect all of them.