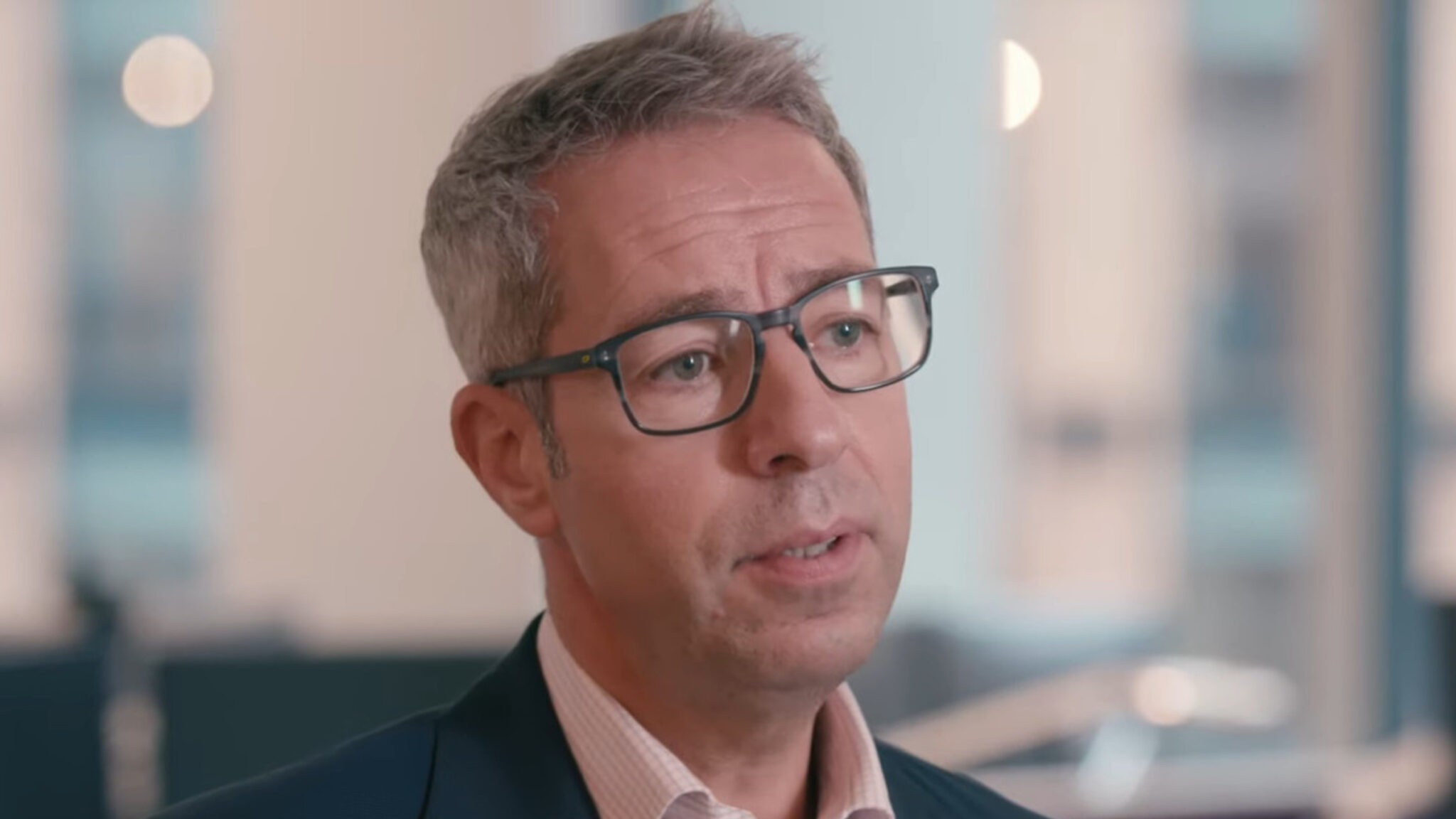 Mene Pangalos (AstraZeneca via YouTube)
Pas­sive vac­ci­na­tion? As­traZeneca spot­lights six-month pro­tec­tion with Covid-19 an­ti­body among vul­ner­a­ble group
New fol­low-up da­ta sug­gest that As­traZeneca's long-act­ing an­ti­body can pro­tect high-risk pop­u­la­tions from con­tract­ing Covid-19 for as long as six months, beef­ing up the case for it as a form of "pas­sive im­mu­niza­tion" or "pas­sive vac­ci­na­tion."
At a six-month cut­off for the Phase III PROVENT tri­al, in­ves­ti­ga­tors tracked an 83% re­duc­tion in risk of symp­to­matic Covid-19 af­ter one dose of the an­ti­body among 4,991 vol­un­teers. The com­pa­ny did not spell out case counts on ei­ther arm, not­ing on­ly that there were no se­vere dis­ease or Covid-re­lat­ed deaths in the AZD7442 arm and two ad­di­tion­al cas­es of se­vere Covid-19 in the place­bo arm (for a to­tal of five se­vere cas­es and two re­lat­ed deaths).
Com­ing al­most two months af­ter the ini­tial read­out, the up­date was re­leased along­side a new analy­sis of the TACK­LE tri­al, which test­ed AZD7442 as a treat­ment and showed that, when giv­en with­in three days of symp­tom on­set, it can cut the risk of se­vere dis­ease or death by 88% — a sig­nif­i­cant leap from the pre­vi­ous­ly re­port­ed 50% num­ber when treat­ment was giv­en with­in sev­en days.
To­geth­er, As­traZeneca said, they paint a fuller pic­ture of AZD7442, which it had first li­censed from Van­der­bilt, as an im­por­tant ad­di­tion to the ar­se­nal.
"AZD7442 is the on­ly long-act­ing an­ti­body with Phase III da­ta to demon­strate ben­e­fit in both pre-ex­po­sure pro­phy­lax­is and treat­ment of COVID-19 with one dose," said Mene Pan­ga­los, EVP of bio­phar­ma R&D in a state­ment.
In a re­cent in­ter­view with End­points News, Pan­ga­los em­pha­sized how the drug's long-act­ing prop­er­ty sets it apart from oth­er an­ti­bod­ies. Eli Lil­ly, Re­gen­eron and Vir/Glax­o­SmithK­line have all nabbed emer­gency use au­tho­riza­tions for their ther­a­pies, with an uptick in use amid new surges due to the Delta vari­ant and break­through cas­es.
"Oth­ers are talk­ing about pro­phy­lax­is, but they're talk­ing about month­ly ad­min­is­tra­tion," he said. "We're talk­ing about, po­ten­tial­ly, at a max­i­mum twice a year, I'm hop­ing it'll be once a year. And so al­most in a way be, you know, pas­sive im­mu­niza­tion or pas­sive vac­ci­na­tion."
The FDA is cur­rent­ly re­view­ing an EUA fil­ing in the pro­phy­lac­tic set­ting.
It's es­pe­cial­ly rel­e­vant when you con­sid­er that PROVENT sought to en­roll par­tic­i­pants who are im­muno­com­pro­mised — peo­ple with mul­ti­ple scle­ro­sis, say, or can­cer. These peo­ple, es­ti­mat­ed to make up about 2 to 3% of the pop­u­la­tion, are thought to be less pro­tect­ed by vac­ci­na­tion.
"Im­por­tant­ly, six months of pro­tec­tion was main­tained de­spite the surge of the Delta vari­ant among these high-risk par­tic­i­pants who may not re­spond ad­e­quate­ly to vac­ci­na­tion," said Hugh Mont­gomery, prin­ci­pal in­ves­ti­ga­tor and pro­fes­sor of in­ten­sive care med­i­cine at Uni­ver­si­ty Col­lege Lon­don.
On the treat­ment side, TACK­LE sim­i­lar­ly tar­get­ed pa­tients at high risk of pro­gres­sion to se­vere Covid-19 for en­roll­ment — with 90% of par­tic­i­pants in that cat­e­go­ry. Again, there was no break­down on the num­ber of cas­es in each group.
The new, ex­plorato­ry analy­sis sug­gest­ed that when giv­en soon­er af­ter symp­tom on­set, a sin­gle dose of AZD7442 could bet­ter pre­vent those se­vere out­comes much bet­ter than place­bo among non-hos­pi­tal­ized pa­tients. "You could treat with an oral an­tivi­ral, that's great," Pan­ga­los said. "Now, you could treat with an an­ti­body, or you could treat with ours down the road as well, and you won't just be treat­ed for the two weeks that you've got the symp­toms. You'll be treat­ed the next 12 months in terms of pre­ven­tion."
In a Q&A call this morn­ing, CEO Pas­cal So­ri­ot con­firmed that plans for a pe­di­atric tri­al are un­der­way. And in terms of pric­ing, what that will look like hasn't been de­ter­mined yet — EVP Iskra Re­ic on­ly said they are pur­su­ing a "com­mer­cial pric­ing strat­e­gy."
For a look at all End­points News coro­n­avirus sto­ries, check out our spe­cial news chan­nel.