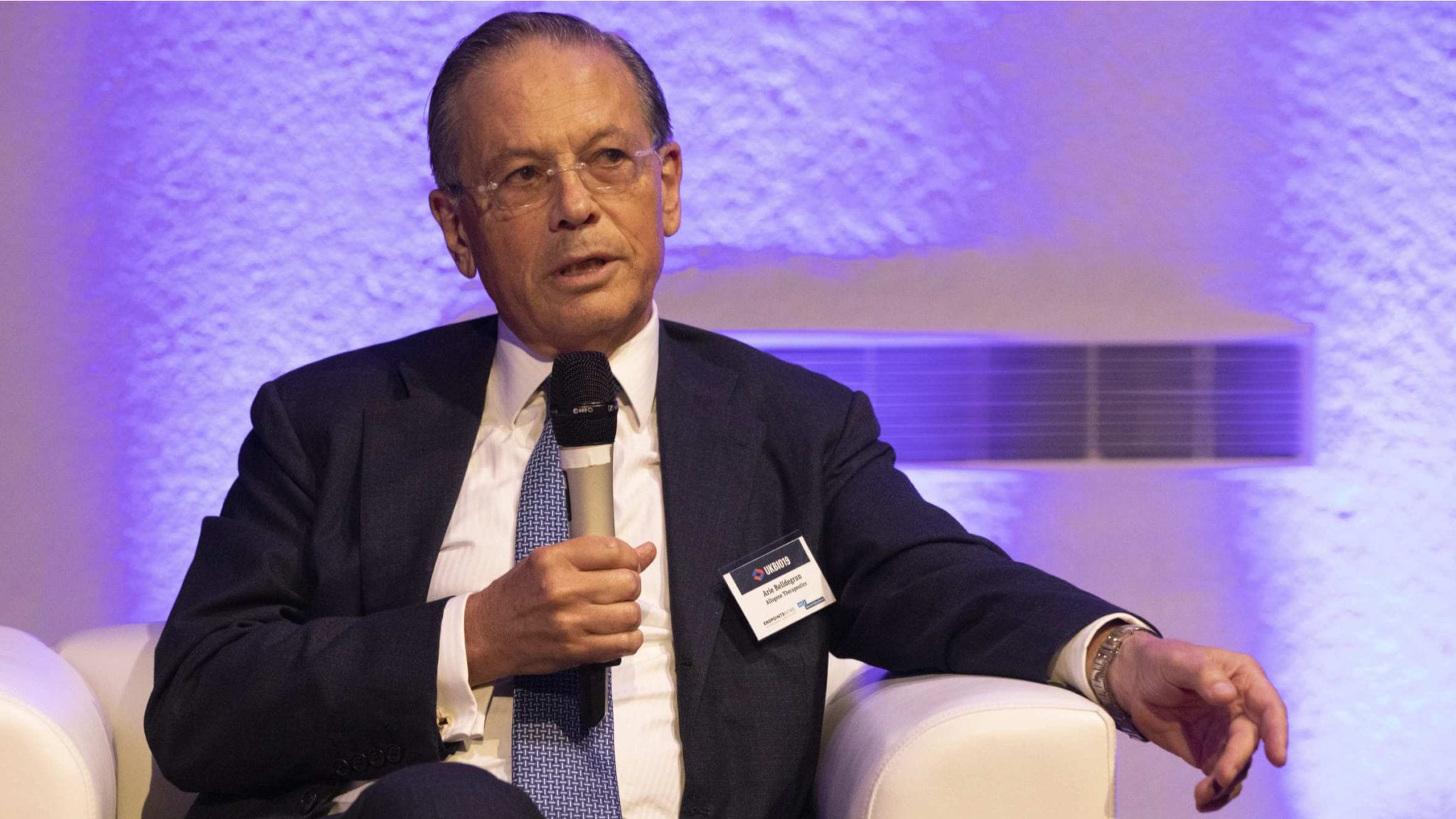 Arie Belldegrun speaking at UKBIO19
Pa­tient death mars lat­est cut of da­ta from Al­lo­gene's off-the-shelf CAR-T
Al­lo­gene has been rid­ing high since AS­CO in May, when ear­ly da­ta showed their off-the-shelf CAR-T worked in a hand­ful of pa­tients and that no one re­ject­ed their for­eign cells. It was a key mo­ment in a field that could re­make cell ther­a­py and treat­ment for cer­tain can­cers.
On Wednes­day, though, the Arie Bellde­grun-found­ed biotech re­leased re­sults for their mul­ti­ple myelo­ma CAR-T and, al­though the re­spons­es were there, so was a red flag: Four pa­tients con­tract­ed a se­ri­ous in­fec­tion, and one of them died.
Al­lo­gene $AL­LO shares im­me­di­ate­ly fell from $33.79 to $28.78 Wednes­day morn­ing, al­though they would re­bound to $31.06 by the time mar­kets close.
The news is trag­ic on its own and a set­back for an ap­proach that Al­lo­gene is try­ing to prove can com­pete with or even out­per­form tra­di­tion­al mul­ti­ple myelo­ma CAR-Ts from J&J and Leg­end and from Bris­tol My­ers Squibb and blue­bird. Al­though Al­lo­gene and star­tups such as Po­sei­don have point­ed to the po­ten­tial for off-the-shelf ap­proach­es to be more scal­able and al­low for re­peat dos­ing, J&J and blue­bird have al­ready shown strong ef­fi­ca­cy in hu­man tri­als, set­ting the bar high.
Still, an­a­lysts were di­vid­ed on how large a role Al­lo­gene's treat­ment played in the pa­tient's death, or how con­cerned they should be if they are. The vol­un­teers in the Al­lo­gene tri­al were very sick, with many on their fifth-line of ther­a­py for a dead­ly can­cer, and pa­tients have died through­out the last decade of CAR-T tri­als, in­clud­ing in the blue­bird stud­ies.
Cowen's Marc Frahm said it was "un­sur­pris­ing" news. "We would note that sev­er­al oth­er CAR T cell tri­als [saw] in­fec­tions in­clud­ing fa­tal events," he wrote in a note to in­vestors.
The pa­tient was di­ag­nosed with se­vere pneu­mo­nia eight days af­ter re­ceiv­ing the ther­a­py, and in­ves­ti­ga­tors at­trib­uted it to the in­tense chemother­a­py pa­tients un­der­go di­rect­ly be­fore re­ceiv­ing the ther­a­py. They added that, as of the da­ta cut­off for the ab­stract, they had not seen oth­er ma­jor ad­verse events, in­clud­ing graft ver­sus host dis­eases — one com­mon and dam­ag­ing side ef­fect from oth­er form of cell trans­plants.
Jef­feries' Biren Amin not­ed that, more broad­ly, "high in­fec­tion rate is a key fac­tor for mor­tal­i­ty in myelo­ma pa­tients."
An­a­lysts, mean­while, were large­ly sat­is­fied with the ef­fi­ca­cy re­sults. Al­though it's still ear­ly in Phase I, they ar­gued it showed the po­ten­tial to even­tu­al­ly com­pete with the J&J and blue­bird CAR-Ts.
In the high-dose arm of the dose-find­ing study, three out of five pa­tients re­spond­ed. One of the three had a strin­gent com­plete re­sponse and an­oth­er had a very good par­tial re­sponse.
That's a pret­ty small sam­ple size to draw per­cent­ages from, but Frahm ar­gued it looked "sim­i­lar" to the rough­ly 65% VG­PR/CR re­sponse blue­bird saw in ear­ly stud­ies and the 88% VG­PR re­sponse J&J saw.
Amin said it showed high dos­es are need­ed for the ther­a­py to work. He said longer term, they'll be look­ing for Al­lo­gene to match blue­bird's Phase I re­sults. In that study, he not­ed, pa­tients across dose co­horts who had high BC­MA ex­pres­sion had an 89% re­sponse rate and a 22% com­plete re­sponse rate.