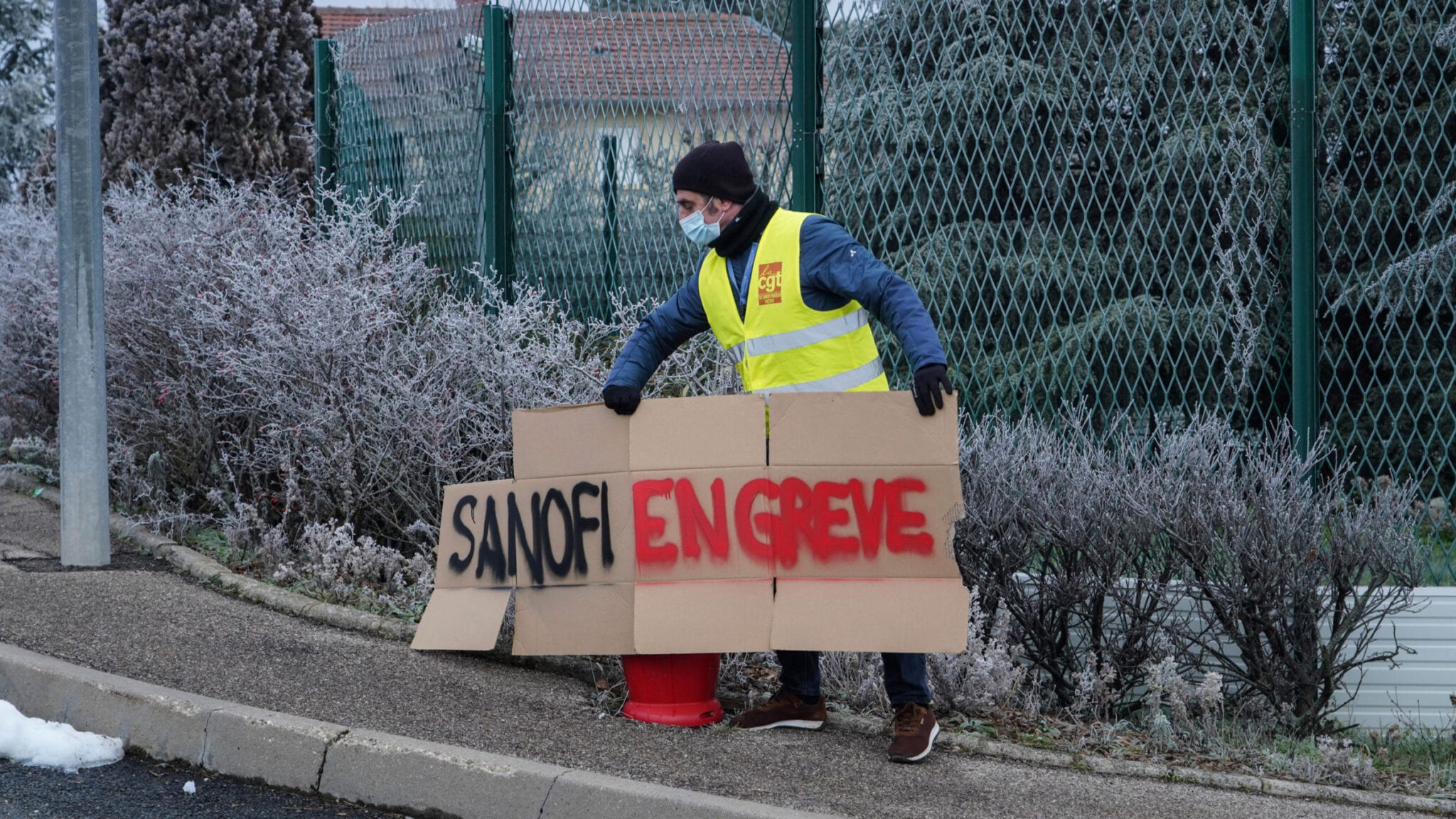 Union members strike in France, AP Images
Paul Hud­son faces down French unions in fight to re­struc­ture Sanofi
Sanofi CEO Paul Hud­son is fac­ing a fa­mil­iar ad­ver­sary in his ef­forts to cut up to 1,680 jobs from the French phar­ma gi­ant: French unions.
Around 200 union mem­bers staged a one-day strike Tues­day at Sanofi's main Covid-19 vac­cine plant in Mar­cy-l'Étoile to protest the cuts, The As­so­ci­at­ed Press re­port­ed, with oth­er mem­bers join­ing at oth­er fa­cil­i­ties across the coun­try.
France's fi­nance min­is­ter Bruno Le Maire, mean­while, went on French ra­dio twice this week to talk about the com­pa­ny. On Mon­day, per Reuters, he told RTL that Sanofi would not close any plants or lay off any em­ploy­ees in the re­struc­tur­ing. But on Wednes­day morn­ing, he re-emerged on BFM and said he would like three things from the drug­mak­er, in­clud­ing con­fir­ma­tion that there will be no site clo­sures and lay­offs.
The con­tro­ver­sy is the lat­est stand­off be­tween Sanofi and France's sig­nif­i­cant la­bor move­ment. Chris Viehbach­er, the com­pa­ny's first non-French CEO, re­port­ed­ly lost his job in part be­cause he pro­posed cut­ting 5% to 7% of the com­pa­ny's work­force, trig­ger­ing mas­sive pub­lic blow­back. His re­place­ment, Olivi­er Brandi­court, put unions back on high alert two months af­ter he got the job, by talk­ing about the high cost of in­dus­tri­al plants and promis­ing a new five-year strate­gic plan.
The newest tus­sle is over Paul Hud­son's own strate­gic plan. Short­ly af­ter the No­var­tis ex­ec was tapped as Brandi­court's re­place­ment, he be­gan out­lin­ing the re­think. In June, he an­nounced plans to cut 1,680 jobs, in­clud­ing 1,000 in France, over the fol­low­ing 3 years. It was one step in a larg­er ef­fort to save more than €2 bil­lion by 2022 and re­ori­ent the com­pa­ny around a heav­ier but more tai­lored ap­proach to R&D, scrap­ping car­dio­vas­cu­lar and di­a­betes pro­grams but dou­bling down on ar­eas such as on­col­o­gy and gene ther­a­py.
In a state­ment this week pro­vid­ed to End­points News, Sanofi in­sist­ed that any em­ploy­ee de­par­tures would be vol­un­tary and not­ed that they planned to spend €6 bil­lion in R&D in France over the next 3 years.
"Sanofi has en­gaged in di­a­logue and in-depth lis­ten­ing to the sug­ges­tions of the so­cial part­ners in or­der to de­fine the so­cial sup­port mea­sures most suit­ed to the em­ploy­ment is­sues of each of the em­ploy­ees like­ly to be af­fect­ed," they said. "Ne­go­ti­a­tions with our so­cial part­ners are based on ac­com­pa­ny­ing mea­sures that are ex­clu­sive­ly vol­un­tary and with­out con­straints."
Le Maire com­mend­ed Sanofi on their de­ci­sion to shift R&D ef­forts, call­ing it "wise," but asked for greater clar­i­ty on what that R&D strat­e­gy would look like for France.
CGT, the largest trade union in France, mean­while, has ar­gued that per­sis­tent cuts have ac­tu­al­ly ham­pered Sanofi's R&D ef­forts, even play­ing a role in the sig­nif­i­cant set­backs they've seen in their ef­forts to de­vel­op a Covid-19 vac­cine with Glax­o­SmithK­line, the newswire RFI re­port­ed. The cuts, they said, are part of a pat­tern of a 15-year-long dis­in­vest­ment that re­sult­ed in Sanofi "los­ing the race for the vac­cine against Covid."