A guy with a penchant for tech and data will be taking the reins of San Diego public biotech aTyr Pharma $LIFE as the company's former CEO John Mendlein steps down.
The new chief executive and president is Sanjay Shukla, a physician and clinical development expert who's been serving as aTyr's chief medical officer since March 2016. This will be Shukla's first gig as CEO of a biotech, but he believes his data-crunching background makes him well-prepared for the job.
"Throughout my whole career I've enjoyed understanding different parts of the business and being as functionally versatile as I can be," Shukla said.
Shukla is one of those rare birds who was in the biotech industry before becoming a doctor (you normally see it the other way around). He began his career in statistical programming and medical informatics in the 1990s, when the industry was trying to catch up with other high-tech industries. He became a bit of a data scientist first, and later a physician. He didn't expect to come back to industry after getting his medical degree, but his skills were in high demand.
"Having an operational background and a medical background right out of the gate is pretty rare," Shukla said. "I worked for many years in data crisis management in clinical development."
Before joining aTyr as CMO, Shukla was vice president and global head of integrated medical services for Novartis, where he led global medical affairs operations with oversight of brands including Glenya, Cosentyx, and Entresto.
At aTyr, Shukla expects his data-oriented background will come in handy. The company, which specializes in drugs derived from a new class of natural proteins called physiocrines, is currently trying to make sense of a lot of data. Their lead drug Resolaris is now in three clinical programs for severe, rare myopathies with an immune component.
"We are an emerging biology company, and the science is accelerating at a rapid pace," Shukla said. "With this new learning comes a tremendous amount of data that must be crystallized, distilled down, and translated into clinical programs. There's a lot of data that needs to be crunched, and you have to make meaning of it. And that's what I think good data scientists do."
Shukla said the company recently launched a new program looking at how their technology could be applied to immuno-oncology. The program, called Project Orca, is still in the discovery stage.
ATyr's outgoing CEO Mendlein, who served as aTyr's CEO since 2011, will remain on the company's board of directors.
"After six incredible years as CEO, I am very pleased to pass the leadership torch to Sanjay and continue to advise him as a board member," Mendlein said. "Having worked extensively with Sanjay, I am confident he will continue to elevate aTyr to greater heights for patients and all stakeholders alike. I would like to express my immense gratitude to all our amazing employees, board, patients, and investors for all that we have accomplished so far at aTyr."
---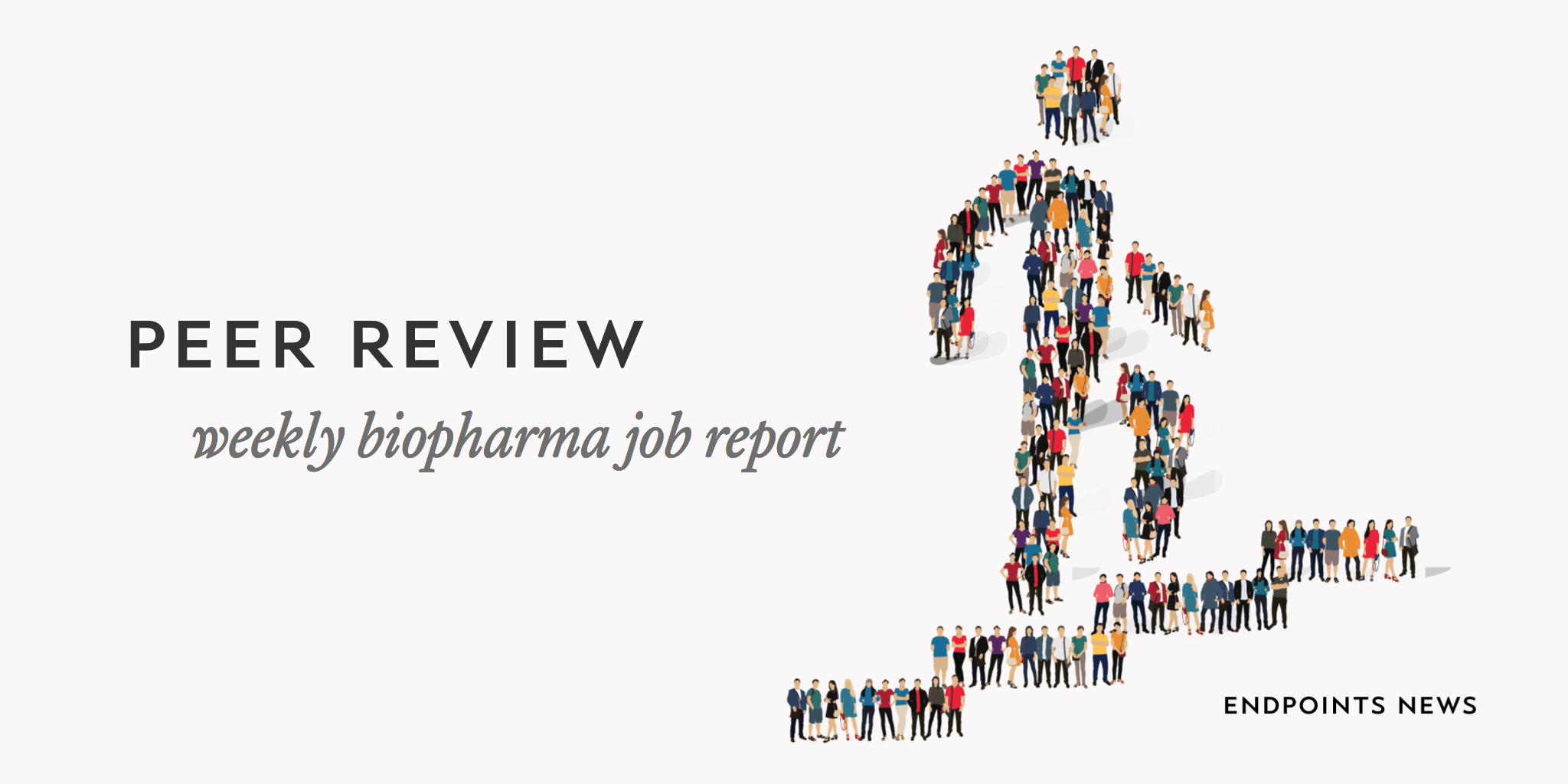 More Peer Review
→ Wrapping up their merger (which has yet to be approved by Cempra's shareholders, with a vote scheduled today), private Melinta Therapeutics and Cempra $CEMP has named ex-Bausch + Lomb top exec Daniel Wechsler CEO of the combined company.
→ Markus Enzelberger has officially been appointed MorphoSys' (FSE: MOR) chief scientific officer, having served as interim CSO since April. A veteran of the German company, Enzelberger was part of the team that invented HuCAL, the antibody library technology that helped J&J's Janssen develop guselkumab. He succeeds Marlies Sproll, who resigned for family reasons.
→ Chirfi Guindo is joining Biogen as its first executive vice president and head of global marketing, market access and customer innovation. Guindo, whose work at Merck has taken him to Canada, France, the Netherlands and Africa, gets on board as the biotech giant goes all in on its late-stage Alzheimer's drug aducanumab.
→ Lexington, MA-based Xenetic Biosciences $XBIO announced that current COO Jeffrey Eisenberg is taking over from Scott Maguire. As CEO — a position he's held for years at Noven Pharmaceuticals before joining Xenetic — Eisenberg says he's interested in advancing the biotech's flagship XBIO-101 and building partnerships.
→ Having completed the transition to a standalone company, Dendreon recruited Bruce Brown as SVP, medical. Most recently at Astellas' oncology division, Brown will lead R&D as the company continues to push the limits of Provenge.
→ As Epizyme $EPZM braces itself for the first FDA interaction on its NHL drug tazemetostat, chief medical officer Peter Ho, who is more interested in early-stage development, has decided to leave at the end of the year.
→ Sujal Shah is officially the president and CEO of CymaBay $CBAY, having been CFO and then interim CEO of the biotech. According to Shah, CymaBay's goals for 2018 are to initiate a PhIII study in PBC and a PhII study in NASH.
→ Gregory Bates is now the senior vice president of regulatory affairs at Axial Biotherapeutics, joining fellow DepoMed vet (and CMO) Srinivas Rao in preparing the startup's ASD and Parkinson's programs for the clinic.
→ Dana-Farber Cancer Institute has created a new position called director of cancer genomics, and Matthew Meyerson is filling it. The longtime director of the Center for Cancer Genome Discovery will lead research efforts at a range of partner organizations including the Broad Institute, where he will hold the same position.
→ Aerie Pharmaceuticals $AERI named Allergan vet John Maltman as vice president of medical affairs. Maltman will be responsible for leading the strategic efforts of Aerie's medical affairs department across "a broad spectrum of product-related activities."
→ Eyal Rubin is leaving Teva to be CFO at BrainStorm Cell Therapeutics $BCLI, the Israeli biotech that just initiated a PhIII trial for its ALS drug.
→ Riding the tide of its promising IPO, OptiNose $OPTN is adding five vice presidents to its team: Ricci Whitlow, VP of technical operations; Harry Sacks, VP of medical affairs and corporate medical officer; John Peterkins, VP of market access; David Fabbri, VP of sales; and Andrew Muzsi, VP of marketing. "Adding these leaders to our organization will strengthen our ability to execute as we prepare for the planned second quarter 2018 launch of XHANCE," said CEO Peter Miller in a statement.
→ Rare disease biotech Novelion Therapeutics has tapped Jeffrey Hackman to head commercial efforts in the role of chief operating officer.
→ Following his high-profile arrest, Insys Therapeutics $INSY founder John Kapoor resigned from the company's board of directors, in order not to draw "unnecessary attention" to Insys.
→ Harpoon Therapeutics, a T cell therapy biotech founded by Patrick Baeuerle and MPM Capital, has hired Susan Jones and Rachael Lester as SVP of product development and VP of corporate development, respectively. The two will manage and expand the company's portfolio as it looks to begin clinical trials on its prostate cancer treatment in 2018.
→ The board of Israel's Intec Pharma $NTEC says goodbye to founder Zvi Joseph and former CEO Giora Carni as it seeks "additional independent directors to provide insight and strategic counsel." Anthony Maddaluna, former executive vice president and president of Pfizer global supply, is the first candidate up for election later this year.
→  Astellas has promoted James Miteff to national vice president, health systems payer & channel account management, to replace 17-year veteran Bruce Mazer, who's retiring. Gregory Apostol will be national vice president, key account management.
Amber Tong contributed to this report.
---
The best place to read
Endpoints News

? In your inbox.

Comprehensive daily news report for those who discover, develop, and market drugs. Join 47,200+ biopharma pros who read Endpoints News by email every day.

Free Subscription
---
---
---