Penn team-biotech col­lab­o­ra­tion high­lights promise of gene edit­ing in tar­get­ing PC­SK9, liv­er dis­eases
PC­SK9 car­dio drugs may still be hav­ing a tough time build­ing a mar­ket among stub­born pay­ers, but they're nev­er­the­less con­sid­ered a re­mark­able ad­vance in slash­ing lev­els of LDL in at-risk pa­tients. And now one of the pi­o­neers in gene ther­a­py — work­ing in col­lab­o­ra­tion with an up­start biotech com­pa­ny — has com­plet­ed a pri­mate study to show that a unique gene edit­ing ap­proach can hit the same tar­get, with pos­i­tive ef­fects.
We know through ex­ten­sive hu­man stud­ies that a drug that in­hibits the PC­SK9 pro­tein will low­er LDL, the bad cho­les­terol that's a cul­prit in car­dio de­te­ri­o­ra­tion. James Wil­son at Penn, whose ad­vances and set­backs in gene ther­a­py helped birth the field, used a meganu­cle­ase de­vel­oped at Pre­ci­sion Bio­sciences in Durham, NC, put the en­zyme in an AAV vec­tor, and dis­patched it to the liv­er, where it tar­get­ed PC­SK9 to good ef­fect.
Us­ing a vec­tor that's al­ready demon­strat­ed its safe­ty in hu­man he­mo­phil­ia stud­ies, the re­search team at Penn con­clud­ed that their ap­proach re­duced PC­SK9 lev­els by 45% to 84%, cut­ting LDL lev­els by 30% to 60%, "both clin­i­cal­ly rel­e­vant and sta­ble re­duc­tions. Mol­e­c­u­lar analy­ses of biop­sied liv­er tis­sue al­so demon­strat­ed that genome edit­ing in­duced mu­ta­tions in 40% to 65% of the PC­SK9 genes."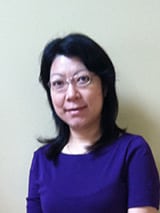 Lili Wang
"Most of­ten these pa­tients are treat­ed with re­peat­ed in­jec­tions of an an­ti­body to PC­SK9," said first au­thor Lili Wang, a re­search as­so­ciate pro­fes­sor of med­i­cine. "But, our study shows that with suc­cess­ful genome edit­ing, pa­tients who can­not tol­er­ate in­hibitor drugs might no longer need this type of re­peat treat­ment."
Suc­cess here al­so points to the promise of gene edit­ing in a range of liv­er meta­bol­ic dis­eases be­yond hy­per­c­ho­les­terolemia, they note. A range of star­tups have been us­ing new gene edit­ing tech­niques, with the first for­ays in hu­mans un­der­way at Penn and in sev­er­al hos­pi­tals in Chi­na.
This is the sec­ond time in just a mat­ter of days that Pre­ci­sion has made a splash. The biotech just wrapped a whop­ping $110 mil­lion crossover round with a broad syn­di­cate of back­ers. The crew al­so split off its ag op­er­a­tions in­to a sep­a­rate com­pa­ny, like­ly flag­ging that the CEO has an S-1 in his brief­case.
An­i­mal stud­ies in the field, though, haven't al­ways been so suc­cess­ful. Wil­son trig­gered safe­ty alarms when he re­port­ed ear­ly this year that one of his vec­tor-de­liv­ered gene ther­a­py stud­ies us­ing three rhe­sus macaque mon­keys and three pigs ran in­to a tox­ic dis­as­ter.
Four days af­ter one of the macaques had re­ceived 2×1014 GC/kg AAVhu68 vec­tor ex­press­ing hu­man SMN, the mon­key ex­pe­ri­enced a se­vere cri­sis, go­ing in­to shock af­ter suf­fer­ing se­vere liv­er dam­age, which forced re­searchers to eu­th­a­nize the pri­mate. The two oth­er macaques sur­vived, but al­so suf­fered a tox­ic re­ac­tion.
All three piglets treat­ed with a high, sys­temic IV dose were al­so eu­th­a­nized, with the first ex­pe­ri­enc­ing atax­ia and the oth­er two re­spond­ing with neu­ro­log­i­cal symp­toms.