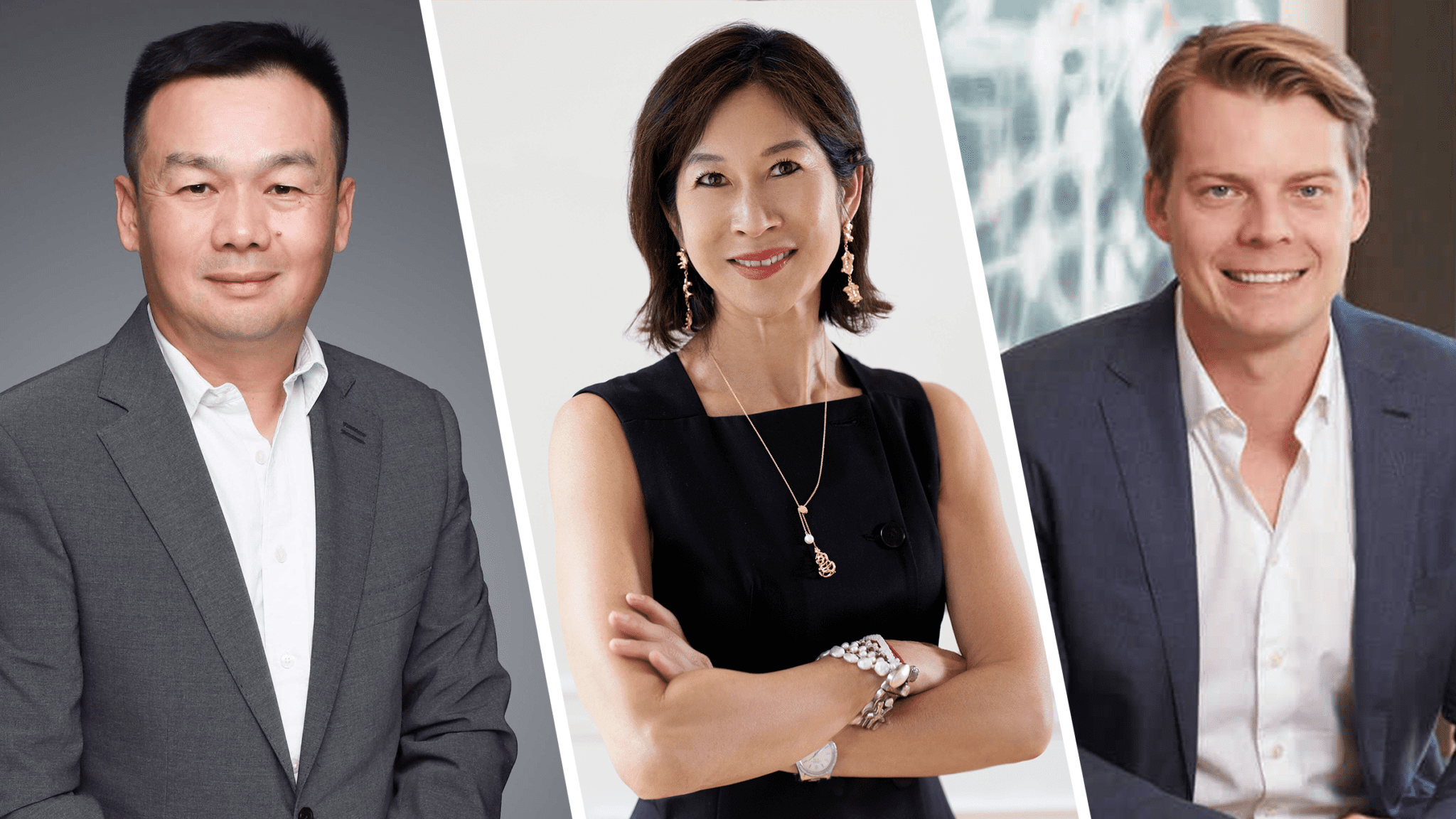 Bing Li, Debra Yu and Konstantin Poukalov, LianBio
Per­cep­tive births its first in-house start­up — and it's a Chi­na play
Per­cep­tive Ad­vi­sors is go­ing to Chi­na.
Adam Stone
The de­ci­sion dates back two years, chief in­vest­ment of­fi­cer Adam Stone tells End­points News, when the firm be­gan to fig­ure out how it can, in hedge fund-speak, strate­gi­cal­ly in­crease its ex­po­sure to a grow­ing bio­phar­ma mar­ket poised to be a key ge­o­graph­ic area in the next sev­er­al decades. It was a bit of a blindspot for Per­cep­tive, he ad­mits.
As "glob­al­ized sci­en­tist-in­vestors, we just couldn't af­ford to have that blindspot in place," he says.
A deep dive point­ed to cre­at­ing a new com­pa­ny based on an in-li­cens­ing mod­el, lever­ag­ing Per­cep­tive's ex­ten­sive biotech net­work in the US, and they re­cruit­ed two sea­soned ex­ec­u­tives — CEO Bing Li and De­bra Yu, pres­i­dent and CBO — to get things start­ed in Oc­to­ber. Bare­ly a year lat­er, Lian­Bio is burst­ing out the gate with 30 staffers, sev­er­al late-stage as­sets and a big port­fo­lio deal.
Bridge­Bio and MyoKar­dia have signed up as the an­chor­ing part­ners. For $26.5 mil­lion in near-term pay­ments and $505 mil­lion in po­ten­tial mile­stones, Neil Ku­mar's ge­net­ics-fo­cused shop is hand­ing over two tar­get­ed on­col­o­gy drug can­di­dates and giv­ing Lian pref­er­en­tial fu­ture ac­cess to 20-plus pro­grams in its port­fo­lio. The lat­ter deal cen­ters around mava­camten, the car­diomy­opa­thy drug that CEO Tas­sos Gi­anakakos said was "good to go" af­ter clinch­ing a cru­cial Phase III win ear­li­er this year. The up­front comes in at $40 mil­lion, with an­oth­er $147.5 mil­lion on the ta­ble.
Pi­o­neers like Zai Lab and Ever­est paved the way to fill the in­no­va­tion gap by bring­ing ex­per­i­men­tal and new drugs from the US and Eu­rope to Chi­na — with a promise to com­plete the lo­cal clin­i­cal work re­quired for ap­proval as well as the com­mer­cial troops need­ed to field the treat­ments.
But these days, with a horde of Chi­nese play­ers clam­or­ing for West­ern as­sets, it has be­come an in­creas­ing­ly chal­leng­ing area. You need a next-gen­er­a­tion mod­el to tap in­to tru­ly "par­a­digm shift­ing as­sets," Li says.
"My ex­pe­ri­ence clear­ly tells me that this is prob­a­bly the on­ly way to make this mod­el work, to pair the man­age­ment team with a very strong busi­ness de­vel­op­ment en­gine, which Per­cep­tive pro­vides." he adds.
Hav­ing fa­cil­i­tat­ed the ac­qui­si­tion of Am­bryx by Chi­nese in­vestors in 2015 and helped set up the Fo­s­un/Kite CAR-T joint ven­ture, Li had just stepped down from the CEO post at Chi­na Bi­o­log­ic when Yu in­tro­duced him to Per­cep­tive. Yu, the for­mer head of strat­e­gy at WuXi AppTec, had been go­ing around the US do­ing what she calls "Chi­na 101" meet­ings with state­side in­vestors. Per­cep­tive stood out as "or­ders of mag­ni­tude off the spec­trum so­phis­ti­cat­ed" in how they were think­ing about the mar­ket.
The in­vestor group — his­tor­i­cal­ly a pas­sive in­vestor that en­joys clin­i­cal-stage in­vest­ments and crossover rounds — al­so made its first for­ay in­to the com­pa­ny for­ma­tion and Se­ries A space late last year, set­ting up a $210 mil­lion ear­ly-stage VC fund with Xon­toge­ny. That part­ner­shp gave it ac­cess to Chris Garabe­di­an's in­cu­ba­tor and a taste of start­up build­ing.
With heavy help from Kon­stan­tin Poukalov, man­ag­ing di­rec­tor at Per­cep­tive, and his col­leagues, Yu says her group is able to soup up the BD for­mu­la and present tai­lor-made de­vel­op­ment pro­pos­als to each part­ner.
"We talk to KOLs, we do analy­sis up­side down, back­wards and for­wards if you will," she says.
Yu now man­ages a small of­fice in Prince­ton, New Jer­sey tasked with han­dling BD and al­liances, while Li spends the bulk of his time with the core team in Shang­hai.
"They are think­ing cre­ative­ly about this," Ku­mar writes in an email to End­points. "This is ex­em­pli­fied by their work on our FGFR in­hibitor in­fi­gra­tinib and their plans to ex­pand in­di­ca­tions in­to ar­eas like gas­tric can­cer."
Oth­er than the Phase III drug, which is housed in QED, Lian is notch­ing Chi­na and se­lect­ed Asian rights to Navire's SHP2 in­hibitor BBP-398.
Poukalov, who's al­so ex­ec­u­tive chair­man of Lian, notes that MyoKar­dia and Bridge­Bio will be­come share­hold­ers in the car­diore­nal and on­col­o­gy sub­sidiaries. Ku­mar and Gi­anakakos will join the board and play a part in guid­ing fu­ture in-li­cens­ing de­ci­sions, which can in­volve com­pounds in even ear­li­er stages.
Look­ing fur­ther down the road, Lian may set up more sub­sidiaries fo­cused on neu­rol­o­gy, in­flam­ma­to­ry dis­eases and even oph­thal­mol­o­gy.
The ex­act tim­ing will de­pend in part on the pace of Chi­na's on­go­ing reg­u­la­to­ry re­forms. From the re­vi­sion of the rare dis­ease list to new re­im­burse­ment ap­proach­es, the Lian team sees pos­i­tive trends all around.
"We just saw the break­through des­ig­na­tion pol­i­cy im­ple­ment­ed and in fact they just grant­ed the first one to Leg­end Biotech. So you can see that clear­ly, they are still adding more el­e­ments sim­i­lar to the US," Li says. "The big di­rec­tion is there, but there's more de­tails and re­fin­ing that's com­ing."