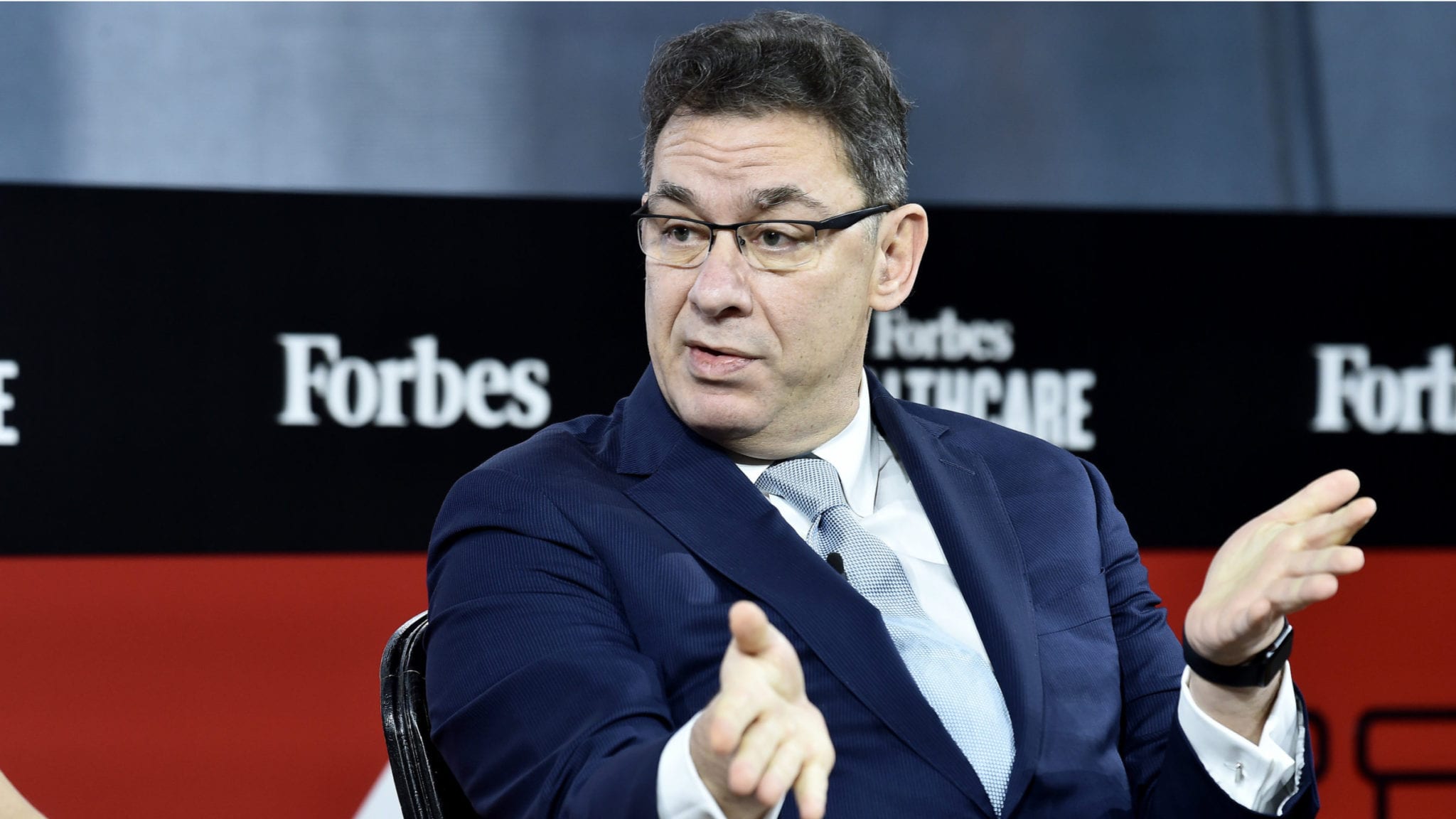 Albert Bourla, Pfizer CEO (Steven Ferdman/Getty Images)
Pfiz­er CEO Al­bert Bourla says com­pa­ny crossed safe­ty mile­stone for Covid-19 vac­cine, EUA sub­mis­sion im­mi­nent
Pfiz­er won't say when they'll send their Covid-19 vac­cine to the FDA, ex­cept that it's go­ing to be very soon.
Speak­ing at New York Times and STAT sum­mits Tues­day, CEO Al­bert Bourla said that, in their Phase III tri­al with BioN­Tech, they have al­ready passed the min­i­mum two-month fol­low-up the agency re­quires that de­vel­op­ers reach to ob­tain emer­gency use au­tho­riza­tion. With news last week that an in­ter­im analy­sis showed the vac­cine was "over 90% ef­fec­tive," that would ap­pear to give the Big Phar­ma and their biotech part­ner most of the da­ta re­quired to achieve the first US OK for a Covid-19 vac­cine.
"We are prepar­ing now for sub­mis­sions," Bourla said at the Times con­fer­ence.
Which will come when ex­act­ly?
"Let us not cre­ate ex­pec­ta­tions," he said at STAT. "We will an­nounce it as soon as we are do­ing it."
Mod­er­na has trailed di­rect­ly be­hind the lega­cy phar­ma, an­nounc­ing on Mon­day that their vac­cine was 94.5% ef­fec­tive in an in­ter­im analy­sis and say­ing they would sub­mit for an EUA "in the com­ing weeks."
The dual ef­forts, each cen­tered around high­ly sim­i­lar mR­NA vac­cines, have been in a two-head­ed race to the fin­ish since late Ju­ly, when both be­gan the coun­try's first Phase III tri­als on the same day.
Bourla had re­peat­ed­ly said Pfiz­er would have da­ta on the vac­cine's ef­fi­ca­cy in Oc­to­ber. But af­ter the FDA in­creased the safe­ty re­quire­ments for au­tho­riza­tion in their of­fi­cial guid­ance, amid con­tro­ver­sy over whether Pres­i­dent Trump could ram­rod a vac­cine be­fore Elec­tion Day and as out­side sci­en­tists pushed back on the low num­ber of cas­es they re­quired be­fore a read­out, Bourla said the com­pa­ny would like­ly have da­ta in ear­ly No­vem­ber and sub­mit for an EUA in No­vem­ber.
The com­pa­ny is now on track to match that sched­ule. In con­ver­sa­tions Tues­day, Bourla said they lis­tened to sci­en­tif­ic push­back on their ini­tial read­out pro­to­col, but he re­ject­ed the idea that pol­i­tics had any­thing to do with the tim­ing of the an­nounce­ment. Trump has ac­cused the com­pa­ny of de­lay­ing it un­til af­ter the elec­tion.
"The elec­tion for us was al­ways an ar­ti­fi­cial line," he said. "It may have been im­por­tant for the pres­i­dent, but it wasn't for us."
For a look at all End­points News coro­n­avirus sto­ries, check out our spe­cial news chan­nel.