Pfiz­er CEO Read hands off drug de­vel­op­ment re­spon­si­bil­i­ties to his hand picked suc­ces­sor
Un­der Ian Read, Pfiz­er $PFE be­came the Big Phar­ma will­ing to buy any­thing, in­clud­ing an­oth­er Big Phar­ma, and pay just about any price to keep the com­pa­ny grow­ing. Every word he speaks about M&A is parsed for some in­di­ca­tion of when and what he'll bring the check book out for next.
So you can imag­ine that hand pick­ing a po­ten­tial suc­ces­sor is get­ting some care­ful scruti­ny to­day.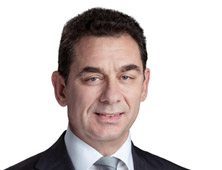 Al­bert Bourla
Pfiz­er has pro­mot­ed Pfiz­er's In­no­v­a­tive Health chief Al­bert Bourla to the new role of chief op­er­at­ing of­fi­cer, where he's been giv­en a spe­cial man­date to over­see the day-to-day ac­tiv­i­ty around prod­uct de­vel­op­ment, sales and strat­e­gy. As the Wall Street Jour­nal notes, that puts him in a po­si­tion of con­sid­er­able in­flu­ence in shap­ing Pfiz­er's late-stage pipeline as the com­pa­ny lines up its best shots at ma­jor new com­mer­cial prod­ucts.
What dif­fer­ence does this pro­mo­tion make? Pfiz­er spent $14 bil­lion to buy Medi­va­tion, a jaw-drop­ping sum that im­me­di­ate­ly raised ques­tions about the com­pa­ny's bar­gain­ing abil­i­ty. He even went af­ter As­traZeneca at one point, and the top team in­sists that big buy­outs lead to big val­ue — a point that is al­ways quick­ly con­test­ed.
Pfiz­er tra­di­tion­al­ly pays big pre­mi­ums for what it wants. It want­ed a check­point, and it paid Mer­ck KGaA a record $850 mil­lion up­front to buy in. Bourla — a trained vet­eri­nar­i­an — will now be sit­ting at the cross­roads of any ma­jor new deals to come along, af­ter Read hits the restart but­ton for the com­pa­ny's deals team.
Bourla's new role be­gin­ning Jan­u­ary 1, said the CEO in a state­ment, means Read can "spend more time fo­cus­ing on the com­pa­ny's long-term strate­gic di­rec­tion, en­sur­ing con­tin­ued R&D pro­duc­tiv­i­ty and en­gag­ing with gov­ern­ment pol­i­cy and in­dus­try lead­ers on key is­sues fac­ing the fu­ture of the health­care in­dus­try."
The move trig­gered a reshuf­fle in the top ranks at Pfiz­er. John Young, who heads Pfiz­er Es­sen­tial Health, takes Bourla's old job, while An­gela Hwang suc­ceeds Young.
To be clear, Read hasn't set the date for any re­tire­ment par­ty, and there's no ab­solute guar­an­tee that Bourla will be step­ping up. To­day, though, Bourla's stars are aligned and point­ing to big things.