Pfiz­er lines up an $830M al­liance with Arv­inas on pro­tein degra­da­tion
Arv­inas has lined up its third Big Phar­ma part­ner for a trip down the dis­cov­ery path of pro­tein degra­da­tion.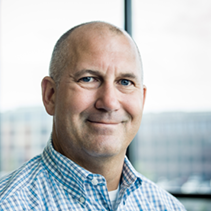 Sean Cas­sidy
Pfiz­er has signed on to fund the launch of a hunt for a slate of small mol­e­cules that can de­grade pro­teins, a key ther­a­peu­tic path­way that's been play­ing a role in prostate can­cer and oth­er ar­eas.
Like a lot of Pfiz­er $PFE pacts, the news comes with on­ly a few snip­pets of in­for­ma­tion. We don't know the up­front, but the over­all pack­et of mile­stones adds up to a whop­ping $830 mil­lion for un­bri­dled suc­cess. To­tal num­ber of pro­grams in­volved? No idea. Dis­ease fo­cus­es? Uh-uh.
Arv­inas has signed two oth­er ma­jor al­liances with mar­quee phar­mas, ink­ing deals with Genen­tech and Mer­ck ear­li­er. And Genen­tech came back last No­vem­ber to dou­ble down on the re­la­tion­ship, push­ing the mile­stones up to $650 mil­lion.
While the de­tails are few and far be­tween, CFO Sean Cas­sidy tells me that the re­la­tion­ship is a big plus for the biotech, help­ing them as­sert boast­ing rights as the leader in a field that al­so in­cludes C4 Ther­a­peu­tics — out of Jay Brad­ner's lab at Dana Far­ber be­fore he took the helm at NI­BR — and the start­up Kymera. And not sur­pris­ing­ly, Brad­ner re­cent­ly forged a close re­la­tion­ship with UC San Fran­cis­co on pro­tein degra­da­tion as well.
The sci­en­tif­ic con­cept is sim­ple enough. In­stead of set­tling for pro­tein in­hi­bi­tion, the big idea here is that degra­da­tion and dis­pos­al through the ubiq­ui­tin-pro­tea­some sys­tem of­fers a more durable ap­proach to fight­ing dis­eases. And it's been in­creas­ing­ly pop­u­lar in the in­dus­try.
The staff at Arv­inas, around 50 now, is slat­ed to grow to 75 over the next year.
Arv­inas has been work­ing on its own in­ter­nal pipeline while work­ing with its col­lab­o­ra­tors. One of these projects in­cludes a fo­cus on tau for Alzheimer's, one of the tox­ic con­cen­tra­tions of­ten fin­gered as a cul­prit in the dis­ease.