Pfiz­er, Mer­ck KGaA say their PD-L1 Baven­cio al­so flunked PhI­II in the all-im­por­tant lung can­cer field
Play­ing catch-up in the crowd­ed PD-1/L1 field in can­cer R&D is prov­ing par­tic­u­lar­ly tough for Mer­ck KGaA and Pfiz­er $PFE.
The part­ners re­port­ed this morn­ing that their Phase III lung can­cer study JAVELIN Lung 200 failed the pri­ma­ry end­point for over­all sur­vival com­par­ing Baven­cio (the PD-L1 avelum­ab) against do­c­etax­el in sec­ond-line lung can­cer, a ma­jor field for all the play­ers in this par­tic­u­lar field.
Re­searchers swift­ly fin­gered the crossover of pa­tients to oth­er avail­able check­points as a like­ly rea­son for the flop — rais­ing a threat that may well arise for every­one test­ing check­points in the all-im­por­tant group of lung can­cer pa­tients.
De­tails are scant as the da­ta will be pre­sent­ed at an up­com­ing con­fer­ence, but the part­ners made sure to pro­vide an ex­pla­na­tion:
While the tri­al did not meet its pre­spec­i­fied end­point of im­prov­ing over­all sur­vival (OS) in pa­tients with pro­grammed death lig­and-1-pos­i­tive (PD-L1+) (1% or high­er) tu­mors (HR: 0.90 [96% CI: 0.72–1.12], p-val­ue 0.1627, one-sided), the pro­por­tion of pa­tients in the chemother­a­py arm cross­ing over to im­mune check­point in­hibitors out­side the study was high­er than pre­vi­ous­ly re­port­ed in post-plat­inum im­munother­a­py clin­i­cal tri­als, and this may have con­found­ed this tri­al out­come.
Re­searchers al­so point­ed to im­prove­ments in OS in a sub-group with mod­er­ate-to-high and high PD-L1+ ex­pres­sion, as well as lack of new safe­ty con­cerns, as pos­i­tive signs. But they face some tough com­peti­tors in lung can­cer, where Mer­ck has been mak­ing head­way with Keytru­da as Bris­tol-My­ers Squibb and As­traZeneca fight to gain ground. And the com­pa­nies got some kick­back from Ever­core ISI's Uber Raf­fat: "The news to­day on Pfiz­er's 2L lung fail­ure marks the first time we can start to say that PFE may have un­der­per­formed."
Raf­fat al­so ques­tioned if crossovers could re­al­ly ex­plain the set­back, as Mer­ck has re­port­ed suc­cess be­fore in stud­ies with a 15% crossover rate.
The two big part­ners won an ap­proval to use their PD-L1 drug against Merkel cell car­ci­no­ma, but they're find­ing it tough ex­pand­ing its use to oth­er can­cers. Just a cou­ple of months ago they al­so re­port­ed that Baven­cio had failed a Phase III study for gas­tric can­cer, putting a crimp in their plans to ramp up sales.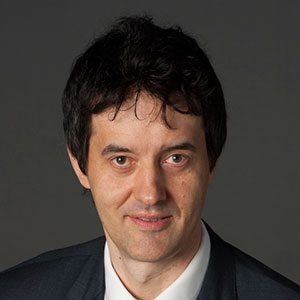 Chris Boshoff
"We are com­mit­ted to un­der­stand­ing the da­ta in the con­text of the sub­pop­u­la­tions and the im­pact of ac­cess to oth­er im­mune check­point in­hibitors," said Chris Boshoff, a se­nior vice pres­i­dent and head of im­muno-on­col­o­gy at Pfiz­er. "We will con­tin­ue to progress the broad avelum­ab pro­gram, ex­plor­ing var­i­ous in­di­ca­tions."
---
With con­tri­bu­tion from John Car­roll.