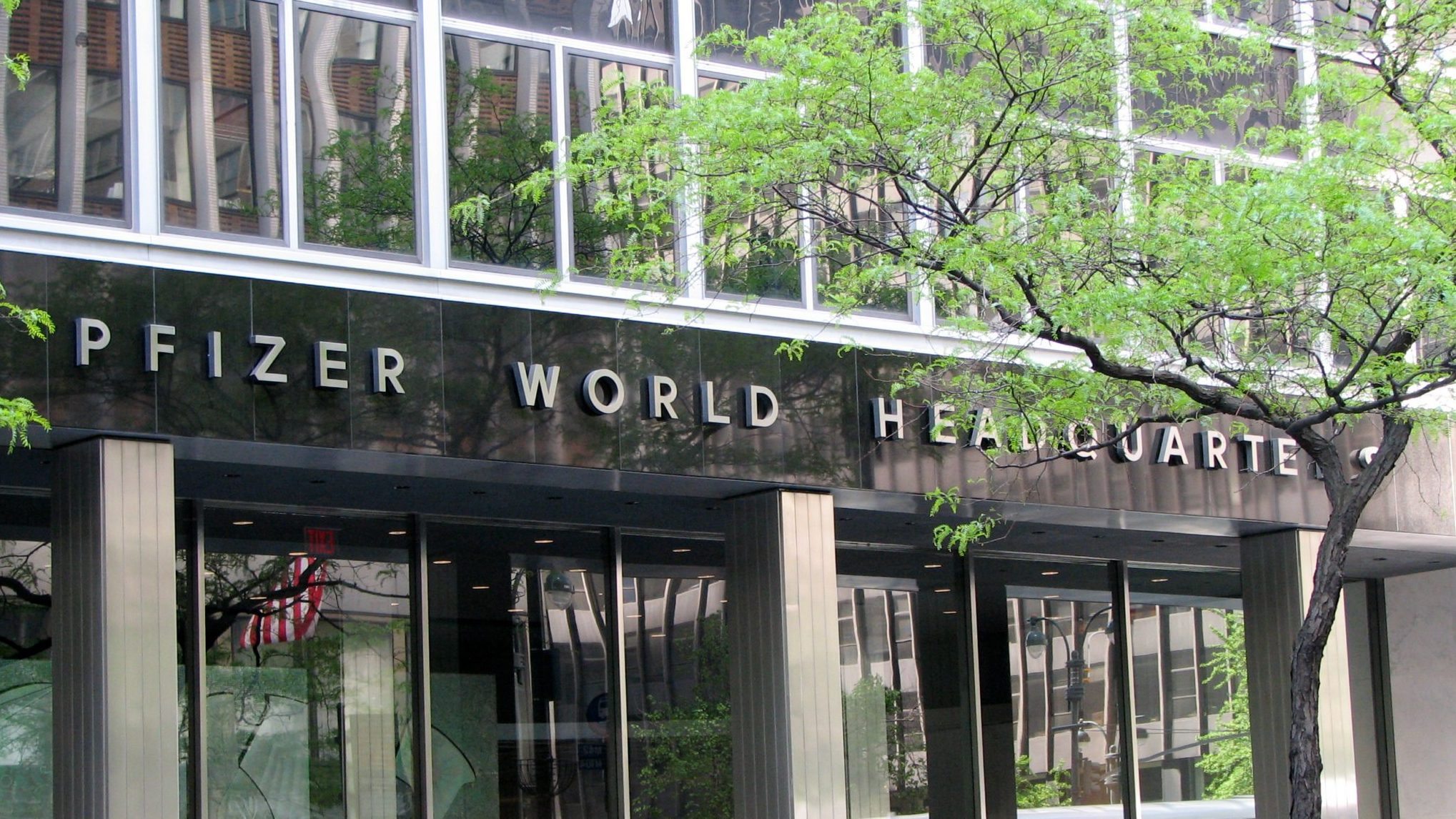 Pfiz­er plots a big move (but it's not go­ing very far)
Yes, Pfiz­er is mov­ing. But not to Ire­land or the UK, as it once hoped. And this has noth­ing to do with its tax bill.
Pfiz­er has no­ti­fied staffers at its world head­quar­ters in Man­hat­tan that it wants more up-to-date digs be­fit­ting a colos­sus of the glob­al phar­ma in­dus­try, though it didn't use those ex­act words. So it's sell­ing its mid­town sky­scraper on East 42nd and Sec­ond Av­enue and look­ing for some­thing a bit more mod­ern.
This wasn't ex­act­ly the big move some had ex­pect­ed, or hoped for.
Over the last few years Pfiz­er has thought about split­ting up the cor­po­ra­tion, but CEO Ian Read let it be known re­cent­ly that that prospect — and all the big bank­ing fees as­so­ci­at­ed with it — are now off the ta­ble. And Read tried might­i­ly to ac­com­plish the next big megamerg­er, first with As­traZeneca $AZN and then with Al­ler­gan $AGN, in search of a more ad­van­ta­geous tax ad­dress.
No, and no.
As­traZeneca saw Pfiz­er and Read off af­ter a bruis­ing "no" cam­paign that in­clud­ed some promis­es they've start­ed to walk back. Al­ler­gan liked the idea for awhile, but the Oba­ma ad­min­is­tra­tion changed the tax rules and Read had to back out.
What Pfiz­er has done is buy some things, most no­tably Medi­va­tion, for a jaw-drop­ping $14 bil­lion. That de­liv­ered Xtan­di and the PARP in­hibitor ta­la­zoparib, which has at­tract­ed lots of pos­i­tive at­ten­tion. And there's a big al­liance in place with Mer­ck KGaA on an­oth­er PD-L1 check­point in­hibitor. Pfiz­er hasn't im­pressed any­one on the R&D side of the busi­ness since an ac­cel­er­at­ed ap­proval for pal­bo­ci­clib (Ibrance) in ear­ly 2015. But that might change fair­ly soon.
That leaves Pfiz­er, which al­ways planned to keep its big out­post in Man­hat­tan, look­ing for a "mod­ern fa­cil­i­ty de­signed to fos­ter greater col­lab­o­ra­tion and in­no­va­tion," says a spokesper­son. "We an­tic­i­pate that it will take un­til the end of 2017 to sell our ex­ist­ing build­ings on East 42nd Street and iden­ti­fy a new space. And we an­tic­i­pate that col­leagues will be­gin mov­ing to a new Man­hat­tan lo­ca­tion no soon­er than the first half of 2019."
Pfiz­er cur­rent­ly oc­cu­pies a mil­lion square feet at its less-than-mod­ern, 33-sto­ry tow­er. We'll wait to find out what Pfiz­er thinks qual­i­fies as space suit­able for "col­lab­o­ra­tion and in­no­va­tion." That might mean a lot few­er walls and a lot more open space, which tends to get mixed re­views from the staff and an en­thu­si­as­tic thumbs up from the ex­ec­u­tive team.