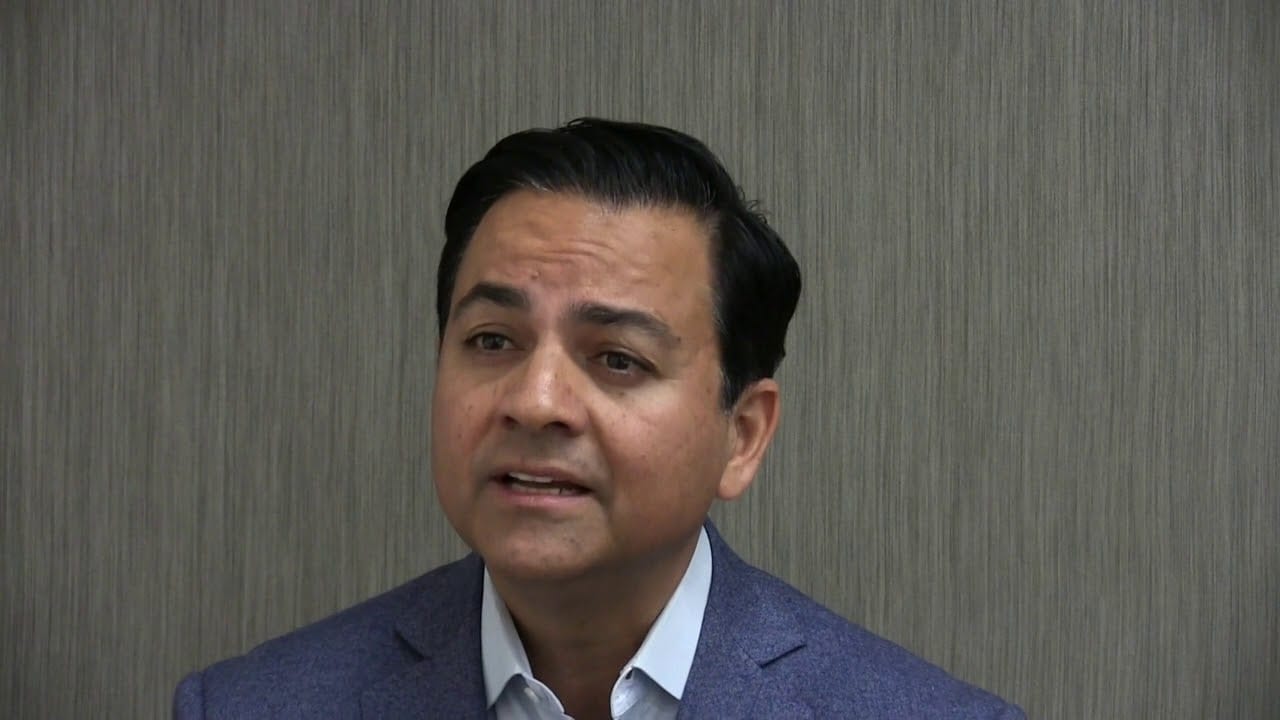 Saqib Islam, SpringWorks CEO
Pfiz­er spin­out Spring­Works will ship its first drug to the FDA be­fore year's end with PhI­II win
Spring­Works Ther­a­peu­tics thinks it has ce­ment­ed the back­bone for its first "pipeline-in-a-prod­uct" on­col­o­gy treat­ment and will send it to the FDA be­fore the clock strikes 2023 with a Phase III win on Tues­day.
The oral gam­ma sec­re­tase in­hibitor, dubbed nirogace­s­tat, beat place­bo on the pri­ma­ry goal of pro­gres­sion-free sur­vival in adults with pro­gress­ing desmoid tu­mors.
The soft-tis­sue tu­mors can lead to long-last­ing pain, dis­fig­ure­ment and am­pu­ta­tion, and there are cur­rent­ly no ap­proved meds for the rare on­col­o­gy in­di­ca­tion. The tu­mors typ­i­cal­ly im­pact pa­tients aged 20 to 44 years old and dis­pro­por­tion­ate­ly af­fect women at rates 2 to 3 times high­er, with up to a to­tal of 1,650 new cas­es di­ag­nosed in the US an­nu­al­ly, ac­cord­ing to Spring­Works.
The news sent the Stam­ford, CT biotech's stock $SWTX soar­ing 18% at one point be­fore the open­ing bell Tues­day. In the in­vestor call and pre­sen­ta­tion, CEO Saqib Is­lam not­ed patent pro­tec­tion on the drug lasts un­til 2039.
In the 142-pa­tient De­Fi tri­al, the treat­ment showed a 71% re­duc­tion in the risk of dis­ease pro­gres­sion, the biotech said. The drug hit sec­ondary goals of sta­tis­ti­cal­ly sig­nif­i­cant im­prove­ments over place­bo in ob­jec­tive re­sponse rate and pa­tient-re­port­ed out­comes, ac­cord­ing to Spring­Works. The ran­dom­ized, dou­ble-blind study took place at sites in North Amer­i­ca and Eu­rope.
Spring­Works said the drug, which was giv­en twice dai­ly, was "gen­er­al­ly well tol­er­at­ed with a man­age­able safe­ty pro­file."
But mul­ti­ple ques­tions sur­round­ing re­pro­duc­tive ad­verse events went large­ly unan­swered dur­ing the com­pa­ny's in­vestor call.
"The ma­jor­i­ty of women of child­bear­ing po­ten­tial had ad­verse events con­sis­tent with ovar­i­an dys­func­tion," the com­pa­ny said in its press re­lease.
On the in­vestor call, Is­lam was asked mul­ti­ple times about this safe­ty point, and he re­peat­ed­ly said it was a "class ef­fect as re­lat­ed to ovar­i­an dys­func­tion" and not­ed a few times that more spe­cif­ic da­ta will be re­leased at a med­ical con­fer­ence lat­er this year. Ex­ec­u­tives de­clined to dis­close what per­cent­age of the tri­al en­rollees were women.
Asked if it was "fair to as­sume you haven't reached a me­di­an pro­gres­sion free sur­vival in the treat­ment arm," the CEO re­spond­ed by say­ing it is "pre­ma­ture to reach that con­clu­sion." The drug did not meet that mea­sure in ei­ther the Phase I or Phase II stud­ies.
The drug is in near­ly a dozen clin­i­cal tri­als, flush with mul­ti­ple com­bo ther­a­py stud­ies test­ing nirogace­s­tat along­side BC­MA drugs from the who's who of Big Phar­ma and biotech alike: GSK, John­son & John­son, Pfiz­er, Ab­b­Vie, Re­gen­eron, Seagen, Pre­ci­sion Bio­Sciences and Al­lo­gene Ther­a­peu­tics. All those stud­ies are in re­lapsed/re­frac­to­ry mul­ti­ple myelo­ma. Spring­Works is teamed up with Chil­dren's On­col­o­gy Group for a mid-stage pe­di­atric desmoid tu­mor monother­a­py study.
Nirogace­s­tat comes from the cof­fers of Pfiz­er. The Big Phar­ma spun out the drug and oth­er as­sets in­to Spring­Works in 2017. The biotech hit the ground run­ning at the time with an ini­tial $103 mil­lion from in­vestors like Bain. Is­lam, who joined the lead­er­ship team at the be­gin­ning, was pre­vi­ous­ly Mod­er­na's CBO.
Spring­Works lead­er­ship re­it­er­at­ed on the call that it had more than $380 mil­lion to spend at the end of last quar­ter, which gives run­way "com­fort­ably" in­to 2024 for its 18 R&D pro­grams.